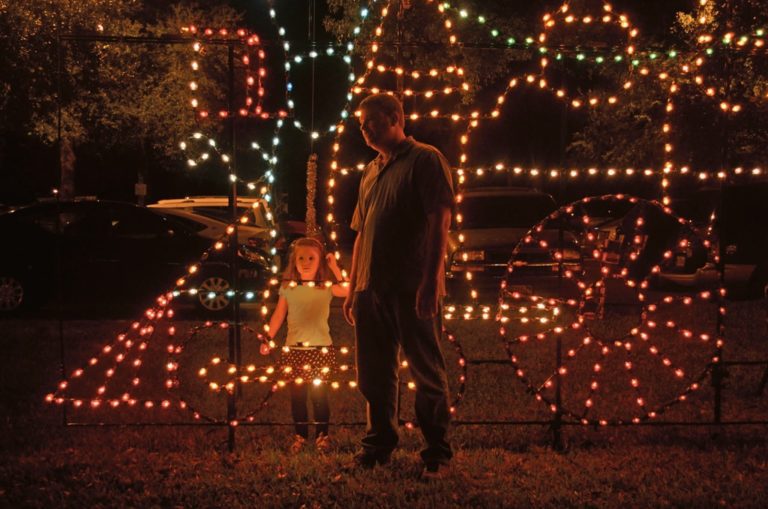 Although Plant City residents may have seen holiday displays and evergreen wreaths going up in Historic Downtown in November, they won't shine until two traditions brighten the Winter Strawberry Capital of the World: Lights of Love and the Christmas Parade.
For anyone who wants to kick off the season, these two events offer caroling, sweet treats and pictures with Santa in a family-friendly environment.
LIGHTS OF LOVE
On Thursday, Dec. 3, the 17th annual Lights of Love ceremony will be held in McCall Park. Proceeds of the fundraiser will benefit the new Critical Care Center at South Florida Baptist Hospital.
Standing as one of the tallest structures in McCall Park, the traditional Christmas tree will be lit, along with every Christmas light in Historic Downtown displays, after a lighting program at at 6:30 p.m.
Lights can be purchased to support a contributor's loved one. Supporters can purchase a red light for $25, a blue for $50, a green light for $75 or an orange light for $100.
"The lights are symbolic and can be purchased for anyone," Executive Director Jana Butler said. "However, many are in memory of someone."
Last year, Lights of Love raised $35,000 and attracted over 500 people.
"It's a fun, family event," Butler said. "It's nice to have all the lights on as a gift of love."
The event begins at 5:30 p.m. and will start with Santa Claus. For $10 guests can get photos with Santa Claus at the Robert W. Willaford Railroad Museum.
Visitors can browse through downtown shops and visit the local businesses that will be open late for the occasion, including Neumeister's Candy Shoppe and Krazy Kup.
Mrs. Claus' Kitchen, a food vendor run by South Florida Baptist Hospital's catering team, will be open to provide treats, such as kettle corn and corndogs, and warm drinks, such as apple cider.
Groups from Plant City's First Baptist Church and The Beachcombers will be singing Christmas carols throughout the night. During the lighting ceremony, city officials will speak and more groups will sing. The lights will go on after, in a countdown led by Santa.
Lights of Love premieres the night before the Plant City Christmas Parade.
CHRISTMAS PARADE
On Friday, Dec. 4, Plant City's Christmas Parade will be led by the same people that watch over it.
This year's Grand Parade Marshal will be Plant City's first responders: Plant City Police Department, Plant City Fire Rescue, Hillsborough County Fire Rescue, Hillsborough County Sherriff's Office and Florida Highway Patrol.
Members from each department will start the parade with a red, white and blue patriotic-style float sponsored by Baskin Tax Accounting.
"They give so much, and we need to thank them," Sharon Moody, parade president, said. "They don't always get recognition, and we are going to honor them in a special way."
The parade, themed Celebrate the Season, will begin at 7 p.m. at Collins and Alsobook streets and end at the courthouse on West Reynolds Street.
Seven marching bands, several drill teams, dance groups and more will be walking the streets along with many elaborately decorated floats.
"There is something about the way the floats and the lights look at night," Moody said. "This year we have a lot more floats than usual."
As tradition entails, Santa Claus will be making a surprise appearance on one of the floats. It is not known which float until parade night.
This year's major sponsors are Unity in the Community and Stingray Chevrolet.
LIGHTS OF LOVE
WHEN: Activities begin at 5:30 p.m.; lighting program begins at 6:30 p.m. Thursday, Dec. 3
WHERE: McCall Park, 102 N. Palmer St.
PURCHASE A LIGHT: To show support for a loved one, purchase a $25 red light, $50 blue light, $75 green light or a $100 orange light. Call (813) 757-8478 for details.
CHRISTMAS PARADE
WHEN: 7 p.m. Friday, Dec. 4
WHERE: The parade will start between Collins and Alsobrook streets and travel through Historic Downtown on Collins Street.
SPONSOR THE PARADE: Contact Sharon Moody at (813) 453-7134
Abby Baker is a staff intern for the Plant City Times & Observer and a student at Hillsborough County Community College.