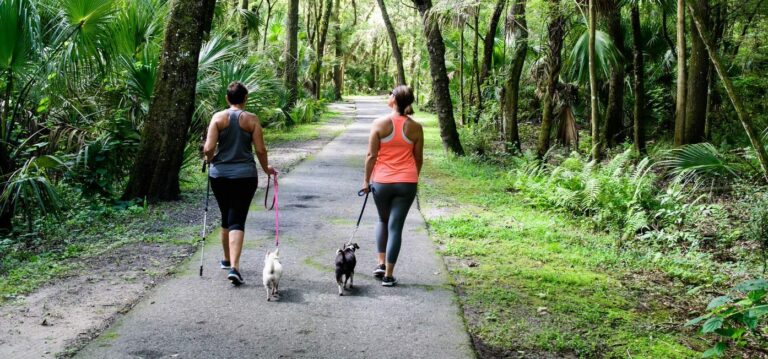 The annual tradition is a great way to keep holiday weight gain at bay.
The idiom 'take a hike' once had a derogatory meaning. If someone told you to 'take a hike,' it usually meant they wanted you to leave or get lost.
Hillsborough County is inviting residents to literally 'take a hike.'
The Hillsborough County Hiking Spree kicked off at the beginning of the month, offering residents another year of fun and exploration in local parks and preserves.
This year's Hiking Spree includes a guided hike at the J.C. Handly Sports Complex on Nov. 18 that is tailored for Pokemon Go enthusiasts and other special activities over the next few months such as bird hikes and full moon hikes.
The annual hiking spree, which draws thousands of people each year, began in 2016 to encourage people to exercise, explore the outdoors and experience nature through the numerous parks and preserves in Hillsborough County.
This year's Hiking Spree trail list features 25 trails at 22 parks and preserves throughout the county. The diverse trails are spread throughout the county and range from neighborhood parks to large preserves with multiple habitats. They're designed to offer something for residents of every age or ability, with hikes rated easy, moderate or strenuous. Lengths range from less than a mile to eight miles, and a number of trails offer handicap accessibility.
Nearby parks on the list include Alderman's Ford Conservation Park, Blackwater Creek Nature Preserve, Edward Medard Conservation Park and Alafia River State Park.
Complete at least eight by March 31, 2024 to earn a limited-edition patch, medallion for a walking stick or pet bandana. One of the hikes can be at a location of the participant's choice that is not on the list.
Guided hikes and programs have also been added through the Hiking Spree season. These guided hikes require advance registration and some require a small fee.
"I believe the Hiking Spree is a great program to raise awareness of the numerous trails and park systems within our county," said Plant City Parks & Recreation Director Julie Garretson. "It also encourages you to experience trails and space you may not have accessed in hope to earn your Hiking Spree medallion. We are looking forward to creating a program like this in Plant City!"
Participants are also encouraged to post photos from their hikes using the hashtag #TakeAHikeHC. Register at HCFLGov.net/HikingSpree for the event.