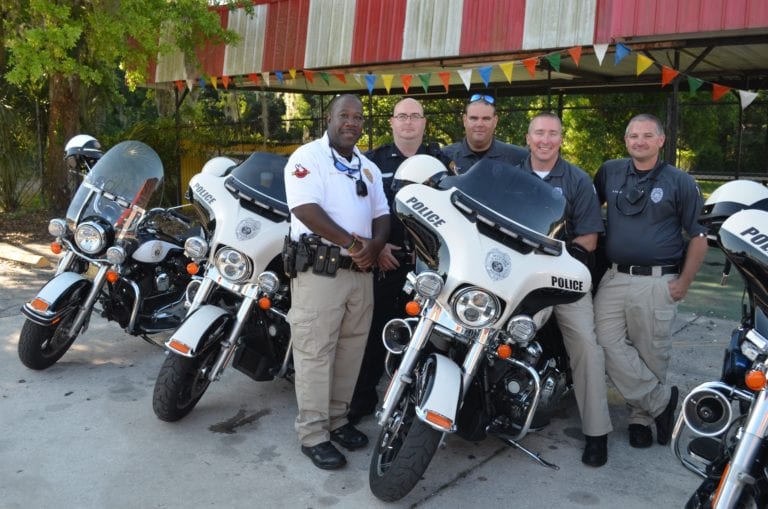 Sirens flooded the streets of Plant City early Friday afternoon after a hit-and-run suspect collided with a PCPD motorcycle officer and continued to flee the scene, sending nearby officers into a long chase through town.
It started with a good deed. A squad of PCPD motorcycle officers were escorting a veteran through town on April 12 on his scooter, taking him all the way out to County Line Road.
None of them could have predicted that mere minutes before they reached their destination, one of them would be staring down the hood of a dually truck suspected in a recent hit-and-run, kicking off a massive police chase that wrapped though the city.
Ivanhoe Irizarry, the 31-year-old driver of the white dually truck, came from County Line Road, over the railroad tracks and made a left hand turn passing the PCPD escort. Sgt. Al Van Duyne and officer Kyle Russell were sitting side by side in front of the scooter when it zoomed past. The word "Hydroseeding" was plastered to its side and instantly triggered Van Duyne's memory. 
"I review all of the crashes, so I saw that 'Hydroseeding' on the side of this old dually truck and that's a word that I remember," Van Duyne said. "I was like, 'Where did I read that? Was it a new report? An old report?' I looked over to Kyle and said, 'Hey didn't one of you guys have a wreck with a Hydroseeding truck?' He said yeah and I told him it just drove past us. He turned his head and said, 'That's the truck.'"
Irizarry had left the movie theater plaza and attempted to get across the street, making a left turn onto Alexander Street. He failed to yield to an eastbound vehicle and while he did relatively minimal damage he fled the scene because he had a revoked license. The victim wasn't able to give officers much information other than it was a white dually truck with 'Hydroseeding' along its side.
Officer Christian Lopez was one of the two motorcycle cops flanking the scooter. Van Duyne told him to go pull the truck over and they would finish taking the veteran to their drop off point. From there things quickly spiraled out of control.
Lopez pulled behind the truck, turned on his lights and followed him down the road. The truck crossed over into HCSO jurisdiction, turned into the Parkwood Estates trailer park, popped a u-turn and Irizarry drove directly at Lopez who had stopped to wave down the truck to pull over.
"He came toward Lopez and the fight was on after that," Van Duyne said.
While he said he can't put words in Irizarry's mouth, Van Duyne did state that Lopez was an identifiable police officer, on a visible police motorcycle with lights and sirens on. He was behind the driver for at least 75 feet going down U.S. 92 before he made the right hand turn into the trailer park. Van Duyne said there is no doubt in his mind Irizarry knew he was barreling toward an officer.
Lopez was able to avoid a head-on collision by angling his bike and steering to one side, PCPD said. One of the truck's tires rubbed against the right side of the motorcycle, forcing him to the ground. The tire hit the saddle bag and the chrome bars that go around it. The lens to the light at the location is scraped, but Lopez wasn't injured.
He quickly grabbed his radio and called out to all nearby officers. Van Duyne and his team had just finished their escort and were looking for the perfect place to turn around when they heard Lopez buzz through the radio that he was hit and Irizarry had fled. Turning on their lights the team "busted through the intersection," checked on Lopez and upon realizing he was uninjured sent Russell off after the fleeing truck.
Guidelines state as long as motorcycle officers have been involved in the incident they are allowed to initiate a pursuit, however, for safety reasons once a patrol car arrives they give the lead to the more secure officers and let them continue the pursuit. Russell tailed Irizarry for two to three minutes before patrol cars caught up.
For 17 minutes, the truck wove in and out of the streets of Plant City. Luck was on their side, Van Duyne said, as traffic was minimal and the vehicle never went above 53 to 58 miles an hour.
They continued to monitor direction of travel and traffic conditions and were able to continue the chase without having to terminate the pursuit in order to ensure the safety of other drivers.
Eventually Irizarry turned into Walden Lake East, heading toward his "significant other" who was the mother of his child. At one point Van Duyne said while the driver was on the phone with the woman she was able to help convince him to stop and give himself up near Teakwood Drive and Sandalwood Drive. He told the officers he knew he was going to jail and wanted to say goodbye to his kid. When he realized he was surrounded he finally gave up, bringing the truck to a stop.
According to PCPD an officer told him to get out of the truck and lay in the grass. He did and after confirming he was also not injured they transported him to Orient Road Jail. PCPD said they do not believe the driver was under the influence during the incident. However, his license was revoked more than two years prior to Friday's chase.
He received one HCSO charge and four PCPD charges, including aggravated assault on a law enforcement officer, aggravated fleeing to elude, possession of controlled substance (meth), active warrant for failing to pay child support and driving with a revoked license.