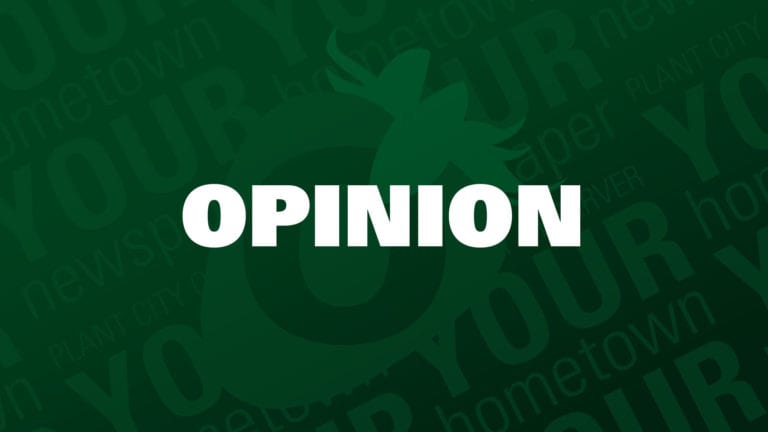 Sometimes I hear a comment along the lines of, 'Boy Plant City sure is changing fast and before you know it you won't even recognize it anymore.' I understand where they are coming from when I drive on North Park Road, or have the misfortune to catch the traffic light at Grant St. when trying to cross Alexander St. But one of the nice things about our Historic Downtown Core is how it was mostly built out two and a half generations ago. And while there are small pockets of infill resulting from minor alterations in the area, for the most part our Historic Downtown doesn't change much due to growth so much as it changes due to the types of activity.
My family has more than a little "skin in the game" when it comes to Plant City's Historic Downtown; and without boring a reader with a history lesson, I would simply state how our family's business offices began with a single room in downtown in 1919 and we've never had our administrative offices elsewhere. I have been working from our downtown since the mid-1980s and enjoyed renovating more than a few old structures when their time to be restored or repurposed fell across my desk. Perhaps, therefore, my perspective might be of passing interest, so here goes.
PARKING: When I'm asked for a program about our historic downtown to civic groups like the Chamber Leadership, etc., I question the attendees what they think is wrong or needs fixing with Plant City's downtown. Usually, the first knee-jerk reaction is to complain that parking is a problem. While this answer is utterly and completely false, the perception of a parking problem sometimes creates one in the mind of pundits and mavens. But in all of my years working in our downtown, I've never had to park more than two blocks from anywhere I wanted to go. For perspective, that is about half of the distance of the usual walk from my automobile to the entrance of Publix. But the two big differences in the mind of a customer are A) if one is shopping or visiting a professional at a giant retail plaza with a football field sized parking lot they can most always see from their car to the entrance of their destination. A clear line of sight is comforting to the paranoid, and B) a first timer downtown may not know where to look to park.
RESIDENCES: A few of us who don't spit out the nonsense that our downtown is 'dead' remember all too well when indeed it was, in fact, truly dead. And by dead I mean that it was 80% vacant with rental rates discounted to below real estate tax levels. And more importantly, all five offices in downtown back then closed at 5 o'clock and the only people here on weekends were a street walker working the U.S. 92 trade to Lakeland, and/or perhaps a stray dog. But by the late 1990s much renovation and revitalization had occurred such that the trend was once again upward. There were a few restaurants and broken windows were blessedly few. And one thing that began around then and helped a lot was people residing in downtown. Second floor apartments began to appear and were immediately occupied. People who live in downtown need things, and they vote.
GOVERNMENT OFFICES: The City Police station left downtown, despite excellent arguments for keeping and rebuilding it here (can't win 'em all), but City Hall stayed the course of 'In The Heart of Plant City, With Plant City At Heart' with an anchoring enlargement where she now stands. The Tax Collector's, Social Security (the oxymoron of our times), and the U.S. Postal Offices all left downtown and/or the City, but the Library has hung in there so far. The County Courthouse was enlarged and is proximal to our historic areas as well.
ENTERTAINMENT ACTIVITIES: The old train depot was saved and repurposed (an effort spearheaded by Gil Gott and the Plant City Chamber of Commerce), and shortly afterward the City made a bold step with tax dollars in tearing down an old building that allowed for McCall Park to extend east/west from Palmer to Wheeler Streets and beyond. These two things in combination allowed an area for entertainment and planned activities to occur like never before. The trend here is upward and positive.
Special mention here goes to Brandon Snyder with the Roots efforts in 2019 and 2021 (with more looming from him I hear). The entertainment value of his boutique craft beer and winery concepts, and his success in getting the City to allow them, paved the way for those residences I spoke of to have something to do besides drive out of town after 5PM or weekends. It has also helped a few town opinion makers no longer to fear such turning our evening streets into a Ybor-esq nightclub buffet of 20 years past or ruining the Norman Rockwell painted image they had of our downtown. Roots helped prove the concept and allowed further encouragements to things like we have seen on the Evers St. facades. Not to be self-serving, but I kind of like Bruton's Cigar Shop as well. All of these places can be profitable businesses that offer an upscale entertaining, social, and pedestrian component, yet avoid being some pitstop for 30-year-old children to leave their momma's basement to squat like some freeloading toad writing their great unfinished novel while drinking free water and bad-mouthing our country.
PRIORITIES: One of my family's renovations was the Lee Building, and she celebrates her 100th year this year. Our family's offices here were enjoying our 20th anniversary four years ago, and before the Covid-19 hysteria I was working to celebrate both and perhaps throw a party like the one we had in 1998 in our courtyard. In planning for a possible program to accompany the party, I put together a short list of my opinions as to priorities for our beloved downtown. It doesn't surprise me to read back on it now and find my hopes then were the same as they are now. I think our historic downtown needs more residences, to keep our government offices, and to continue encouraging things like the Plant City Chamber of Commerce, the EDC, and the Mainstreet offices to reside in our historic downtown. There are intangible benefits to these that no other area of Plant City's past or future should enjoy ahead of Historic Downtown. The fact that downtown space is still less expensive should make that a no brainer, but even if the costs were higher, I would argue that the intangible benefits associated with Government presence and activity should ONLY be given to our historic downtown.
Any chance of a Police Department Substation?