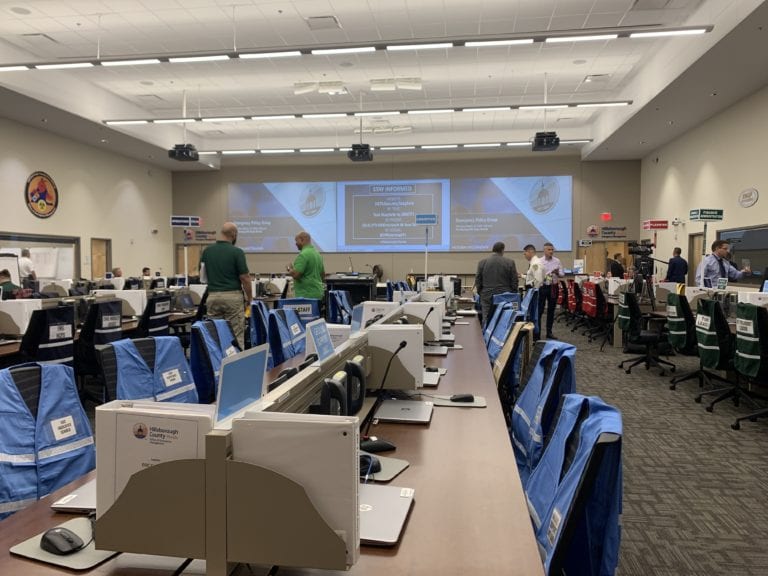 Residents of Hillsborough County are being asked to remain home for the foreseeable future unless leaving for recreation, to pick up essentials like food and medicine or to head to a business that can comply with a six-foot distancing mandate.
The Emergency Policy Group of Hillsborough County unanimously agreed to put a Safer at Home order in place, effective at 10 p.m. Friday.
The order essentially means everyone in the county is asked to stay home unless they are recreating, picking up essentials, like food and supplies, or are heading to a business that complies with the order to keep a six-foot distance between themselves and others.
At first, the group had to determine if there would be a curfew. Curfews are stricter than directives, which was the original goal. But Sheriff Chad Chronister said the term "curfew" came with negative connotations and may be problematic if widely spread and not explained to its full extent.
The initial plan was to have a Safer at Home directive paired with a curfew order. The directive would "strongly encourage compliance" and the curfew, which would have gone into effect at night and during the weekends, could potentially be enforced.
Several members of the EPG, which is comprised of three county commissioners, the mayors from the cities of Plant City, Tampa and Temple Terrace, the sheriff and chairman of the school board, were worried that having two different rules in place would be confusing and cause more of a panic than having one rule in place at all times. After much discussion, the group agreed to instead alter the entire plan and have a Safer at Home order 24/7 for the entire county.
Orders, unlike directives, are enforceable. Initially, the plan is to enforce via education and encouragement, but law enforcement has the power to step in and intervene if all other attempts to achieve voluntary compliance fail.
"It takes away the anxiety of what hours can we do what in, but it allows all businesses that are essential or all businesses that are meeting the criteria, like the six-foot rule and the other rules we have in place, to be able to operate 24 hours a day, seven days a week if you take the times and restrictions away," Plant City Mayor Rick Lott said. "It also allows our citizens to move about just like it is in the current document. I think it accomplishes the goal of getting rid of the curfew and giving the connotation that it's a shutdown, and you're staying at home and you're locked up, you're locked down, but that we are still able to function and act as a quality society in Hillsborough County. I think it accomplishes the goal we are all looking to accomplish here."
The order goes into effect starting at 10 p.m. Friday night. Unlike other previously mentioned enforcements, there isn't a 10 p.m. to 5 a.m. window. This Safer at Home order will be in effect all day, every day.
You can leave to go pick up food, you can leave to go to the grocery store or to get gas. You can leave to run to the pharmacy or to go for a jog. But if you're planning on driving to the park to meet up with friends for a game of basketball, you're going to have a problem.
People need to stay home. Only by isolating as much as possible can the county hope to stem the spread of the COVID-19 coronavirus. There continues to be a rise in testing, which has inevitably led to a rise in diagnoses.
Though the county opened its COVID-19 drive-through test site on Wednesday, it's already maxed out on the number of appointments it can make through the rest of the week. With only a limited number of tests — approximately 900 — it can only accept so many patients. The call center was staffed by health care professionals who screened and qualified callers with COVID-19 symptoms and gave them appointments at the drive-through site. A news release at 11:49 a.m. Thursday announced all 900 appointment blocks had been scheduled.
"If you have coronavirus symptoms, please contact your health care provider for further guidance on testing options," the news release from the Hillsborough County Emergency Operations Center read. "If you are sick and unable to get tested, you should self-quarantine. Stay in a specific 'sick room' if possible, and away from other people in your home. Use a separate bathroom if available, and clean high-touch surfaces often. More tips are available on the CDC and Florida Department of Health websites. You may also call the Florida Department of Health at 866-779-6121 for general questions and tips."
On Wednesday, the Florida Department of Health released information about cities and counties in Florida that have COVID-19 cases. Plant City had one reported case.
One of the biggest changes to come as a result of this order is the enforcement of the six-foot distance rule. Essential businesses are still going to remain open and other businesses can as well, as long as they are able to do their operations without getting any closer than six feet to someone else. If they can't follow that guideline, they have to close. That puts a fast and hard stop on all nail technicians, hair stylists, masseuses and other jobs where direct contact with people is mandatory.
The motion carried unanimously and the EPG will meet again at 1:30 p.m. March 30. You can tune in live on the county's Facebook page or at its official YouTube channel, youtube.com/HillsboroughCounty.