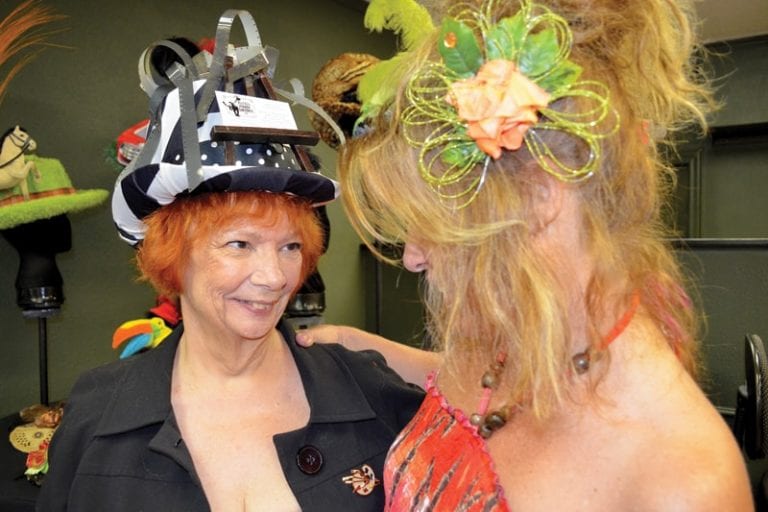 By Amber Jurgensen | Staff Writer
Nobody missed Betty Jones' fiery red hair when she walked into an intimate reception for her art exhibit at the Photo Archives and History Center July 27. But it was the hat she wore that made an even bigger statement.
She calls it the "Photo Archives Hat."
The top hat is a monochromatic masterpiece with a quirky sense of humor. Black-and-white stripes contrast against a polka-dot ribbon. Strips of film tangle and intertwine on the crown and hang down to the brim. A miniature art easel sits on the front of the brim with a Photo Archives business card resting against it.
Jones' hats and hair accessories, called "fascinators," are unique creations straight from the wild imagination of the talented artist. Jones considers them her art form and not fashion designs.
Throughout August, select hats will be on display along with a photo essay in a dual exhibit at the Plant City Photo Archives and History Center and the Bruton Memorial Library. The exhibit, titled "Sculptures of Fiber and Bronze: A One-Woman Exhibit and Journey with Sculpture Artist Betty Jones," was inspired by J. Seward Johnson's "Man in the Street" bronze statues currently located in McCall Park in downtown Plant City.
Jones has a loyal following. Patrons have paid up to $300 for the handsome hats and have worn them to the Kentucky Derby, the Swan Derby in Lakeland, the Classic Car show in Lakeland, church, tea parties and even a 1920s-themed benefit in Texas.
"When people are buying a hat, they appreciate it because they are buying art and something they can wear," Jones says.
Jones didn't know she was an artist until later in life. A former pharmaceutical rep, she always knew she was creative but didn't take her first at art class until 2004. She wanted to learn how to do cartooning to decorate cards. From there, she discovered assemblage, a process that involves making three-dimensional and two-dimensional artistic compositions together with found objects.
Jones created her first hat in the fall of 2008. While mulling around a thrift store, Jones was captivated by a Halloween costume with a bold, black-and-white striped print. Gripped by inspiration, she bought the costume for $7 and went to work, twisting the hoop skirt into a frame and then a hat.
"Everything I look at, I see a hat," Jones says.
Jones has made hats out of any material imaginable, including cardboard, jewelry, evening gowns, beads, watches and feathers, which she gets from suppliers around the country. Among her clever creations is a helmet-like piece that resembles a strawberry and a whimsical top hat with rabbit ears peeking out of the crown.
Although Jones considers the hats to be art, every hat she makes is wearable.
"The most difficult part about making a hat is the engineering," Jones says. "I want it to stay on their heads, to wear it and display it.
"I would say I'm brave and courageous," Jones says. "As an artist, I keep moving forward. I'm doing things very few artists do because I'm unconventional."
Contact Amber Jurgensen at ajurgensen@plantcityobserver.com.
EXHIBITS
Plant City Photo Archives and History Center
WHEN: 10 a.m. to 4 p.m., Tuesdays through Saturdays
WHERE: Plant City Photo Archives and History Center, 106 S. Evers St.
PHONE: (813) 754-1578
Bruton Memorial Library
WHEN: 10 a.m. to 9 p.m., Mondays through Thursdays; 10 a.m. to 6 p.m., Fridays; 10 a.m. to 5 p.m., Saturdays; 1 to 5 p.m., Sundays. Reception at 2:15 to 4 p.m. Aug. 19
WHERE: Bruton Memorial Library, 302 W. McLendon St.