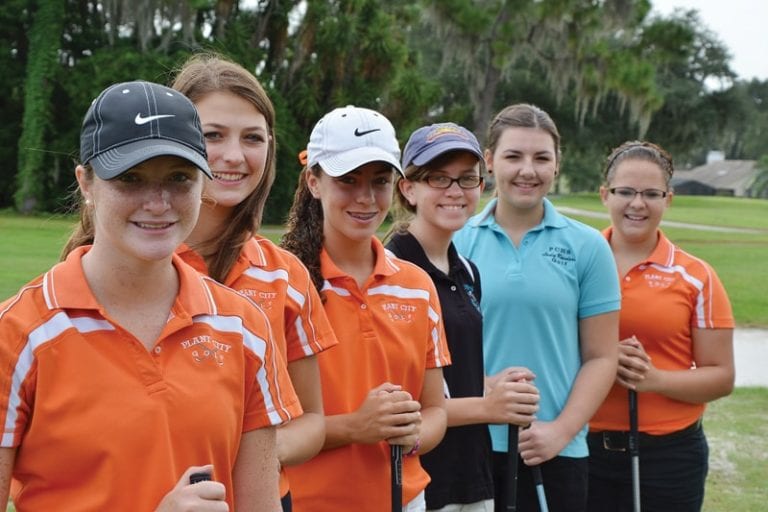 By Matt Mauney | Staff Writer
It may not be considered a dynasty just yet, but the girls golf team at Plant City High is quickly building a tradition of winning.
The team has gone undefeated in the regular season the last two years and is coming off winning both a district and region championship for the first time in 2011. The Lady Raiders also had a strong finish at the state tournament, finishing fifth, after placing eighth in 2010.
This year will bring a new challenge. The team will prepare for the season after losing its most successful group of players. The trio was a big part of the recent success of the program, and each will be playing collegiate golf this fall — Belinda George (North Florida), Shelby Johnson (official walk-on at Florida) and Kelsey Jensen (Seminole State.
Head coach Meg Jordan, who will be entering her 10th year, will rely on the experience of her two returning players — sophomore Lindsey Box and junior Kellyanne Hurst — along with four newcomers, all of whom bring varying amounts of playing experience.
"We're going through a little bit of a rebuilding process, but every coach has to deal with that at some point," Jordan said.
George, Johnson and Jensen are the first three of Jordan's players to go on to play post-high school golf.
"That's really exciting as a coach," said Jordan, a 1985 Plant City alum and former Auburn University standout.
Hurst will be a key for the Lady Raiders success this season, and Jordan will look to her and Box to take on more leadership roles, in addition to delivering on the course.
"We've built some high expectations over the last few years," Jordan said. "It's kind of like those three girls set the pace for us, and now we have a program started, and we want to keep that going."
Hurst, who has been working hard with individual travel tournaments this summer, said it will take a lot of practice and learning for the team to get to the point to be able to defend its titles.
"We have a lot of new girls coming up, so we have a lot of talent building, and we just have to take it one notch at a time, trying to do our best in each match," Hurst said.
Box, who played with the team as a freshman through the postseason but rarely had her scores count (only the top four scores on each team being recorded), will have the chance to be a top two performer this fall.
"I am a little nervous, because I didn't practice much this summer, but I'm just focused on practicing hard now and scoring well during the season," she said.
Box also mentioned how having the support of George, Johnson, Jensen and Hurst last year helped her improve her game while keeping pressure a minimum.
"Pretty much every part of my play got better," she said.
In addition to Hurst and Box, Jordan is excited about newcomers Kendall Johnson, Dokota Bozeman, Katy Johnson and Kaitlyn Miller. Kendall Johnson and Bozeman are both incoming freshmen, while Katy Johnson and Miller will be juniors. Keylee McIntosh, a virtual school student, will also be joining the mix, as Jordan said she will begin practicing with the team beginning Aug. 20.
"You kind of have to go back to the basics a little bit," Jordan said.
Contact Matt Mauney at mmauney@plantcityobserver.com.">http://credfinance.ru/zaym-dengi-do-zarplati.php