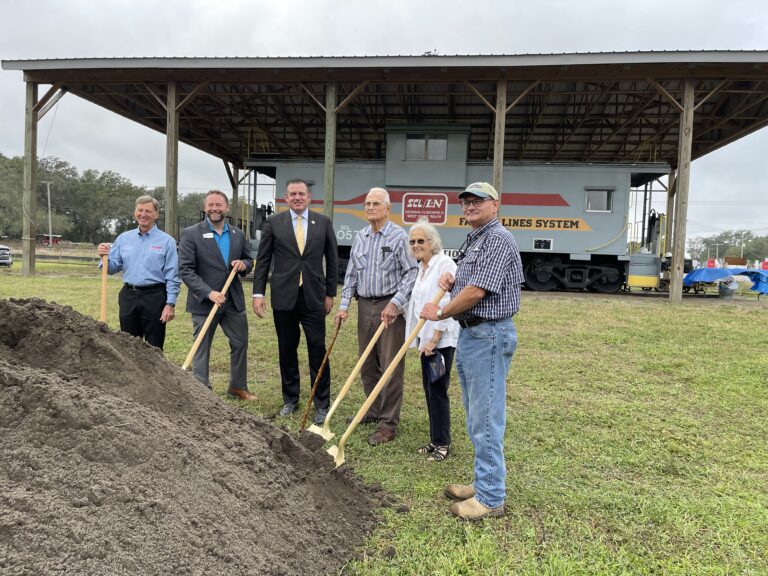 Willaford family to build train-themed RV park on 20-acre parcel north of Interstate-Four.
What do you do if you have a passion for trains and more than 20 acres of vacant land? If you're Plant City residents Robert and Felice Willaford, you construct a train-themed RV park. Its slogan: If you like trains, you'll love Caboose Junction.
After working with Hillsborough County for more than six years to get the project approved (the project is located just outside of Plant City's boundary), the Willafords were all smiles last week at the groundbreaking ceremony. Willaford's passion for trains stems from a 42-year career as a train engineer with CSX Transportation.
When completed, the RV park will include 108 large RV lots, a 2,400 square-foot clubhouse adorned with plenty of railroad memorabilia, ADA compliant bathrooms and 1,920 square-foot storm shelter to protect guests from inclement weather. The park will cater to adults 55 and up and have a four-month minimum rental requirement.
"We think this is a great location for visitors wanting easy access to all that Florida has to offer," said Robert Willaford.
Located near the intersection of Paul Buchman Highway and Joe McIntosh Road, the park will offer easy access to I-4. "It's a short drive to Orlando's theme parks, our beautiful beaches or the Plant City Strawberry Festival,' said Willaford. "Plant City will also benefit because guests will go into the city to shop and eat."
In attendance at the groundbreaking was Mayor Nate Kilton, commissioners Jason Jones and Bill Dodson, Chamber president Christine Miller, EDC President Jake Austin and EDC members Wetherington Tractor Services and Stahl and Associates Insurance. Mike Jemison, owner of Solution Source and the project's general contractor, also attended the eent. "This is a great project that will benefit the city," said Kilton.
Caboose Junction RV Park wouldn't be complete without not one caboose but two. A caboose already sits on the property, a memory of Willaford's former career, but he's going to purchase another one before the park's opening to display on the site. "You gotta have two cabooses to make a junction," he said.
Like the movie Field of Dreams, Willaford hopes that after he builds it, people will come. "We hope to be booked up solid," he said.
The RV park's expected completion date is late-summer or early-fall 2023.