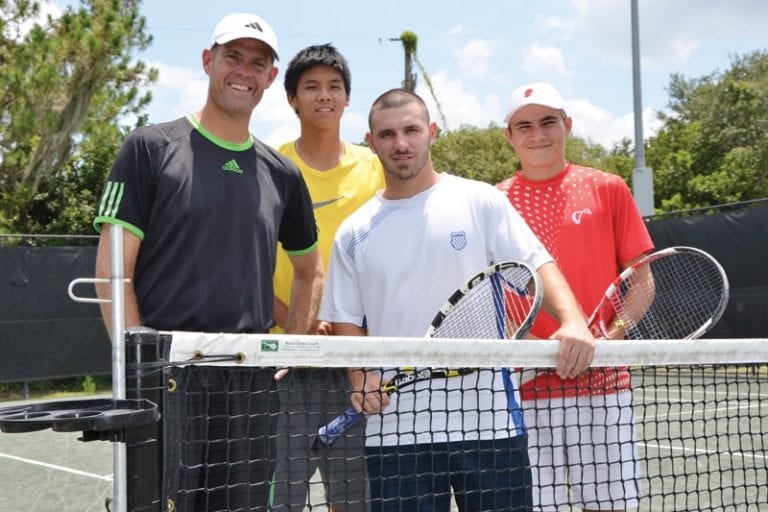 By Matt Mauney | Staff Writer
For Rhett Rollyson, tennis is a passion, but he also understands that its purpose is to be a fun and enjoyable game.
And, it's this mentality that has attracted several nationally ranked junior players to train at Plant City's Ellis-Methvin Park.
"A lot of times, some coaches, take it a little too seriously, and with me, it's fun," said Rollyson, a Plant City native and former college player at the University of Florida. Recently, Rollyson has attracted several top-ranked junior players, including brother/sister duo Jonathan and Jessica Ho. Jonathan, a Wake Forest commitment, is ranked No. 16 in the country in the boys' 18 singles division, according to the United States Tennis Association, while his sister sits in the top position in the girls' 16 singles. Originally from Wexford, Pa., the siblings now reside in New Tampa and can be found once or twice a week at Ellis-Methvin hitting with Rollyson.
"I met him at a charity event, and I'm always looking for new people to hit with," Jonathan said of Rollyson. "When we hit, it's a lot less structured and a lighter mood then with some of my other training, which makes it fun."
Recent Lakeland High graduate and University of North Carolina at Greensboro commit Danny Mack has been practicing with Rollyson for eight years, after Rollyson approached him at a tournament in Lakeland when Mack was 10. Mack is rated as a four-star recruit by TennisRecruiting.net and ranked No. 13 in the state and No. 82 nationally by the recruiting service website.
"He just loves to help people and especially young players that he sees potential in," Mack said. "He makes practices fun but serious at the same time, but you don't feel any pressure. It's just a part of his natural personality."
Stephen Madonia, 15, another top-rated junior player, lives in Lakeland but has some serious Plant City ties. His his grandparents were the owners of the famous Red Rose Inn and Suites. He met Rollyson through a mutual contact and said that he tries to practice with him whenever he can.
"There's just so much I can learn from him, and it's just a great opportunity to get better," Madonia said.
Rollyson said all the players have separate coaches, and he trains with the athletes at no cost to them. He also said hitting around and training with them doesn't just help better their game.
"It's great for me and my game to hit with these young kids that are so good," said Rollyson, 41, who still keeps active and in shape with local, statewide and national tournaments. "You can just imagine the transition of playing against talented junior players like them and then going to play in tournaments against some guys more than twice their age.
"Plant City is not the tennis metropolis of the world by any means, but it's kind of cool that we have not only some of the top juniors in the area but (also) some of the top juniors in the country that come over here and train at the city courts with me," he said.
Although Plant City may only be a blip in the Florida tennis universe, the area does possess some young talent, and the multi-surface facility at Ellis-Methvin is bringing in players of all ages and skill levels, both from Plant City and surrounding areas.
"That's the reason these kids come," Rollyson said. "They wouldn't come if the facilities weren't first-class. Yeah, they want to hit with me, but if it's a cruddy facility, that might deter them from coming."
Jack Holland, the director of the Recreation and Parks Department for Plant City, said community members initially expressed concerns for the amount of money spent on the construction of the tennis courts, but usage of the facility has increased each year.
"We get rave reviews from everyone who has used the facility," Holland said. "We have the only clay courts on the east side of the county, and we are very fortunate to have the support of the city commission and the city staff to make it a reality and prove itself to be an asset to our community."
According to Jonathan Ho, the clay courts at Ellis-Methvin are some of the best he's played in the state.
"They aren't as hard as other clay courts in Florida, so it's good for your footing," Ho said.
Unlike the Ho siblings, Rollyson didn't take up tennis full-time until he was 16. After graduating from Plant City High in 1989, Rollyson went on to play for the Gators in Gainesville before graduating in 1994.
He credits not getting highly involved with tennis at a young age as the reason that he still loves the game to this day. He hopes he can keep that love alive in the young athletes he trains.
"When I was in the tennis business, I have seen so many kids ruined by ungodly expectations," he said. "Sometimes, they get pushed to the point that they are burnt out, and some of these kids like to come to play at a place that's fun. That's what I try to do and provide, because a lot of these kids are under a lot of pressure."
Rollyson also hopes some of the outside talent can rub off on local players.
"If I can get them to influence some of these Plant City kids and give them someone to look up to and say, 'Hey, if I work really hard and push myself, maybe I can get to another level,' then we're making a difference," he said.
Contact Matt Mauney at mmauney@plantcityobserver.com.
CLOSER LOOK
Jessica Ho: Ranked No. 1 in the nation in the USTA girls' 16 division
Jonathan Ho: Ranked No. 16 by USTA in boys' 18 division
Danny Mack: Ranked in top 20 in Florida and committed to Univeristy of North Carolina at Greensboro
Stephen Madonia: Ranked in top 20 in the nation in his age group. Rated as a five-star prospect by TennisRecruiting.net
Alexandru Gozun: Ranked No. 56 in nation and No. 21 in Southeast by TennisRecruiting.net">http://lovinjewmag.com/poluchit-kreditnuyu-kartu-cherez-internet.php