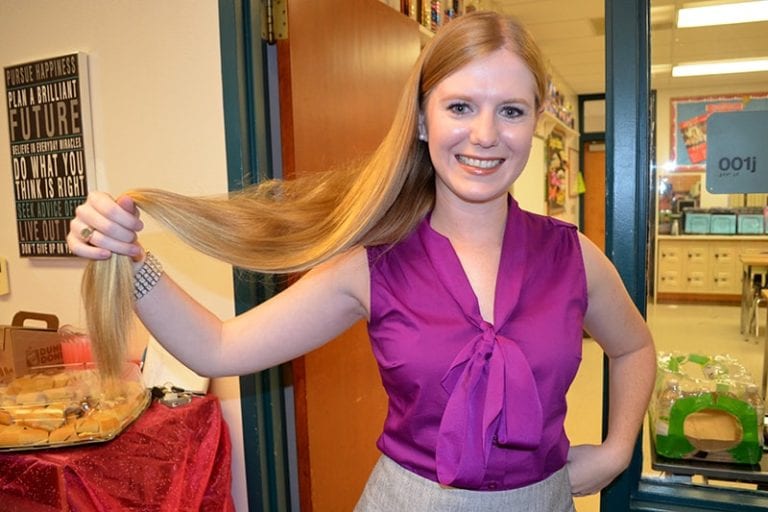 Amber Smith walked into the Locks of Love cut-a-thon Oct. 16, at Plant City High School. Everyone turned to look. Her golden strands hung loosely past her hips. She had the longest hair the stylists had seen all day.
Never dyed, Smith's hair was shiny and smooth. It was the perfect donation to the charity, which makes wigs for children who have lost their hair because of an illness.
She sat down nervously in the chair. Cosmetology student Meghan Polk tied it into a Rapunzel-like ponytail. Polk lifted the scissors to her hair. Smith took a deep breath.
Snip. Snip. Snip.
It was gone. Just like that. Eighteen inches of hope were trimmed from the good-doer. But, she wasn't finished yet.
The new do was part of Smith's 30 good deeds — a goal she set for her 30th birthday, Oct. 13. She's almost finished with the last few.
"There's two ways you can look at turning 30," she said. "You can either get depressed, or you can really look at this as a new chapter of life and setting the tone of what the next chapter will be like."
Smith got the idea last summer. Since then, she's been brainstorming and asking others what good deeds she should do. She started good-deed to-dos this month.
Some deeds are spontaneous. While going to dinner in Clearwater with her boyfriend, Smith noticed all the parking meters on her row were expired. She dropped quarters in each of them.
She also leaves quarters in bubble-gum machines at the supermarket, so unsuspecting children will get a tasty treat.
"Surprising little things like that people love," Smith said.
Some good deeds were more calculated. Smith has bought popcorn packets and taped them to Redbox machines. She doubled the amount of a lunch check to leave a $20.40 tip. And, she bought a meal for a friend who runs her own business and can't leave the premises during lunch.
Many of the deeds are small with a playful touch, with others hit closer to Smith's heart. She donated shoes to migrant workers, dinner and movie gift cards to veterans at James A. Haley Veterans' Hospital and pajamas and toiletries to victims of human trafficking.
"A lot of organizations need little things, and this was a time to focus on that," Smith said.
One of her favorite deeds was a simple gesture to a homeless man. He was holding a sign at an intersection in Westshore that said, "Hungry." She looked down at a container of fruit in her passenger seat. She rolled down the window and gave it to him.
"I might not have thought to give him something if I wasn't doing this," Smith said. "It's really opened my eyes. I can see more opportunities now."
But, the crowning deed was her Locks of Love donation. Smith had donated her hair twice before. The first time was during her time at Salem College, in North Carolina. The school paper was calling for makeovers, and she had been wanting to donate her hair. Smith ended up donating 15 inches. The second time was in 2009, at a community expo, in Carollwood. She was able to give about 12 inches.
"It's exciting," Smith said. "I always get nervous right before. But, (because) I've done it before, that always helps."
Smith had been growing her hair out, but when she saw the article on Locks of Love, she knew that was her opportunity. Although her family was aware she was growing it out, they had no idea the day she chopped it all off.
She didn't tell her boss, state Rep. Dan Raulerson, about the change either. She works as a legislative aide to the state representative. Smith wants to see how long it will take him to notice the drastic change.
"One of the most exciting things about cutting hair is seeing other people's reactions," Smith said.
Contact Amber Jurgensen at ajurgensen@plantcityobserver.com.