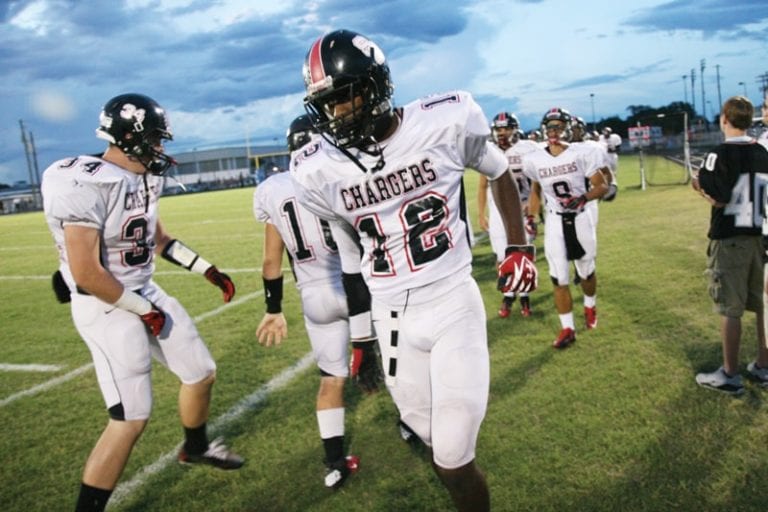 By Matt Mauney | Associate Editor
When John Kelly's team takes the field Friday, emotions will certainly be running high.
That's because on the opposite sideline will be Armwood High, Kelly's alma mater. It's also the school where he served as an assistant for the past two seasons — while maintaining his teaching position at Strawberry Crest.
His opposing head coach in the game will be Sean Callahan, who coached both Kelly and current Chargers offensive coordinator Issac Anderson. Kelly was a senior on Armwood's first state playoff team in 1996. The Hawks would go on to gain national attention with three straight state-title game appearances from 2003-2005, including 4A championships in the 2003 and 2004 title games.
"We know the history of Armwood and were there before they were the national powerhouse they are now," Kelly said. "We feel honored to have been part of the history, both as players and coaches, to have done our small part to build it up to where it is today."
Armwood won its third state championship last year with an undefeated record. However, it had all records and the title stripped after a six-month investigation found a falsification of home addresses of five players, making them ineligible to play for the Hawks.
Armwood won an remarkable 50 straight home games between 2003 and 2009. Friday, the Hawks head to nearby Strawberry Crest, a school that formed in 2009.
The record books show a win for the Chargers last year after the forfeit was made official on June 19. The game on the field, however, reflected a different result, as Armwood dismantled Strawberry Crest 80-0.
The Chargers come in at 2-3 and on a two-game skid, falling most recently to previously winless King 28-16, but according to Kelly, this Strawberry Crest team has made some strides. The Chargers have wins over Plant City and Steinbrenner this year, teams that blew them out a year ago.
SCHS held tough against undefeated Hillsborough Sept. 21 at home, before falling 32-24. Kelly said that was an eye-opener for his team.
"Even though we've been preaching it to them and they have confidence, until you get out there and start to battle against the opponent, you don't realize that you actually can play at a high level and hang with teams that are more established," he said.
Kelly also said he and Anderson want to bring the coaching philosophies they learned at Armwood to the Chargers.
"Transitioning from being a player for coach Callahan to coaching for him, both Isaac and I are definitely influenced by the program there and by his coaching philosophies," he said.
On Friday, two of Callahan's former players and coaches will try to execute a game plan to beat the coach that molded them.
"We're going to go out there to try and win the game," Kelly said. "We don't just out to play. There's a reason they keep score and we're going to try to win with what we have."
Contact Matt Mauney at mmauney@plantcityobserver.com.
IN OTHER ACTION
Chamberlain at Durant
Last week: Durant (5-0, 2-0 Class 7A District 8) snapped a three-game losing streak against Plant City, beating the Raiders 22-7. The Durant defense continued its stellar season, allowing just seven points. The Cougars have allowed just 26 points through five games this season. Sophomore running back Cris Atkins had more than 100 yards for Durant but left the game with a sore shoulder.
Chamberlain improved to 2-3 last week with a 31-16 romp over Freedom. The Chiefs scored 17 unanswered points in the second half in the win. Running back Ronnie Scott had two long touchdown runs of 25 and 38 yards. This will be a non-district game and will be the homecoming game for Durant.
Last meeting: Durant traveled to Chamberlain and beat the Chiefs 50-29 last year.
Plant City at Alonso
Last week: The Raiders are now 1-1 in district play and 3-2 overall after the loss at Durant. Quarterback Nick Rodriguez threw for 142 yards last week but also posted two picks in the loss. Matt Chaney had a big game defensively, with 17 total tackles. Colby Diers filled the void of injured back Ervin Micheal and ran for 79 yards on 12 carries. Alonso improved to 3-2 with a 20-0 win at Bloomingdale. That was the third straight win for the Ravens after dropping their first two games of the season to Gaither (24-21) and at Durant 29-0. Ish Witter rushed for 124 yards in the Bloomingdale win, while quarterback Brandon Hawkins passed for 207 yards and three touchdowns. This will be a non-region game.
Last meeting: Plant City edged out a 9-7 win at home last year.