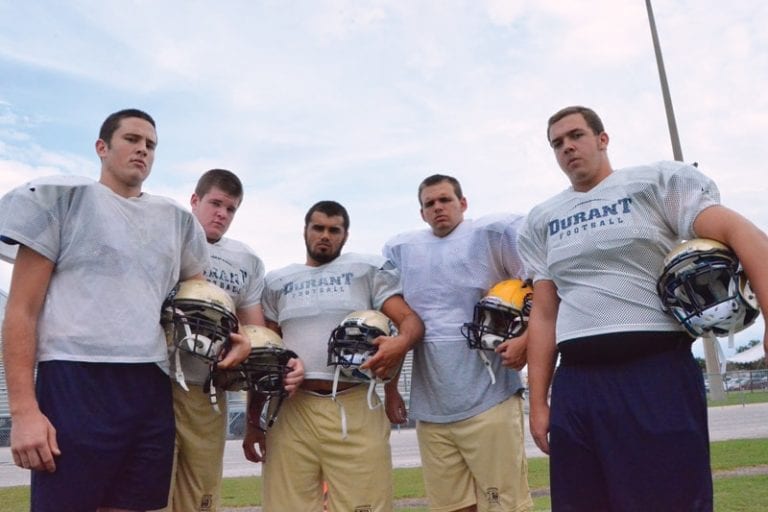 By Matt Mauney | Associate Editor
Durant came into the season with a solid group of returners on a quest to repeat as district champions.
Other than replacing their standout quarterback, the Cougars' biggest question mark came from the guys responsible for protecting that position, because their offensive line lost three senior starters.
Entering district play this week against Brandon, Durant not only seems to be solid up front, but also the Cougars' line has been the focal point of offensive success this season.
"We lost three seniors last year, so that's obviously a big deal, but a lot of the kids that came up and stepped up this year played with us last year, even if they weren't the starting five," said senior center Alex Wood, one of two returning starters on the O-line. "We were all best friends, so I think that unity we had last year just carried over to this year, even though we lost of few. I think that's why its starting to look successful."
The Cougars (2-0) have outscored opponents 86-7 in their two games this season and are averaging nearly 250 yards per game.
Along with Wood, junior right tackle Nick Insley, who has started since his freshman year, also returns to the Cougars O-line.
"We've still got a long way to go, but I've been fairly pleased with the play of the offensive line guys so far," said coach Mike Gottman.
Offensive line coach Wesley Wyatt, who starred as a lineman at Durant as a 2001 graduate, said one of his focuses with the line is to build a bond and camaraderie among the players.
"We do a lot together, always," said Wyatt. "Starting a couple years ago, I started taking the O-line canoeing every summer, and now, it's turned into a team thing that ended up with 35 guys going this year."
The O-line also had a chance to participate in several camps this summer, including one at South Florida and the Down and Dirty camp in DeLand.
"I think those two camps are a big reason why we are where we are right now," Wyatt said.
According to Wyatt, after the season opener — a 57-7 romp over Freedom — almost all of the Cougars' rushing yards were coming on the right side, with Wood, Insley and right guard Cody Martin leading the way.
"We were averaging 10 yards to the right side of the carry and to the left we were averaging zero," he said.
Wyatt said it was an eye-opener for that left side, comprising seniors Mike Watkins and Dalton Wilkerson.
"I think they did a much better job against Alonso," Wyatt said.
For Wood, teaming up with Insley to lead the rest of the line is key.
"We've been playing together since Little League, so we have that experience to help the other guys keep their composure in game situations," Wood said.
Running backs Jamarlon Hamilton and Chris Atkins have combined for more than 500 yards this season. Atkins said none of it is possible without his blockers.
"I couldn't do it without my offensive line," he said.
Contact Matt Mauney at mmauney@plantcityobserver.com.
AT A GLANCE
Last week: Durant enters its Class 7A District 8 opener with plenty of rest after a bye last week. The Cougars are 2-0 this season and have outscored opponents 86-7 in those two contests.
Brandon is coming off a 20-14 loss in overtime against Freedom last week. The Eagles are 0-2 on the season after suffering a 55-0 defeat at Armwood in the season opener before an early bye week. Freedom quarterback Taylor King scored the winning touchdown on a 1-yard run in overtime. Brandon had a chance to put the game away in the fourth quarter, but kicker Willie Burkhart's 20-yard field goal attempt went wide as time expired.
Last meeting: Durant hosted Brandon last year and escaped with a 36-24 win.
OTHER AREA ACTION
Riverview at Plant City
Last week: Plant City got its landmark win of the season in a 23-21 upset over visiting Gaither High. Receiver Dontavious Johnson had 116 yards on three catches, including a 79-yard score in the first half and another big grab late in the game to set up the go-ahead score, which freshman Tavares Chase took in from six yards out. Quarterback Nick Rodriguez threw for nearly 250 yards in the win. The Plant City defense held the high-powered Gaither offense to just seven points in the second half.
Riverview improved to 2-0 last week with a 21-6 win over winless Leto. After a scoreless first quarter, the sharks scored 14 points in the second and another score in the third to take a commanding 21-0 lead going into the final quarter of play.
This will be the Class 7A District 8 opener for both teams.
Last meeting: Plant City rolled to a 56-0 win over Riverview last year on the road.
Hillsborough at Strawberry Crest
Last week: Strawberry Crest improved to 2-1 with a 21-14 win over Steinbrenner last week. Tristan Hyde continued a stellar sophomore season, completing 21-of-43 passes for 246 yards and three touchdowns. His brother, Joshua, tallied nine catches for 93 yards. Brendon Headley, Andrew Zuluaga and Cesar Abadia each had 10 or more tackles for the Chargers defense, and SCHS tallied five sacks on the night.
Hillsborough comes in at 2-0 with a 37-23 win over Newsome last week.
Last meeting: The Chargers were shutout 43-0 last year at Hillsborough. This will be the Class 6A District 8 opener for both teams.