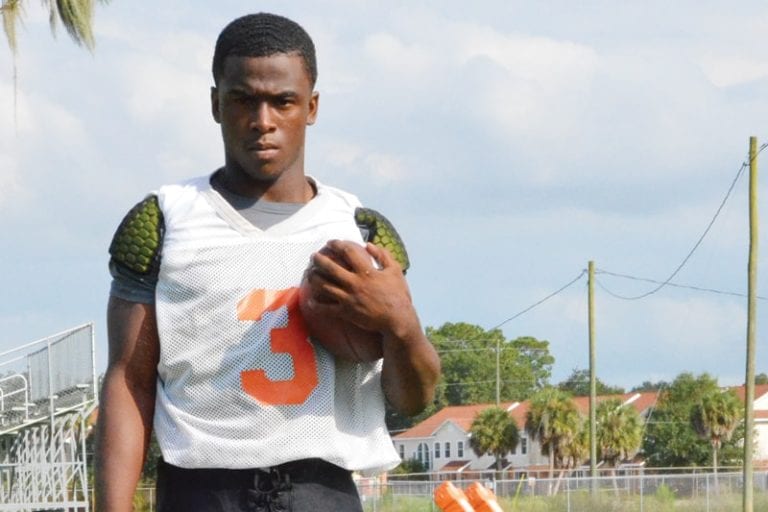 By Matt Mauney | Staff Writer
At 5-foot-5, Ervin Micheal can get lost among his teammates in a room.
On the field, the same thing is true when it comes to opposing teams, but that's something he uses to his advantage.
"We have a huge line, so it's easy to find a hole. I just hide behind them, and, as soon as it comes open, I bust through," said Plant City High's freshman running back.
Micheal already has rushed for nearly 300 yards and two scores through two games this season, a good sign for Raiders head coach Wayne Ward, who lost 22 seniors to graduation last spring, including four-year starting running back Daz'mond Patterson, now playing for Ohio University.
"Honestly, it's incredible," Ward said. "I would have never thought that this young man would have came in and did the job that he's done. He's definitely a coach's kid. He's always asking questions and is very down to earth."
Even before the season kicked off, Ward made the comparison of Micheal to Patterson. Those similarities have continued to grow after seeing the young running back perform under the lights on Fridays.
"Anybody (who) can mold after (Patterson) is definitely in position to be very successful," Ward said.
Other than similarities in size — Patterson is listed at 5-8 on OhioBobcats.com — Micheal possesses all the qualities desired in a young running back.
"He reads blockers really well, and he's tough and has really good balance," Ward said. "At a young age, when you can combo all of those things and fine-tune them, you can develop into a pretty good back."
Although Micheal was in middle school at the time, he took in a lot of the varsity games last season. He looked up to Patterson and saw him as a mentor, along with other leaders on the Raiders, including Micheal's stepbrother, Lamarlin Wiggins — a standout wide receiver playing in junior college as a 2012 commit to South Florida.
"Watching Daz'mond throughout his four years here, I learned that nothing comes easy," Micheal said. "In my spare time, I would always put in extra work at the gym with my brother or go run and do laps. I learned a lot from them and it just showed me the work I had to put in and what I had to do to be successful."
It's safe to say Micheal is off to a great start, and the young back had confidence in making an impression early.
"I never really doubted myself," he said. "Still, coming up on varsity is a lot of work and is very time consuming."
For Ward, a position that may have had its fair share of question marks for some time seems to be in solid hands. According to Ward, who was a standout back at PCHS as well as a top recruit at Virginia Tech, backup tailback Sterling Day has a lot of promise at the position, as well.
"He's a backup and is just as good, if not better," Ward said. "In regards to our running backs, we have an opportunity to make some serious noise going into district play."
Contact Matt Mauney at mmauney@plantcityobserver.com.
GAITHER AT PLANT CITY
Last week: Plant City (1-1) picked up its first win of the season in Week 2 as they hosted Freedom. The Raiders were plagued by mistakes and penalties throughout the game, but after a scoreless first half, they were able to come away with a 14-9 victory.
Running back Ervin Micheal rushed for 110 yards and gave the Raiders a 7-0 lead in the third quarter on a 22-yard touchdown run.
Gaither (2-0) is coming off a 69-0 blowout against Leto, a team that didn't win a game on the field last season — the Falcons went 1-9 officially due to an Armwood forfeit. The Cowboys had four players with more than 40 rushing yards, with Vu Le leading the way with 108.
Last meeting: Plant City beat the Cowboys 21-7 last season on the road.
OTHER AREA ACTION
STRAWBERRY CREST AT STEINBRENNER
Last week: The Chargers (1-1) are coming off a heartbreaking 28-27 loss at Bloomingdale last week. Strawberry Crest held a 27-21 lead at the half but couldn't hold on.
The difference in the game came in the third quarter, when Bloomingdale quarterback Isaiah McIntyre completed a 24-yard pass to Favian Cartagena for the go-ahead score.
Karel Hamilton had another solid game, finishing with seven catches for 142 yards and a touchdown. Sophomore quarterback Tristan Hyde finished 17-of-24 for 307 yards and one passing touchdown.
Steinbrenner (1-1) is coming off its first win of the season, shutting out East Bay 23-0. The Warriors were led by Kendall Pearcey, who ran for 91 yards, including a 62-yard touchdown. Steinbrenner lost to Sickles 34-10 in their season opener.
 Last meeting: The 28-0 loss to Steinbrenner last season was one of four shut-out losses for Strawberry Crest in 2011.