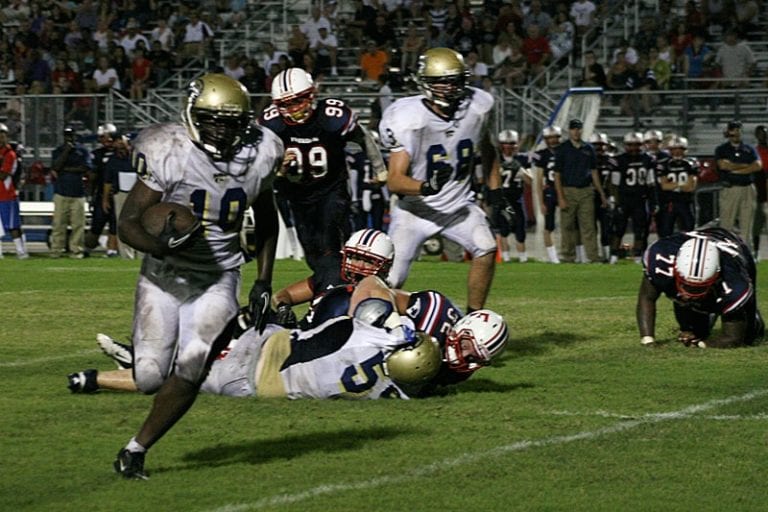 By Matt Mauney | Staff Writer
Everything has been running to plan so far for the Durant Cougars.
But, according to head coach Mike Gottman, the biggest challenge thus far happens Friday.
Durant will host Alonso at 7:30 p.m. Friday, Sept. 7, at the Ron Frost Athletic Complex. The Cougars have been rolling so far this season, scoring 91 combined points in their preseason game with Bloomingdale and their season opener last week against Freedom. The ground game has been the focal point of the Durant offense, led by senior Jamarlon Hamilton.
The 5-foot-9, 215-pound running back has had his way with defenses thus far, including five rushing scores last week against Freedom in the first half alone. Hamilton racked up 130 yards despite being benched in the second half with the Cougars up big. Durant went on to win the game 57-7.
Durant's defense also looked strong against Freedom, allowing just one score to the Patriots, which came in the second quarter with the Cougars up 37-0.
The special teams unit has also been a bright spot for the Cougars so far. Two of Durant's touchdowns last week resulted off of special teams plays.
"We ran a fake punt in for six and had two kickoff returns that we got turnovers on," Gottman said.
Alonso beat the Cougars last year in Tampa 26-5 and, according to Gottman, his team must be ready to "get after it."
"This is the biggest game so far this year," he said.
Offensively, Alonso is fairly balanced, mixing in runs with passes. Defensively, they get after the ball and are a solid and physical defense. The Ravens nearly came away with a win last week in a 24-21 loss to Gaither, putting together a last-second drive at the end, when quarterback Brandon Hawkins found Derius Davis on a 45-yard pass, down to the Gaither 20.
Although Davis went out of bounds after the catch, the officials said time had expired, putting a stop to a possible game-tying field-goal attempt or a shot for the win.
"They gave Gaither everything they wanted," Gottman said. "This should be a pretty good football game."
In addition to Hawkins and Davis, the Ravens have another weapon in running back Ish Witter, who ran for nearly 100 yards last week, including two scores.
Gottman said the key to a win will be to keep playing as close to error-free football as possible. The Cougars have done a good job so far winning the turnover battle and capitalizing on mistakes by the opposition.
"We just have to keep doing what we're doing and not commit a bunch of mistakes," he said. "That's how you lose games."
Contact Matt Mauney at mmauney@plantcityobserver.com.
OTHER AREA ACTION
STRAWBERRY CREST AT BLOOMINGDALE
Last week: The Chargers are coming off one of their most notable wins in program history after defeating Plant City 21-7 in Dover in the season opener last week. The Chargers' offense was led by running back Chris Perez and highlighted by receiver Karel Hamilton, who brought down some big catches, including the only two offensive scores for SCHS.
The Chargers got on the board first after Alex Carswell recovered a fumble and returned it 47 yards for a score. The SCHS defense put together some key stops against the Raiders, especially with the passing game.
Bloomingdale is coming off an opening loss to Chamberlain, 27-13, but the Bulls showed some promise, especially on special teams. Bloomingdale had a blocked punt for a score to go along with a 92-yard kickoff return by Alex Ragland.
Last meeting: Strawberry Crest was dominated 40-6 last season by the Bulls, but the Chargers are coming off a win over Plant City, a team that beat them 69-6 last season.
FREEDOM AT PLANT CITY
Last week: Plant City is looking for answers after a 21-7 loss at Strawberry Crest. The Raiders are trying to find their identity after losing 22 seniors to graduation.
Head coach Wayne Ward found his go-to guy for the offense in freshman Ervin Micheal. The running back rushed for a game-high 186 yards last week against Strawberry Crest and scored the Raiders' only points of the game on a 13-yard run in the third quarter.
Quarterback Nick Rodriguez was benched in the second half for Rayquan Johnson. Johnson also struggled, failing to connect on his first seven passes. The junior finished 1-of-8 for 21 yards but did have six rushes for 46 yards.
Freedom has only managed one score in its preseason game and season opener combined. The Patriots are coming off a 57-7 dismantling at the hands of Durant. D.J. Grant, the backup quarterback, scored the Patriots only touchdown of the game on a 9-yard run in the second quarter.
Last meeting: Plant City breezed by Freedom 29-7 last season in Tampa.">http://zakaz-pereezdov.ru/oformit-onlayn-kreditku.php