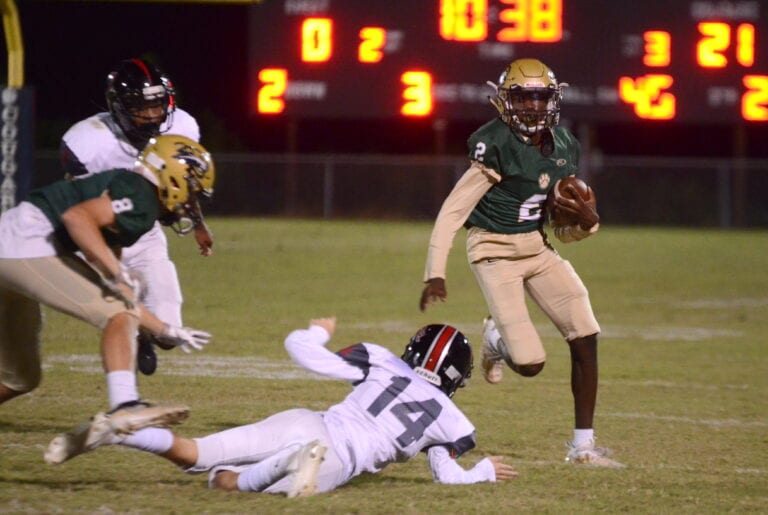 The Cougars, the last remaining Plant City-area team in the playoffs, will take on the Titans this Friday in an effort to get to the regional semifinal round.
Durant's 2020 playoff run will finally begin this Friday.
Last week, the Cougars were supposed to kick things off by hosting Leto in the teams' play-in game for a spot in tomorrow's regional quarterfinal. But the Falcons' postseason hopes were felled by a positive COVID-19 test at Robinson shortly after they beat the Knights to score their first win of the season. Because so many of Leto's players were forced to quarantine due to their close proximity with that Robinson player, last Friday's game had to be forfeit and the Cougars automatically advanced to the next round.
With their newfound bye week, all the Cougars had to do was wait and see who they would draw for tomorrow night's game. It would be a high-scoring offense either way: both Tampa Bay Tech and Bartow spent the 2020 season running up the score on most of their opponents, and each offense has averaged more than 40 points per game through their nine games. Though Bartow had advantages on paper with an 8-1 record and a bigger points for/against differential, they simply couldn't hang in there with the Titans and took a 39-14 loss at home.
Though the Titans were slightly more productive on the ground than usual (207 total rushing yards and one touchdown), it was a typical TBT performance. Quarterback David Wright (who had 93 of those rushing yards as well as that touchdown), threw for 335 yards and five touchdowns while completing 65 percent of his pass attempts. Greg Gaines III and Armone Harris each cleared 100 receiving yards and Gaines caught three of Wright's five touchdown passes. Harris and Jamari Gassett each caught one touchdown pass and Gassett finished with 90 yards on six catches. The Titans defense picked up four sacks, an interception and a fumble recovery as well.
After giving up 229 passing yards on seven completions to Bloomingdale, Durant's defense did get better against the pass. This was most notable in the Battle for the Redman Cup when the Cougars held Plant City's pass-focused attack to 169 yards and no touchdowns, limited one of the most heralded receiving prospects in the nation to 31 yards on three catches and essentially forced the Raiders to try and beat them on the ground (which they did when Romello Jones caught fire and scored five touchdowns with 203 yards). A comparison of stat sheets favors Wright over Plant City's Nick Felice, but it should be a good sign for Durant that its defense has already proven it can cover a strong receiving corps.
After freshman running back Rod Gainey, who currently has 574 rushing yards and five touchdowns, Tech's next-most productive runner is Wright himself. He has a team-high 11 touchdowns on the ground and has totaled 210 yards on 68 carries. After Wright, no running back on Tech's roster has more than 19 touches or 22.3 yards per game. The Titans average about 116 rushing yards per game and the lion's share go to Gainey, so Durant likely won't have to worry about stopping a committee of backs so much as slowing Gainey down as much as possible and limiting opportunities for Wright to sneak into the end zone.
Durant also has the benefit of playing at home, where the Cougars have put together a 3-1 record and outscored opponents 119-54. They're also coming off of their first road win, in which they played spoiler to Wharton's bid for an undefeated season with a 20-9 win in Tampa. Full stats were not available for the Wharton game at press time, but the Durant defense was on fire with four sacks, four hurries and a great effort from defensive back Aashton Kirkland in particular: two interceptions with 36 return yards, a blocked field goal and five solo tackles. The Titans' offensive line has given up four or more sacks in three games this season, so it's realistic to expect Durant to put pressure on Wright throughout the game if the Titans aren't throwing the ball immediately after the snap.
Looking at Tech's three losses and its one-point win over Armwood, three of those games had one thing in common: the opposing teams had great success throwing the ball. But there is a template out there the Cougars could follow. Only Gaither failed to crack the 200-yard passing mark in its 34-14 win, but the Cowboys' offense dominated the time of possession (Gaither ran 51 plays against Tech's 37) and their defense stepped up to sack Wright five times. That's much more in line with Durant's style of play than, say, throwing the ball 20-plus times and hoping for 300 yards and a few scores that way.
The winner of Friday's game will move on to host the winner of the Lakeland-Kathleen game, for which the odds are probably pretty heavily in Lakeland's favor. The Dreadnaughts have already played the Red Devils at Kathleen this year and ran all over them for a 37-9 win. Durant and Lakeland did play each other this year, with Lakeland getting a 35-0 win at home. The Cougars were supposed to play Kathleen as well, but COVID-19 forced the Red Devils to cancel that game and Sumner was added to Durant's schedule to make up for it. Tech did not play either Polk County team in the regular season.
It won't be easy for Durant to win this game, but it is possible.