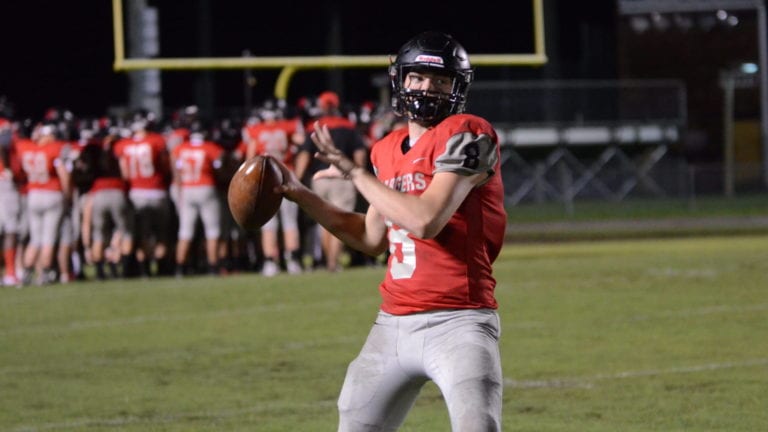 The Chargers are hoping to bounce back from last week's loss this Friday night.
Strawberry Crest is looking to recapture its early-season mojo after being held to just six points in last week's home loss to Kathleen.
The Red Devils picked up their first win of 2019 at Crest in a 51-6 rout of the Chargers. Kathleen held a 17-0 lead over Crest at halftime and the Chargers did open up second-half scoring with a fumble recovery for a touchdown, but the visitors seized control immediately after the missed PAT and scored 34 unanswered points to put the game away.
The Chargers came into last week's contest averaging 20.5 points per game — exactly one passing touchdown and two rushing touchdowns in each of their previous games — but last week was the first time in 2019 that a team was able to shut down Crest's offense. Neither Crest nor Kathleen recorded stats for MaxPreps.com as of press time, though.
Riverview is coming into Friday's game with a perfect 4-0 record and a scoring output of 32 or more points in three of four games played. The Sharks remained perfect with last week's 32-6 blowout at Haines City, for which stats weren't posted. The week before, hosing Brandon, Riverview picked up a 38-14 win maximizing the talents of dual-threat quarterback Stazion Gage (11-for-17 with 198 yards and one touchdown passing; nine carries for 116 rushing yards and two touchdowns on the ground).
The win-loss column typically doesn't tell the whole story, though, and that's very much the case for this Sharks team. While a 4-0 start is always a good look, Riverview's opponents are a combined 2-13 overall in 2019. And only one of those four opponents — the Durant Cougars — have won a game this season (in fact, they've won two). Durant was also the one team that kept the Sharks' scoring output lower than usual in their 13-12 game. In virtually all regards, recorded or otherwise, Crest has been markedly better in 2019 than almost all of Riverview's competition.
It wouldn't hurt the Chargers to take a few pages from Durant's book for this one.
Offensively, though Riverview held Sean Williams to 3-for-11 passing and 72 yards, Durant put up 254 rushing yards on the Sharks defense and scored both touchdowns on the ground. Though the Chargers and Cougars run entirely different offenses, it still appears that committing to the run and getting a rhythm is the best way to move the chains against this team.
Defensively, having a spy on Gage looks like a requirement. Durant was very successful there, holding the quarterback to 20 yards rushing on three attempts and holding the team at large to 50 yards on 11 touches. Gage did put up 192 passing yards on the Cougars, per MaxPreps, though that's including that game's controversial 99-yard lateral. For what it's worth, Gage did put up identical passing numbers the following week against Brandon without the help of a coast-to-coast play.
If last week's game against Kathleen was an outlier, Crest might be in position to hand Riverview its first loss of 2019.
OTHER AREA ACTION
DURANT
at Newsome, 7:30 p.m.
The Cougars hosted Bloomingdale in their 2019 district opener and were shut out for the first time this season. The Bulls, who lost by shutout the week prior, picked up a 35-0 win at Durant in which 27 of their 35 points were scored in the first half. Stats for the game were not available at press time.
Newsome extended its win streak to three with last week's 33-21 home win over Lennard. The Wolves ran the ball 42 times for 362 yards and four touchdowns, but the key to success was sophomore Jason Albritton's 228 yards and two scores on 21 touches.
If you appreciate a strong rushing attack, this upcoming chapter of the Alafia River Rivalry is for you. Both teams are calling run plays roughly 80% of the time in 2019 and have proven capable of putting up big numbers on the ground.
PLANT CITY
at East Bay, 7:30 p.m.
The Raiders are coming off of a 55-19 loss to Lakeland at home that was closer than the score suggests. A slew of turnovers (five interceptions, two returned for touchdowns) ultimately doomed Plant City's chances of making a comeback, however.
East Bay, meanwhile, went back on the road and took a 39-15 loss to a red-hot Gaither team. Though the Cowboys and Indians played a close second half (East Bay actually outscored Gaither, 15-13), Gaither's offense produced 26 points in the first half (three touchdowns passing, one rushing).
The Indians have gone 8-3 when playing at home since 2017, and are currently undefeated in Gibsonton in 2019 (they beat Jefferson, 35-34, on Sept. 7). But East Bay also hasn't been able to defeat Plant City since Oct. 4, 2013. During Plant City's five-game win streak, the Raiders have averaged 25 points per game and only once (Sept. 23, 2016's 31-24 win) did they allow the Indians to score more than seven points in a contest. Plant City definitely wants to keep that streak alive but must keep turnovers at a minimum.