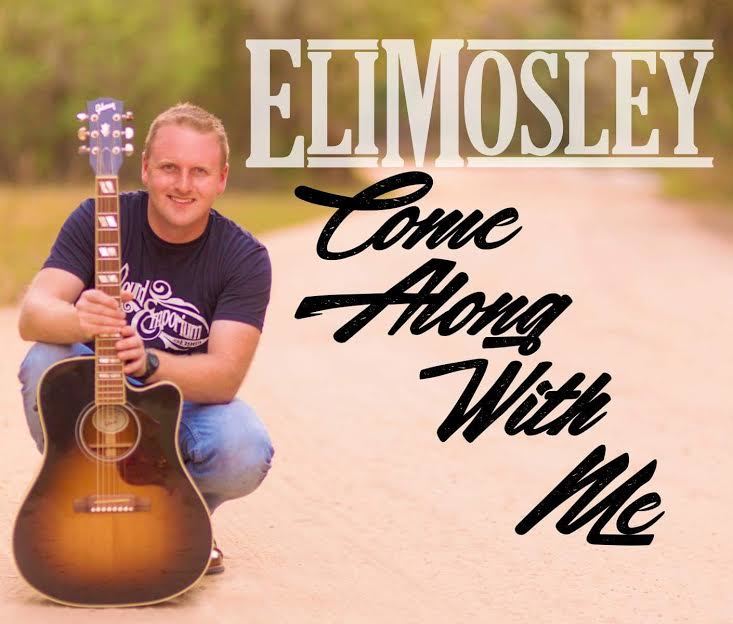 Prior to the release, the country music artist will have an album release party Saturday, April 8, at 1916 Irish Pub in Plant City.
When Eli Mosley was 6, he saw Tracy Byrd perform at the Florida Strawberry Festival and knew he wanted to become a musician. Now, the 26-year-old is living his childhood dream.
In March, Tracy Byrd returned to the Florida Strawberry Festival – and so did Mosley.
But this time, Mosley was taking the stage, too. On Saturday, April 15, the country singer will release his second album, 'Come Along With Me.' An album release party will be held one week prior to the event Saturday, April 8, at 1916 Irish Pub in Plant City. The album will be for sale during the release party, and Mosley will perform the album in its entirety.
1916 owner Chuck Jamieson — who also owns Duke's Brewhouse in the Walden Woods Plaza — has been a longtime supporter of Mosley's music.
"It's country music," Mosley said. "It's definitely got traditional roots with a modern flair. All my influences are from the '80s and '90s, but I try to keep with the current sounds. After I met Chuck, he invited me to play."
The release of 'Come Along With Me' comes almost exactly two years after the release of Mosley's first album in April 2015, the self-titled EP 'Eli.'
The rising country musician has established a name for himself in central Florida and beyond. A native of Bartow, Mosley graduated from Southeastern University in Lakeland in 2015 with a degree in music business. He frequently performs in Lakeland, Plant City, and surrounding areas.
Though he's always loved music — Mosley began performing in school and church performances as young as 10, later learning guitar at 12 — he only went full-time with his music in January. Prior to that, he served in the United States Marine Corps as a corporal, and continues to work part-time as an engineer with country music station 97.5 WPCV.
Going forward, Mosley hopes to turn his passion into his career. He's performed 22 shows since the start of 2017 and has 14 more planned for the month of April.
"I never thought that I would be playing this much," Mosley said.
His influences include the likes of George Strait, Luke Bryan, Garth Brooks, Brad Paisley and Chris Stapleton. For his second album, he's tried to elevate his music as much as he can. Produced at Ocean Way Studios in Nashville, Mosley's album of original songs includes work from writers who have
written for The Band Perry.
"It's not a local album," he said. "We've basically gone to the highest level quality we can reach at our state. There's more ownership on my part with this new album." The title, 'Come Along with Me,' Mosley said, is reflective of his growth as a musician over the last few years.
"It's asking fans and listeners to follow me on this journey," he said. "I'm grateful to the help from my major influences and other musicians. I'm working my way to that level and gaining momentum. It's such an honor to be able to do this. I can't believe I'm living this dream."
Contact Emily Topper at etopper@plantcityobserver.com.