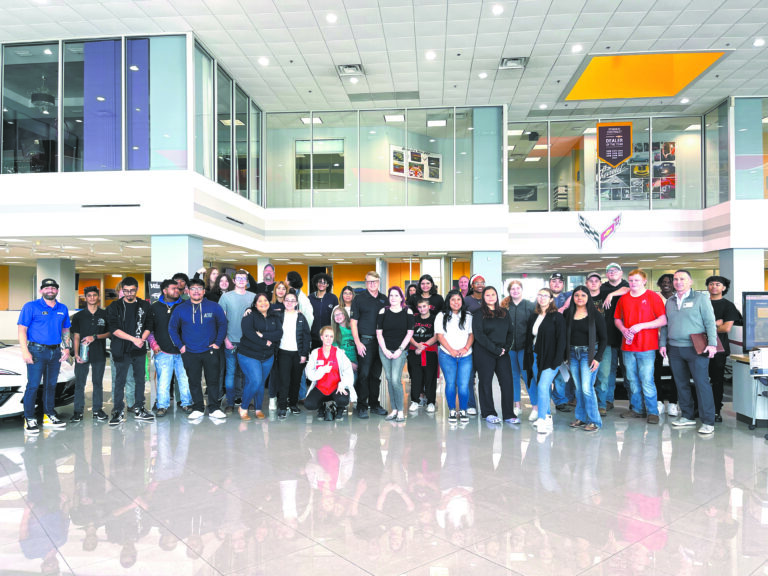 Seniors from several high schools toured local businesses to explore possible career options after graduation.
Field trip buses rolled through Plant City last Friday not delivering boisterous elementary school students to the Florida Aquarium or Dinosaur World but delivering eager senior high school students to local businesses where they made connections with employers offering in-demand, living wage, entry-level jobs with long-term career growth and sustainable employment. Future Career Academy (FCA) is the signature program of the Florida-based nonprofit Workforce Development Partners Corporation and began as a partnership between Hillsborough County Public Schools and the business community in 2015 to bring greater awareness and access to students with the knowledge and skills needed for a wide range of careers.
Buses with students from Durant, Plant City and Strawberry Crest High Schools and Simmons Career Center toured several businesses, including Stingray Chevrolet, Star Distribution, Wish Farms, Patterson Companies, Ace Hardware, Hillsborough County Clerk's Office, Florida Agency Network/Hillsborough Title, Palm Harbor Homes, Gordon Food Service, Linder Industrial Machinery, Allen and Hector's Elite Auto, South Florida Baptist Hospital and QGS Development.
The first stop on the tour for Simmons Career Center seniors was Stingray Chevrolet, where students learned about the myriad of employment opportunities at the dealership, from service porters and service technicians to salespeople and loan officers. Marketing manager Norm Knees shared tips about how to get a job with the company. "Don't be late, be ready to work and eager to learn," he said. Owner Steve Hurley interacted with the students at the end of the tour, showing them a sleek Corvette with state-of-the-art technology. He revved the engine, which delighted some car enthusiasts in the crowd. "I appreciate you taking a look at my business and it's up to you to decide what happens in your career," he said. "There are tremendous opportunities right here in Plant City."
Senior Alejandro Aviles' interest was piqued while touring the dealership. He grew up watching The Fast and The Furious movies and owns a 2016 Chevy Impala. "I'm obsessed with cars and I want to get on-the-job training right after high school graduation," he said. "I'm seeing all the fun opportunities in the industry. Aviles accepted a job application before leaving the dealership.
Simmons Career Academy English teacher Amelia Lackey said this is exactly the exposure her students need. "There are so many job opportunities that they don't know exist and it's important they find a way to make a good honest living and be able to take pride in what they do," she said.
Chaperones on the Simmons bus included former-mayor Rick Lott and his wife Dianna, Plant City Economic Development Council CEO Steve Morey and Ad-Vance Talent Solutions Talent Acquisition Manager Holly Malave, who helps the City of Plant City acquire new talent to fill its vacant positions.
"I'm here to make connections for up and coming graduating seniors to find a career path at the City of Plant City, which offers a stable schedule, excellent work/life balance, and excellent benefits packages," said Malave. "These students can start in an entry-level position but it's the start of a career." While on the bus, the Lotts served as emcees, engaging students and sharing information about the business before each stop.
The next company visited on the Simmons bus tour was Palm Harbor Homes, where students toured the facility and learned about possible career paths at the nation's leading builder in modular and manufactured home construction housing. A murmur went through the crowd as the company's human resources manager mentioned that the company is offering a $1,200 sign-on bonus and starting pay of $17 per hour in addition to production bonuses, a Christmas bonus, benefits and paid time-off. Several students asked for applications before the tour was completed.
The bus then took students to the Plant City Stadium, where in addition to a lunch catered by Chick-fil-A, city employees shared a presentation that highlighted the different departments within City of Plant City government and job opportunities available in each one. Students got to see many pieces of heavy equipment that city employees use on a daily basis as part of their jobs as they were bombarded with City of Plant City shirts fired from a t-shirt cannon. "We want you to see how many opportunities there are right in your hometown and show you the jobs available in city government," said City Manger Bill McDaniel. "You don't have to look across the horizon for opportunities because they're available right here in our hometown of Plant City, Florida."
After lunch, the final stop of the day was Wish Farms, where students learned about the international grower, shipper and marketer of strawberries, blueberries, blackberries and Pink-A-Boo Pineberries. "Agriculture is a rewarding industry because we feed our country," said Wish Farms Public Relations Manager Nick Wishnatzki. He encouraged students to visit www.indeed.com to search for available job opportunities with the company and offered a tip. "When submitting a resume, it's always important to add a cover letter because our HR director will always look at them first," he said.
Students seemed to have enjoyed the experience. Johnny Bravo was impressed with the number of job opportunities that are available. His dad owns a construction company and he's been learning the trade for years. "I look forward to graduating and for the exciting new opportunities the world is going to offer me," he said. Iris Ramos also hopes to get a job where she works with her hands. "I'm used to working with my dad in construction, like plumbing, electricity and drywall," she said. Dinah Rodriguez has always been interested in automobiles. "One of my uncles services his own cars and sometimes I'd go over and help him out," she said. "Jobs at Stingray Chevrolet definitely appealed to me so I'm hoping to apply there."
These are exactly the reactions FCA CEO Yvonne Fry was hoping for. "I want to prepare students and give them access to local business owners but its our local business and community partners that make it a success," she said.
For more information about Future Career Academy visit www.thefutureareeracademy.com.