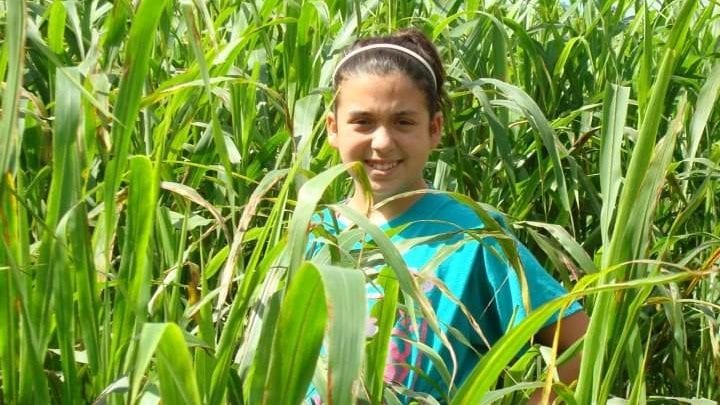 The Fox Squirrel Corn Maze located right here in Plant City is about to officially open for its fall festivities. It was just named the sixth best corn maze in the nation by USA Today.
For years, the Fox Squirrel Corn Maze on the edge of Plant City has quietly developed a cult following from all over the state. This year, it was recognized for its unique offerings by being named the sixth-best corn maze in the nation by USA Today.
While it may be the first time a national audience has been introduced to the Plant City fall spectacular, locals know firsthand just how interactive and festive the annual event can be.
"We were shocked when we saw we were not only nominated for the top 20, but then won the sixth spot," Janet Futch, co-owner of Futch Entertainment, said. "I looked at the list and, last year, none of them were from Florida. And this year, there's two. How great is that? At first I didn't believe it. I sent it to our marketing team and asked if it was real and they did some research and said yes. We were just blown away."
The Futch family opens its farm up to the public every year, showcasing a piece of "old Florida" that is rarely seen today. As guests walk through the corn maze, they're surrounded by the laughter of nearby walkers and the subtle sounds of nature one can only experience deep in the heart of Florida. Futch said she thinks part of the appeal of driving out to their farm is that you are getting a slice of traditional values wrapped up in traditional fun.
"I think it's just our family. We're all involved in this," Futch said. "Two of my three brothers and myself are partners in the company and this is our eighth year doing it. From the get-go we've had a great response. They see us walking around and working, but we stop and talk with people and they like that. We take their photo, we learn their stories. By the end of it, I think we all feel like we're really a part of something. It's so great to watch the hay ride because there's just all of these strollers parked in a long line from all of the families wanting to take their children on an old-fashioned hay ride. It's just a lot of fun."
This year, the event is sponsored in part by Driscoll's Only the Finest Berries and the Florida Strawberry Growers Association. The maze reflects the FSGA logo and will surely give attendees a run for their money. There is also a pumpkin patch, which has pumpkins from up north you can purchase and take home, the hay ride, exciting games, mouthwatering food and a variety of unique vendors.
It's an event most need to schedule three or four hours to truly take in every nook and cranny. Your kids can enjoy horse and pony rides and play with massive slingshots, you can shop homemade jewelry and paint your own pumpkin. There's a butterfly experience and more sweets and goodies than any one man can eat and live bluegrass music that will keep your foot tapping for hours.
Always looking to keep the experience growing, Futch said they decided to add a few new additions this year, including a mechanical bull for the first three weekends. There's also massive slides and an abundance of games and activities to keep children active all day long.
One of Futch's favorite areas on the grounds is the swing set the family built out of telephone poles. She said it's one of the sturdiest swings in the area and that it always brings a smile to her face to look over and see a 50-year-old swinging without a care in the world, knowing they more than likely haven't kicked their feet toward the sky in decades.
The corn is already higher than anyone can see over and Futch said it looks to be one of the most fun years they've had to date. Anyone interested in attending is recommended to wear close-toed shoes as they will traipse through a field, and due to Florida's wildlife, bug spray may help keep any mosquitoes in the area away.
People come from Tampa and St. Petersburg, Daytona and Brandenton and Futch said they've even had a few attendees mention they came from out of state and had this on their "must-do" list. Many mention that while they may have grown up in corn mazes out west or up north, they haven't seen one in Florida that ever seemed up to par. That is, of course, until they stepped foot on Fox Squirrel's property.
"The very first year, it was so scary," Futch said. "We put forth a lot of hours between the three of us and that's not including the people that help us. Just the three of us spent more than 450 hours each just to put it together. We're now at the stage of the process where we are putting the final pieces together, mowing the parking lot and really getting ready for the crowds. We didn't know back then if anybody would come and we opened the gates the first year and just stood there and said, "OK, is anybody gong to come?" Then they came flooding in the cattle gate and have shown us the same love every single year."
This year's season opens Oct. 5 and will run every weekend through Oct. 27. The maze is open from 10 a.m. to 5 p.m.
If you go
Fox Squirrel Corn Maze
When: October 5 to October 27, 10 a.m. to 5 p.m.
Where: 3002 Charlie Taylor Rd.
For more information: Visit futchentertainment.com or go to the Fox Squirrel Corn Maze Facebook page.
Tickets: $11 + tax for 18 and older, $10 + tax 3 to 17, two years old and under are free.
Admission booth accepts Cash, Visa, Master Card and Discover. Vendors are mostly cash only.
Card Carrying heroes–$2 off admission