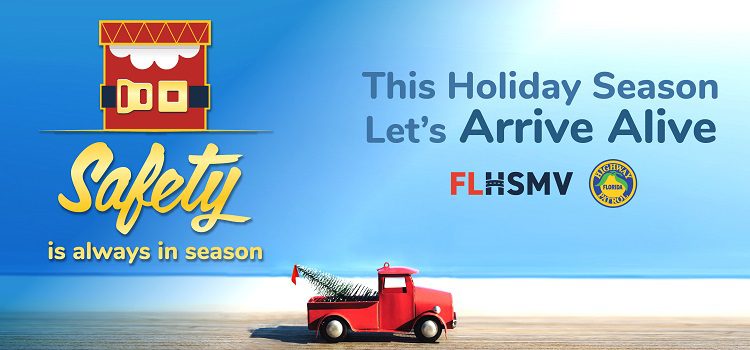 Statewide campaign advocates for safe driving practices and preparedness during heavy travel season.
As fall brings cooler weather and the holiday season approaches, the Florida Department of Highway Safety and Motor Vehicles (FLHSMV), its Division of the Florida Highway Patrol (FHP), and our public safety partners reminds Florida residents and visitors to arrive alive as they travel the highway this holiday season.
"The holiday season brings a surge in travel throughout the state as many drivers travel for gatherings and celebrations," said Florida Department of Transportation Secretary Jared W. Perdue, P.E. "A surge in travel means increased traffic on our roadways, so it's especially important to focus on safe driving behaviors and have even more patience while on the road. Let's all be sure that everyone can reach their destinations safely throughout this holiday season."
As Plant City residents gear up to travel to visit friends and family within the next two months, whether going across town or across the country, staying safe is more important than ever. FLHSMV will provide multi-phased messaging throughout November and December to ensure no matter what your plans are, they include safe travel to and from your holiday destination.
"During this festive season, the Florida Police Chiefs Association urges everyone to not just be merry, but also be mindful," said FPCA president Clermont Police Department Chief Charles "Chuck" Broadway. "Remember to always buckle up, avoid distractions while driving and plan your travels in advance to avoid rushing. A little foresight can go a long way in making sure our celebrations bring us closer to our loved ones safely."
It's not just the holiday season at stake. "Don't let one decision create a lifetime of consequence," said PCPD Captain Al Van Duyne.
This year, AAA and Budweiser have partnered to provide free rides to those who've had too much to drink. Adults in need of a ride can call 1-855-2-TOW-2-GO and AAA will dispatch a tow truck and will take both the driver and the vehicle home, free of charge. This service is available throughout Florida- to both AAA members and non-members.
No matter the season, as you celebrate, FLHSMV has helpful tips and resources that will make holiday travel safe. To learn more, visit https://flhsmv.gov.