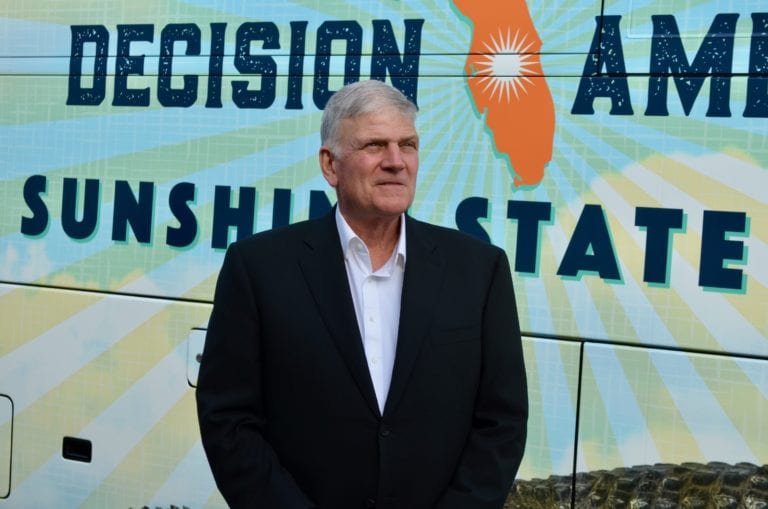 Nearly 10,000 attendees flooded the Florida Strawberry Festival grounds to hear Franklin Graham talk about the nation, the need for prayer and God's love.
When Franklin Graham stepped up to the podium in Plant City on Sunday afternoon he was met with raucous cheers and chants arising from generations of uninhibited support.
Approximately 9,680 attendees flooded into the grandstands at the Florida Strawberry Festival grounds on Jan. 12, according to the Billy Graham Evangelist Association, to listen to Graham on his Decision America Tour. It was the second stop on his six city Sunshine State tour and the highest attendance his team had "seen in a while," according to a spokesman.
Despite the continuing controversy — or "distracting tension" as one attendee succinctly summarized — surrounding Graham following his rebuttal to an editorial in Christianity Today after the publication, which was founded by his father, called for President Donald Trump's removal from office, the grandstands were practically filled to capacity with Graham's supporters. They came from all over, Riverview, Lakeland, Bartow and Tampa, and some even camped out to ensure they got as close to the stage as possible.
Graham said he hoped those who attended the tour walked away with the "same message we've been preaching for 70 years." He said he wants attendees to know God loves them, that He created them, that sin separates people from God, that they can be saved and that their souls are safe and secure in the hands of God.
Once he walked onto the stage, however, the majority of his speech was focused on the moral state of the country. Toward the start of his speech he had everyone in the audience take a long moment to pray for the nation's elected leaders. President Trump, Vice President Mike Pence, Nancy Pelosi — though he added that he wasn't sure when the last time someone prayed for her had been — and even for local leaders like the Mayor of Plant City and school board members. There was a long moment of silence as all nearly 10,000 attendees hung their heads and quietly prayed. You could hear a pin drop. Then Graham softly began a verbal prayer of his own. Loud "amens" signified the end of the moment as Graham then launched into the next chapter of his speech.
"Our country is in trouble," Graham said in an interview with the Plant City Observer. "We're politically — we're broken. The direction of our country is at a crossroads and people are going to have to decide what they want for the future and understand what's at stake in the future. Once we lose our nation, it'll take 100 years to get it back and it may have to take another revolution to get it back. So I want people to pray. This is an election year, I want people to vote."
Graham said that despite the fact that much of his speech is focused on the upcoming election, praying for elected officials and voting as God would lead you, it was not a political rally. It was said almost like a mantra: he doesn't tell people who to vote for, he simply tells them to pray and listen to God's voice. He said the only hope for the nation is God — not Republicans or Democrats — and that voters need to go to the polls with his guidance behind their pencils.
Mere minutes before the rally, while conducting an interview with the gathered media, Graham reiterated a claim he has said multiple times since 2016: Trump won the election due to God's favor.
"I think in this last election, that was God," Graham said. "God was behind that. People said, 'How could President Trump win? He offended everybody, he wasn't a politician.' And he did, but yet at the same time people voted for him and he won the election and I think God did it, God was behind it."
Yet Graham stuck to his belief that it was not a tour centered on politics, but rather a tour focused on bringing people back to God and back to the action of prayer.
The response from the Christian community has been split. The thousands in attendance showed their support for not only Graham, but his message for the future of the country.
Terry Jacobs and Ella Jefferson came over to the rally from Lakeland. Jefferson uses a cane and the long line wrapping to the entrance was more than she felt she could handle, so the duo sat in Jacobs's truck just behind the grandstand with the windows down, soaking in every word.
"The main reason we are here, the reason everyone is here, is to support the body of Christ," Jacobs said. "We are here to unite churches, to unite souls, to encourage pastors. The main thing is, we have such an awesome moment of praise and worship here and that will draw not only the saved, but the nonbelievers. Even if they don't come to the Lord tonight their lives will be touched… And who doesn't love the Grahams?"
Jacobs attends Ignited Church in Lakeland and said her pastor had encouraged the entire congregation to attend. Congregations were strewn throughout the grandstands, many of whom wore their church shirts while they worshiped along with Jeremy Camp prior to Graham's speech.
Jacobs also agreed with Graham's push to pray for elected leaders. Quoting 1 Timothy 2:1-2, she said believers were called to pray for all men, including those in positions in authority. She said you start with the head, or the President, and then work your way down to local officials, to leaders of your businesses and hospitals and organizations. She said you pray for your family and friends, for strangers on the sidewalk, for the homeless. Prayer is meant to be used as an intercession, Jacobs said, and it was used in full force Sunday. She prayed with someone who walked by on the sidewalk, talked to a handful of people who stopped for a chat on their way into the rally. It was the perfect example of how "believers should have the faith to believe God can move and work in the nation."
Not everyone echoes that sentiment. On Tuesday, Faithful America, a nonprofit Christian social justice organization, began a protest against Graham's trek around Florida. The petition has more than 11,000 signatures as of press time and states that Graham's tour does not represent their faith.
It heavily cites many years' worth of quotes from Graham ranging from the way he vehemently opposes LGBTQ issues to his frequent vocal support of Trump, including a quote from Graham during a podcast in November 2019 where he said the impeachment was guided by an "almost demonic power."
Three of the locations Graham is speaking at during the tour in Florida are at publicly owned venues and the petition is asking city governments to rethink allowing him in their venues due to his divisive views. If the governments do not cancel his rallies, the petition asks them to instead donate his rental fees to pro-LGBTQ causes.
The petition doesn't seem to have phased Graham as he prepares to head his fourth stop of the Tour at today's rally in Key West.
"I don't know about the 11,000 who have signed an online petition, but we've had some 25,000 attend in person, and we're only halfway through," Graham said.