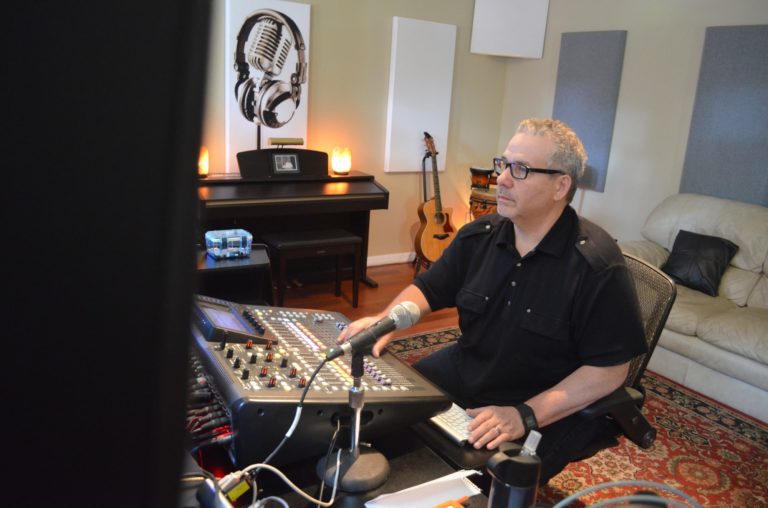 Dominick Pages' Dover recording studio is more than business — it's where art is made.
The oriental rug has twisted shapes of flowers and stars blazing out of a red background. It sits in the middle of the room at Crystal Blue Sound Studios, a silent listener to the many musicians, singers and radio voices that trek in and out of owner Dominick Pages' schedule.
How many have stepped on its threads?
A woman with an acoustic guitar and a Cleopatra haircut.
A Christian rocker in a white fedora.
Two redheads.
They are all part of Abbey Ridge Live, an online, in-studio concert series hosted out of Pages' home studio, in Dover. He does the work pro bono so musicians can have exposure.
"Creativity alone is such a powerful tool," Pages said. "That's what I'm trying to push."
Pages isn't trying to save the world, but he is trying to get other studios and venues in what he calls the triangle of Florida — Orlando, Tampa and Sarasota/Bradenton — involved in the project. The goal: to promote chemistry between local artists and venues and bring opportunities to artists they otherwise wouldn't have.
In the most recent show, which drops this month on Abbey Ridge Live's YouTube channel, Pages hosts Brooke Sierra, a local 17-year-old, and Daniel Sprouse, a Plant City country singer.
Pages records and shoots with bands in front of a live audience on Sundays — the day of the week bands usually have off — and then spends close to 10 hours multitracking, editing and mixing. That time doesn't include the shoot setup and breakdown or the time spent recording and shooting the band.
"They like the space, they like the energy here," Pages said.
He has done his job to ensure Crystal Blue Sound Studios is an inviting atmosphere for artists and guests. Salt rock lamps control dust, and soft blue lighting creates a subconscious experience of confidence and calmness. The studio is next to Pages' meditation room on the second floor of his suburban home, tucked between landscaped lawns and behind a gated entrance. It is a stark contrast to some notoriously trashed-out studios — the early days of Sound City, with brown shag carpet on the wall and a location next to an army of dilapidated California warehouses.
More important than the setting, Pages makes sure he takes time to know the artists — and their insecurities. Some are unsure of their songwriting. Others are defensive about their musical expertise. Pages is more of a psychologist than a magician behind the soundboard, offering advice and gently nudging artists in the right direction.
He likes to get a feel for the artists because it makes the music — the experience — better.
"Songs are four-minute movies for the blind," Pages said. "You have to capture the listener within one minute with the story … then hold them for four."
His reasoning is that music is no longer a primary activity. Gone are they days when Pages used to sit in front of the TV to watch the live performances on The Ed Sullivan Show. It was then when he first saw the Beatles and knew he would become a musician.
"I was moved by how exciting it was to play music, to have people screaming at you (in the audience)," Pages said.
He'd steal his sister's guitar when she left the family apartment and woke the neighbors up with a drum set his uncle bought him.
From there, he continued to teach himself instruments. In the 80s, he formed a band, now called Crystal Blue. They toured, once getting rained out at a private island party for the Phillies and almost missing their barge back to the mainland.
Foreseeing he wouldn't want to tour six days a week forever, Pages began to teach himself the art of recording.
He still makes time to play with his band around Tampa and can't get away from its 25-year stronghold.
"Art is very personal," Pages said. "Making music isn't forced, it's something you let unfold."
Contact Amber Jurgensen at ajurgensen@plantcityobserver.com.