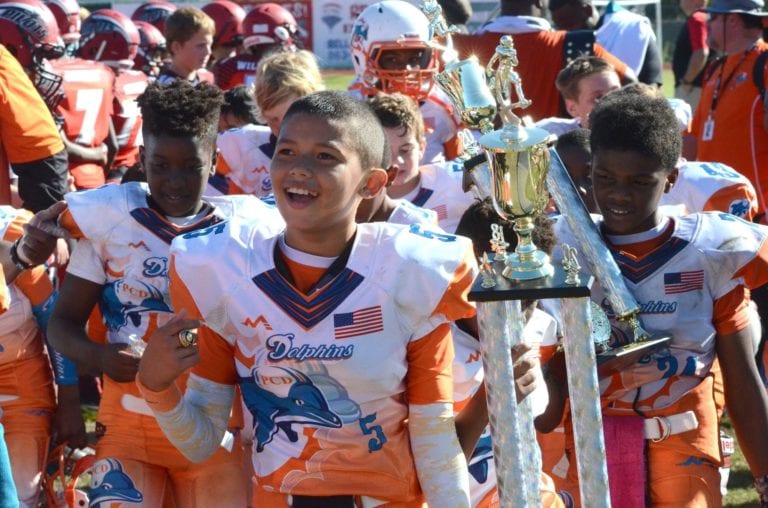 The Plant City Dolphins will be well-represented when the organization hosts the TCYFCC league championships this Saturday.
If you're a Plant City "Dol-fan," get ready for a long day of football this Saturday.
The Dolphins' Mighty Mite, Pee Wee, Midget and Junior Varsity teams are back in the Tri-County Youth Football and Cheerleading Conference Superbowl and looking to keep their perfect records intact on their home turf. It's the first time since 2016 the Dolphins have had four teams competing in one TCYFCC championship game day.
The Mighty Mites will start the championship action with a game against the New Tampa Wildcats (8-4), then the Pee Wees will follow up with their game against the Southwest Junior Saints (11-1). After that will come perhaps the two biggest matchups of the day with four teams sporting perfect 12-0 records. The PCD Midgets are hungry to win their fourth consecutive championship, but that won't come easily against a tough Lakeland Eagles team. Wrapping up the Dolphins-related action for the day is the Junior Varsity team, which will pit coach John Broome's famous "Purple Reign" defense against the Brandon Cowboys in what will be Broome's 12th consecutive Superbowl appearance as a coach in the PCD organization.
The Varsity game will have the North Lakeland Legends (12-0) take on the Brandon Cowboys (11-1) to end the day.
If all goes well on the football field, it'll be the cherry on top of a successful TCYFCC season for the Dolphins organization. The PCD cheerleaders also won two league championships (Pee Wee, Midgets) and three second-place trophies in the Oct. 26 TCYFCC Cheer-Off competition at Strawberry Crest High School.
After the Superbowl, the Dolphins will have some time to prepare for the Strawberry Jam Turkey Bowl tournament they'll host at Buddy Bennett Field from Nov. 29-Dec. 1.
KICKOFF TIMES
Mighty Mite: 9 a.m.
Pee Wee: 10:30 a.m.
Midget: 12 p.m.
Junior Varsity: 2 p.m.
Varsity: 4 p.m.
LOCATION
Otis M. Andrews Sports Complex, 2602 E. Cherry St.