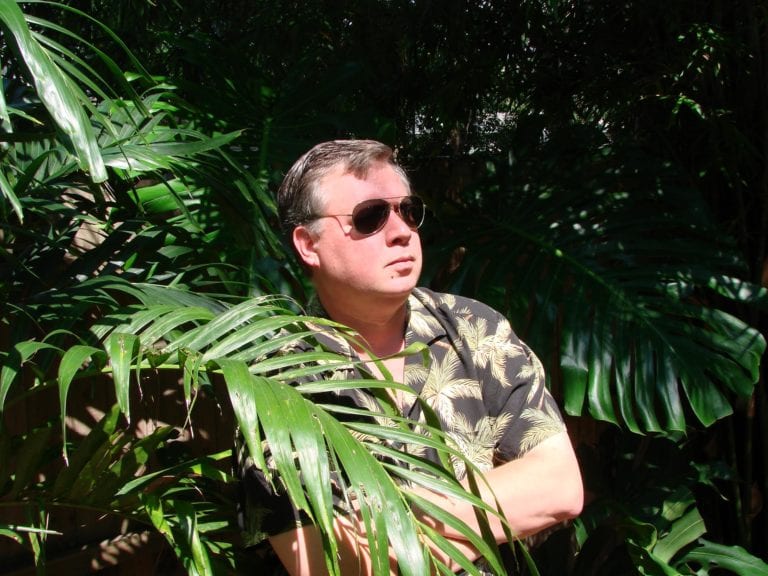 Bestselling author Tim Dorsey has been taking readers on adventures throughout the state of Florida for nearly 20 years. He's stopping in Bruton Memorial Library next week to share his latest book, "No Sunscreen for the Dead."
Tim Dorsey is making a special appearance in Plant City ahead of the release of his new book, "No Sunscreen for the Dead."
Dorsey has captivated readers since 1999 with his gothic and comical tales centered around the problematic, but endearing character Serge A. Storms. Each of his 21 books — 22 if you count the Christmas novella — are set in the heart of Florida and follow Storms on a twisted adventure full of elaborately savage violence and witty dialogue that causes readers to laugh out loud.
"In a way the main character is a mouthpiece for Florida, he's my mouthpiece for Florida," Dorsey said. "I grew up here and I've lived here long enough to have such great memories. I just love practically everything about this state. I love nature and state parks and the national parks and I want to see the history and the heritage preserved, I want to see the ecology preserved and the environment. In a way this guy is kind of — I wouldn't say venting — I would just say advocating for my positions and my deep feelings for the state of Florida."
Following in the footsteps of Carl Hiaasen, Dorsey has lured readers into a mental scenic tour of his home state. After following Storms on his many adventures throughout the southern peninsula no one would dare accuse Florida of being anything other than a cocktail of oddities.
Storms is the embodiment of Florida. He represents everything that makes the eclectic state so beautiful and yet occasionally so grotesque. He pursues the myths Florida wears as a shroud and often uncovers startling, but nonetheless captivating, realities.
Originally Dorsey said the plan was to have Storms be the villain in his first book, "Florida Roadkill." While developing the character in his first draft he kept delving deeper and deeper into his backstory and before he knew it he had involuntarily taken over the story. He was dark, but brilliant. Chilling, but witty.
Reminiscent of a James Bond villain, Storms proved sometimes the wicked do have all the fun. The second draft of the novel placed the focus on Storms and the rest is history.
He's as brutal as he is poetic and thus he's not everyone's cup of tea. But if you've ever attended one of Dorsey's author visits you'd know his pen struck a chord with the creation of the maniacal Storms. The rooms are frequently packed with his almost cult-like following. They fell in love years ago with the ethically questionable vigilante of justice and have joined Dorsey for more than 20 books as the stories continue to weave throughout the state.
"I have a pretty eclectic audience, it's not homogenous at all because basically humor is something — you can't fake laughter— something either hits your funny bone or it doesn't," Dorsey said. "My audience is whoever happens to be on the same wavelength with my sense of humor."
Using his background as a journalist, Dorsey has successfully crafted novels that keep the reader guessing while also being chock full of Florida history and deep background research. Without his years covering the eccentricities of this state, he said he never would have been able to create Storms and his captivating world.
And though his fame continues to grow, Dorsey said he always remembers the kindness libraries bestowed upon him when they opened their doors to him for the first time all those years ago. His gratitude for being given a chance remains and he said now it's almost "like a family reunion" when he walks back through those doors.
Bruton was one of the first to extend an invitation to Dorsey and Bruton's Adult Services Associate Angel House said they are honored to be able to continue their relationship all these years later.
"There's just something about author visits at libraries, it's unlike anything else," House said. "It's a really laid back atmosphere, small and cozy, and for me, it's the best way to meet someone. The last time (Dorsey) came the conversation was unlike anything I've ever seen. It was as if he and his fans had been friends for 20 years. That's not something you'll get in a bookstore where you wait in line for hours just to have the author sign it and then you move on. This is intimate and adds a whole new layer to your literary experience."
He knows his work won't please everyone and he doesn't care to try.
He's found his niche and Dorsey plans to continue to expand his universe for as long as his readers are willing to join Storms on his humorous and absurd adventures.
If you go
Author Visit: Tim Dorsey
When: Saturday, Jan. 12 at 1:30 p.m.
Where: Bruton Memorial Library, 302 McLendon St.
Topic: Dorsey will discuss his new book, "No Sunscreen for the Dead," his journey to becoming an author and how his characters came to be. The book will be available for purchase at the event, which is three days prior to the official Jan. 15 release. Bring cash to pick up your copy.
For more information: Visit timdorsey.com or follow his Facebook page @TimDorseyBooks.