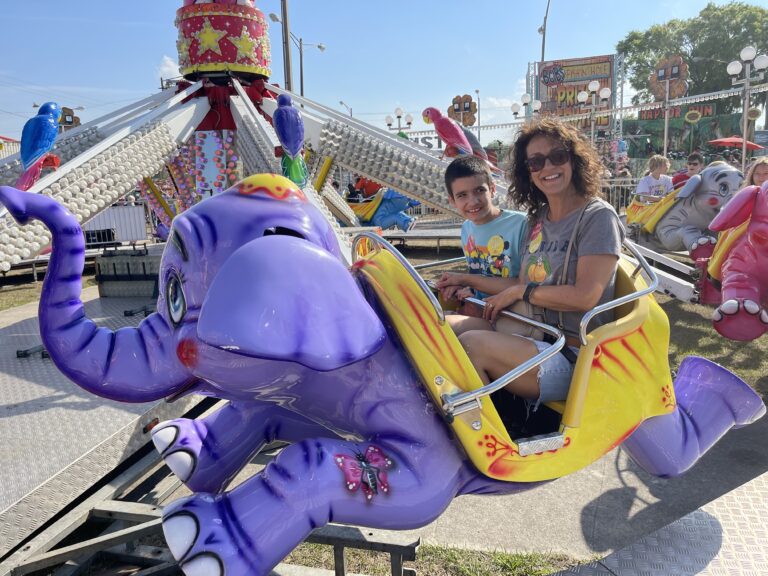 Festival guests with special needs enjoyed a sensory-considerate festival environment.
When the Florida Strawberry Festival's gates opened last Friday morning, gone were the flashing lights, blaring music and announcements over the loudspeakers. Instead, the sensory-friendly environment, dubbed Special Smiles Day, was created for thousands of adults and children with special needs to enjoy a less-crowded and quieter festival experience.
Sponsored by Plant City Rotary Club, the first annual event, which ran from 9 a.m. – noon, allowed Special Smiles VIPs and one guest free admission, a selection of free rides and two $5 Special Smiles Day food voucher coins to the first 1,000 VIPs. A "Sensory Safe Space" was also made available if guests needed a break from the excitement of the event.
Florida Strawberry Festival President Paul Davis said the idea came from Director Chris Sparkman. "We had more than 4,000 friends show up to participate and had more than 100 local volunteers to greet them and make sure they all had smiles on their faces," said Davis. "Overall our first Special Smiles Day exceeded all expectations and we're thrilled to be a part of it."
Winter Haven resident Amanda Aburto saw a post about the event on a Facebook group so decided to make the half-hour drive to the event with her seven-year-old son, Lukas Aburto. His autism diagnosis means waiting in long lines and loud noises can be difficult for him so he has headphones handy for when distractions become a problem. "He's a sensory seeker so he takes it all in and gets louder and more distracted," she said. "It's so good for us to come out here when there's not as much stimuli."
Aburto appreciates being around other families who're going through similar challenges. "I don't see shaming looks but more approving looks," she said.
Special Smiles Day was the first time Lithia residents John and Beth Bailey attended the festival. The couple have four children (two with special needs). Three of their children, including 22-year-old Hannah, were in school so they decided to take their 13-year-old autistic son Gabriel. "Hannah couldn't do this because we'd get here and she wouldn't get out of the car," said John Bailey. "The little changes like no music don't seem like a big deal but they really are a big deal to us."
Plant City resident Diana McDowell brought her two-year-old son, Quentin to Special Smiles Day. Quentin's not autistic but has a rare lymphatic malformation that creates non-malignant fluid-filled masses on his face and neck. A tracheostomy helps him breathe.
"This day is really special because they really are special kids,' said McDowell. "Going out in public can be hard because he's the only one that stands out."
Not at Special Smiles Day. "As soon as we walked through the gates he smiled from ear to ear," she said.
Guests weren't the only ones smiling. Volunteer Amanda Lagunes said "It made my heart so happy to hear about this special day for guests to come out to the Festival, be celebrated and have time just for them," she said. "I just love my hometown of Plant City."