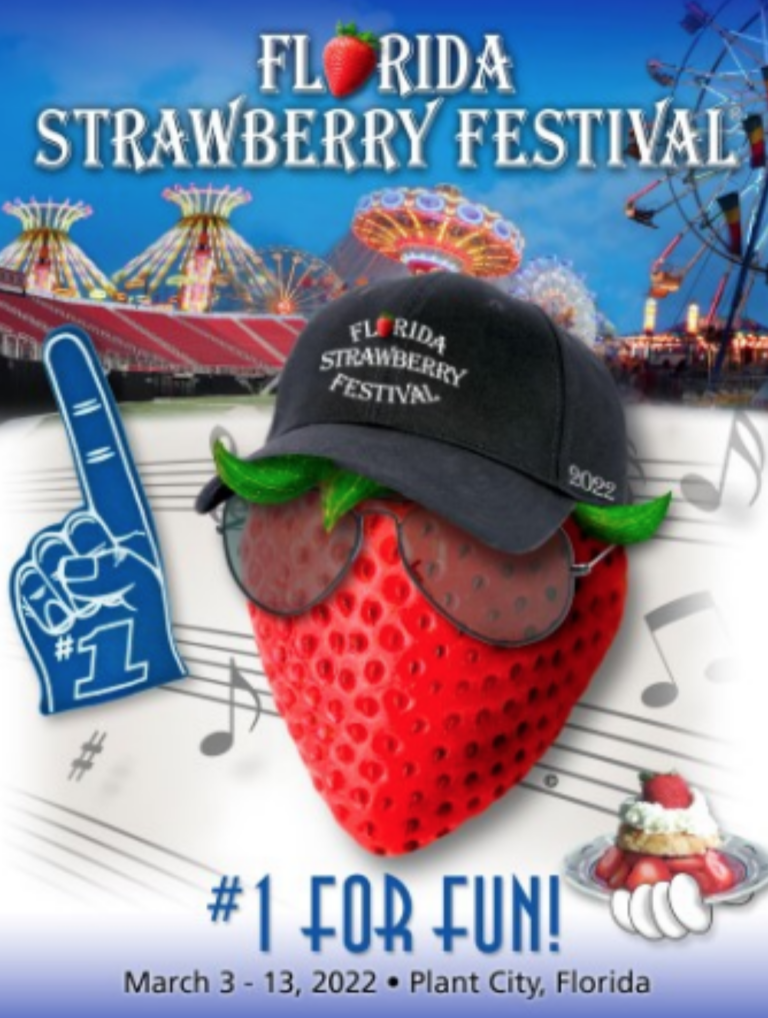 The Florida Strawberry Festival announced last week the theme for the 87th annual event was "#1 for FUN!"
The Florida Strawberry Festival has chosen to highlight its focus on building memories and having a ball with the announcement last week that the theme for 2022 was "#1 for FUN!"
Each year the festival picks a new theme to structure its event around.
This upcoming year features a berry wearing a festival ball-cap, shades and sporting a number one foam finger.
Of course it's also clutching a massive plate of the legendary strawberry shortcake.
"Our festival and the city of Plant City hold the strawberry in high regard," President Paul Davis said. "We're #1 for wholesome family fun and excitement!"
The theme not only creates a unique experience for the patrons to take part in as they attend the 11-day event, it also acts as a unifying platform for vendors, FFA chapters, organizations, corporate partners and exhibitors who decorate their displays at the festival and create parade floats as an homage to the theme.
This will be the 87th annual Florida Strawberry Festival, which is held each year to celebrate the strawberry harvest of Eastern Hillsborough County. The 2022 festival will be held March 3 to March 13. Nearly 500,000 people flock through the gates each year to enjoy the headline entertainment, rides, delectable food, variety of youth agriculture shows and the wide range of unique exhibits.
"We feel like this is a theme other fairs and festivals, in our profession, can relate to," Davis said. "Like most fairs and festivals, the Florida Strawberry Festival represents a piece of Americana, a time in American history when events like ours brought communities together to celebrate the harvest and that's #1 in our book!"
For more information, visit www.flstrawberryfestival.com, Facebook, Instagram and Twitter (#berryfest22).