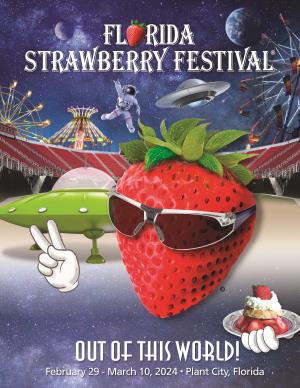 The sky's the limit for the 2024 Florida Strawberry Festival's "Out of This World!" theme.
The Florida Strawberry Festival announced today the theme for its 89th annual event – "Out of This World!".
"The sky's the limit," said Florida Strawberry Festival President Kyle Robinson. "Our board of directors, staff and maintenance crew have been hard at work this summer planning and preparing an 'out of this world' experience for all our guests. We look forward to welcoming visitors from far and wide to BerryFest24!"
A new theme is created for each year's Festival to offer patrons a glimpse of the experience they will have at the 11-day event. It also unifies vendors, FFA chapters, organizations, corporate partners and exhibitors, who create parade floats and displays throughout the event.
The Festival's strawberry character featured in each year's theme artwork is an iconic part of the event's branding and advertising efforts. In this theme's artwork, he wears sunglasses, waves a peace sign, and holds a plate of strawberry shortcake as he stands in front of a UFO.
"The Festival's atmosphere is like no other," said Robinson. "Seeing families gather, volunteers serving and the Plant City community coming together year after year is extraordinary. There's no place on Earth quite like the Florida Strawberry Festival!".
For more information about the Florida Strawberry Festival visit floridastrawberryfestival.com.