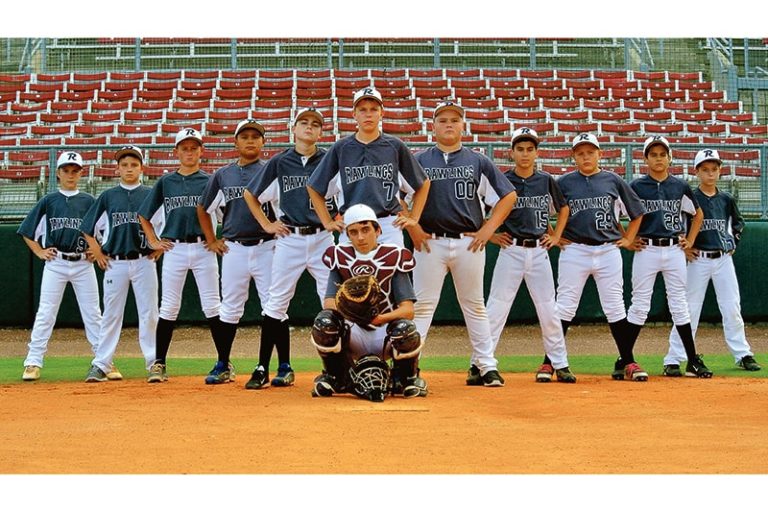 Everybody knows Cooperstown as the home of the Baseball Hall of Fame. A trip to that little part of Upstate New York is an exodus that any baseball fan should make at least once in their life.
This weekend, 12 boys from a local travel ball team will go there for a pretty big business trip.
The Florida Rawlings 12U team will play in the 104-team Cooperstown Dreams Park tournament for a shot at national bragging rights — and some really cool rings. Although it will be the first time for many of its players, three of them — and their coaches — have been there before.
"Winning Cooperstown is one of the biggest things you can do in Little League," manager Tim Dowdy says.
Dowdy brought a different team to the 2013 tournament, including current Rawlings players Tyler Dowdy, Cole Cothren and Garrett Gould. Those three boys, plus Dowdy and fellow coaches Dalton Dowdy, David Gould and Tommy Hubble, will use their experience to help guide the first-timers. Also working in their favor is the fact that these kids have great chemistry — almost all of them play in Plant City Little League.
STARTING OUT STRONG
Upon this team's inception in the fall of 2013, the boys got off to a great start. They won three of the first four Nations Baseball tournaments. After placing second to the Prospectwire Cannons in September's Bullets Fall Classic, the Rawlings team went 12-1 over the course of its next three tournaments. 
Most notably, the team gave up only two runs throughout the November's Bullets Support the Veterans Tournament. On the flip side, it scored 57.
Now, they find themselves on the cusp of their biggest tournament to date. It's no Little League World Series, but making it through this tournament is no small feat.
THE GAUNTLET
Because there are 104 teams that play throughout the week, and Cooperstown only has so many baseball fields, these kids will play a lot.
"You could play six games per day, if you go from bottom to top," coach Dalton Dowdy says.
After teams play in six games to determine their seeding, the tournament format shifts to single-elimination. The top four teams will get a bye through the Sweet 16 round, which has to come as a relief — those kids will be much fresher than the rest of the pack.
Still, playing six six-inning games per day isn't easy — even in that New York summer weather, which is usually sunny and 75 degrees without most of Florida's killer humidity. Playing Little League in the hot Florida weather must have helped the Rawlings team with conditioning, but the coaches still try to move practice times around to better simulate the northern weather.
As rough as that sounds, though, the rest of the experience sounds like baseball heaven for these 11 and 12-year-olds.
THE COOPERSTOWN EXPERIENCE
Obviously, the boys are going to tour the Hall of Fame. Their experience will be different than that of the average reader's, though, because they'll get to be a part of the Hall.
"Every team that goes there goes into the Hall of Fame, and they make a record of every kid (who is) there," Tim Dowdy says.
It will always be known that these boys played in this weekend's tournament and that three of them have played in it more than once. Who else has done it twice? Oh, just a few of the biggest stars in baseball.
"Mike Trout, Bryce Harper and David Price," Dalton Dowdy says. "They're the only three players that have been to the tournament twice and made it to the Major Leagues."
If Dowdy, Cothren and Gould ever make it to the bigs, then it looks like they will be in some good company.
And, much like Major League Baseball records, whoever breaks a record in this tournament will have a place in the Hall of Fame.
"If you break a record in the tournament, they put you in the Hall of Fame," Dalton Dowdy says. "Batting average, home runs, things like that."
Outside of the diamond, it's a great way for the kids to make new friends from all over the country. They all get to hang out whenever they're not practicing, as they stay in the same dorm — with their coaches' supervision — the whole time.
"It's close to the stadiums, but it's going to be away from our parents," Chase Hubble says. "It'll be fun."
And, as all young boys are wont to do, these kids are excited to get their hands on the food up there — especially the doughnuts.
"They have good doughnuts up there," Gould says. "They're, like, warm, with sour cream — the glazed ones. … They're amazing. I bought the last ones at every concession stand."
Gould's teammates estimated he bought and consumed 20 of the doughnuts in 2013. Now that he tipped the rest of his teammates off about them, it would be wise to try to beat the Rawlings team to any concession stand in the park.
Not everyone will be able to set new records, or eat those donuts, but they'll all get to share one of the best experiences of the tournament: Walking onto that lush, green field for the first time, looking up at the crowd and taking it all in.
"When you pull up to the Cooperstown gates, and you see the big stadium and all that, it makes you want to cry," Tyler Dowdy says. "I didn't cry, but I almost did."
For the coaches, watching the kids have this experience is good enough for them. It's usually the opening ceremony that does the trick.
"They call one kid from each team, and you see 104 kids running to the center of the field," Tim Dowdy says. "If you're a baseball fan, there's nothing better than Cooperstown as a 12-year-old."
Contact Justin Kline at jkline@plantcityobserver.com.
RAWLINGS ROSTER
PLAYERS
Cole Cothren
Tyler Dowdy
Garrett Gould
Chase Hubble
Colby LeDuc
Jose Machado
Brent May
Tre' Ragan
Ryan Robinson
Alex Rodriguez
Christopher Rodriguez
Chase English
COACHES
Tim Dowdy
Dalton Dowdy
David Gould
Tommy Hubble
SEE THE ACTION
Although game schedules haven't been released as of press time, fans will be able to stream the June 7 to 13 games live on their computers. 
Log on to coopers towndreamspark.com, click "2014," then "Week #2" and then "Live Webcam and Gamecam." 
A schedule will be available after it is announced.