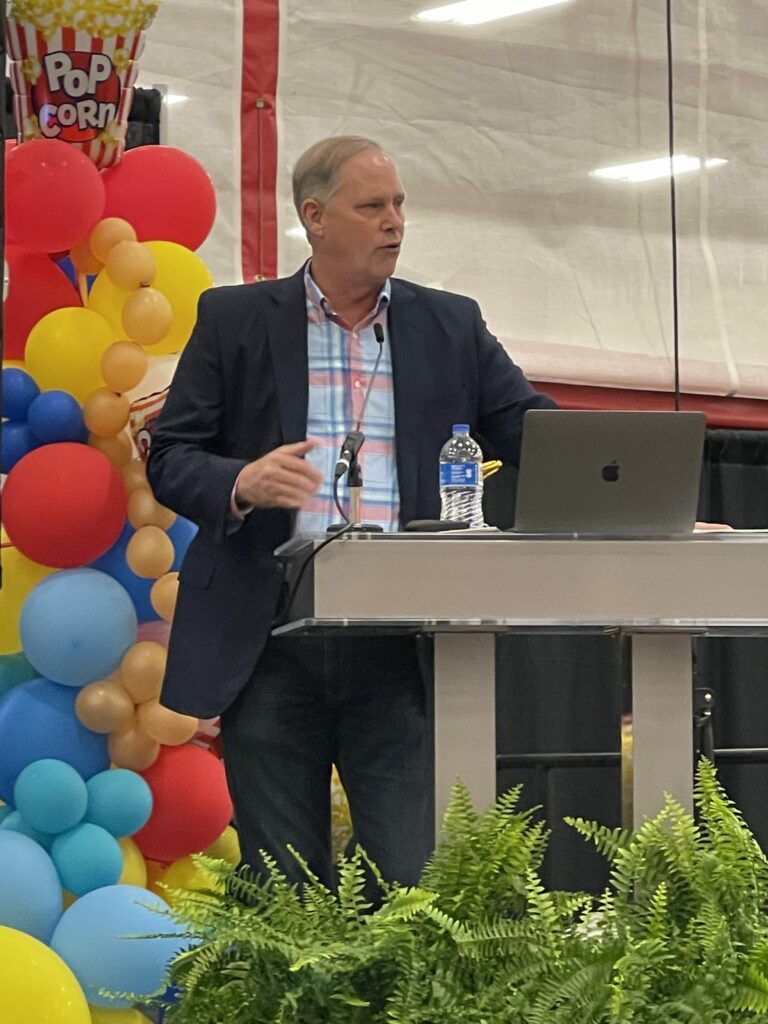 Commissioner of Agriculture Wilton Simpson spoke to a crowd at the 41st Annual AgriTech trade show in Plant City.
Commissioner of Agriculture and fifth generation Floridian Wilton Simpson spoke at the 41st Annual AgriTech trade show this week at the Grimes Family Agricultural Center at the Florida Strawberry Festival Fairgrounds.
Sinpson, a lifelong farmer who lived in a mobile home off Charlie Taylor Road in Plant City for several years in his youth, gave a recap of the highlights from the recent Legislative Session, including a bill that restricts foreign countries, including China, from purchasing property in the state, a tax package bill that prohibits a county from levying any special assessments on lands classified as agricultural and a bill that creates a Florida Farm TEAM (Tax Exempt Agricultural Materials) Card for farmers to use for sales tax-exempt purchases.
"This year was a banner year in the legislature, we've had quite a few wins," said Simpson. "These laws are going to make it a lot easier for farmers to operate in this state."
He also spoke about a $100 million increase to the Rural and Family Lands Protection Program that protects agricultural lands through the acquisition of permanent land conservation easements. "There are a lot of generational farmers in this state who want to continue to farm and want their families to be able to continue to farm in perpetuity," he said. "This is going to ensure our long-term survivability in having enough land mass to produce the amount of food we need to support the growing population not only here in this state but in the world."
AgriTech is hosted by the Florida Strawberry Grower's Association. Attendees appreciated Simpson's remarks. "It's wonderful that the agriculture commissioner will come to Hillsborough County and support the Florida Strawberry Grower's Association," said cattle rancher Dennis Carlton, Sr. "He has a farming background and he's very supportive of Florida farmers."
While Florida is making strides to preserve Florida's farming legacy, Carlton hopes the federal government will tackle the industry's labor issues. The federal government recently increased fees of its H-2A visa program that allows employers to bring foreign nationals to the United States on a temporary basis to fill agricultural jobs.
"The costs are continually going up and we're being told they're going to continue to go up," he said. "The rate is set every year so you never know what that labor rate is going to be."