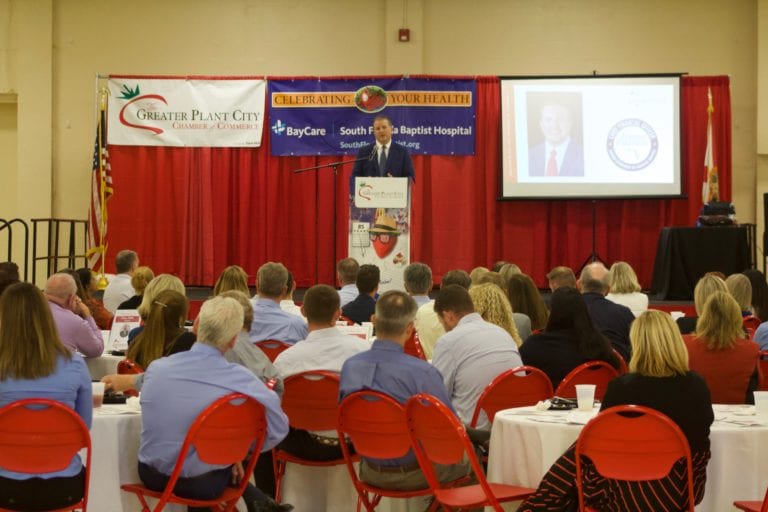 Jimmy Patronis, the CFO of Florida, was the guest speaker at the Greater Plant City Chamber of Commerce's Networking Lunch on Nov. 14.
Each month, the Greater Plant City Chamber of Commerce hosts a Networking Lunch that offers the community the chance to hear from influential members and experts in their field.
Plant City welcomed Florida's Chief Financial Officer Jimmy Patronis as the guest speaker for the Chamber's Nov. 14 luncheon. Nearly every table at the Arthur Boring Civic Center at the Florida Strawberry Festival was filled as community members gathered to hear from their CFO.
"It's awesome to be here with y'all and, as stated, I wanted to jump at the opportunity to come and join y'all for lunch," Patronis said. "This is a treat for me, as we've got really an incredible state. I try to describe us as one state, but it's really like five different countries and we are trying to be the best we can be for the entire state."
Representative Lawrence McClure, who represents District 58 in the Florida House, was also in attendance for the luncheon. Patronis said politicians like McClure have a challenge to advocate for what's important for their region of the state while also ensuring the policies will impact the entire state positively.
Patronis spent his time at the podium briefly discussing a variety of topics, but paused for a moment to remind attendees of the benefit of the existence of the Florida Treasure Hunt. The program acts as a way for residents to search for unclaimed property online and ensure they don't have unclaimed assets floating around that they're unaware of. If a financial asset has been left inactive, unclaimed, abandoned, is unknown or lost by its owner, the Florida Department of Financial Services ends up holding the item in its Division of Unclaimed Property.
Then those accounts become available in a searchable, interactive database at fltreasurehunt.gov. It's free to use, and in Florida there is no statute of limitations on unclaimed property.
He also spent some time saying Florida has become a haven for "economic development" because we have a "low state debt."
Cities like Plant City, according to Patronis, benefit because corporations prefer to come to states that have a "low cost of doing business" in the long run rather than states that have a drastically unbalanced budget.
Discussion then turned toward Florida's massive fraud problem. Residents in the Sunshine State are heavily targeted by frauders, which Patronis said his department sees the effects of every day.
Everyone from teenagers entering the military to retirees hoping to enjoy their leisure years are taken advantage of at a rising rate.
He gave some advice to avoid being targeted and said they want to raise the consequences of fraud to similar rulings as those of a white collar crime.
Following his speech, he started a Q&A session and took a few questions and comments from the audience.
In December, the Chamber will welcome Josh Bullock, the team president of the XFL Tampa Bay Vipers. Bullock is expected to discuss the new team, which is practicing right here in Plant City, and to let attendees know what they can expect of the upcoming season.
The next Chamber Networking Lunch will be held from 11:30 a.m. to 1 p.m. Dec. 12. Tickets are $20 for the member early bird special, which ends Dec. 6, $25 for members following that date and $30 for non-members.
You can register on the Chamber's website. Call 813-754-3707 for more information.