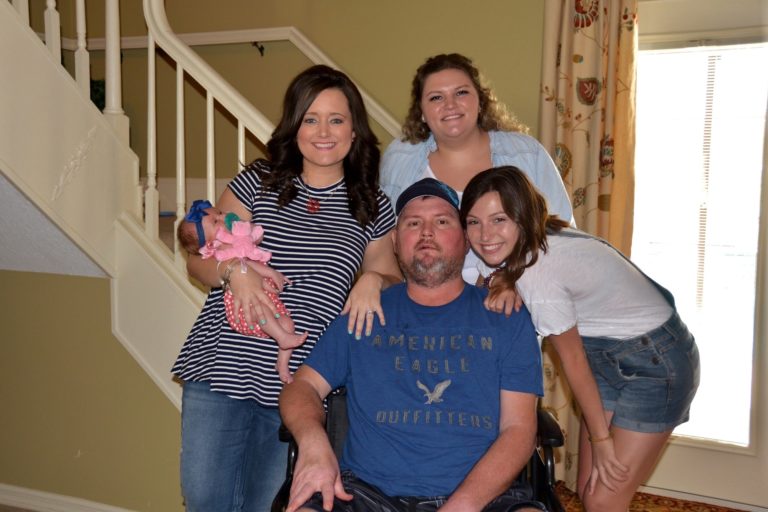 Brandon Farms strawberry grower Joe Gude was diagnosed with glioblastoma multiforme. A fundraiser for the family will be held Saturday, July 30.
On Monday, July 25, the Gude family home on Sydney Road was quiet.
Two-month-old Piper Mae was cradled carefully in mother Lindsey Pope Gude's arms.
Lindsey Pope Gude stepped quietly from the family room to the bedroom. She snuck past her husband, Brandon Farms Owner Joe Gude. He was sleeping in a recliner in front of the television.
It had been a long morning.
It had been a long few months.
On a wall outside of the bedroom, the couple's wedding photos were hanging: one of Lindsey Pope Gude and Joe Gude outdoors in the dusk, posing against an antique Chevrolet; one of the newlyweds in a happy embrace.
Under an adjacent wall, a wheelchair sat at the ready.
Lindsey Pope Gude crossed into the bedroom, easing into an armchair with Piper and a bottle.
Piper was born Thursday, May 26, at Brandon Regional Hospital. It wasn't the family's first hospital visit.
One day earlier, Joe Gude had a biopsy.
Five tumors were on the right side of his brain, leaving the left side of his body paralyzed. The official diagnosis came two weeks later, on Thursday, June 9: glioblastoma multiforme, tumors that can affect the brain or spine.
The cancer is rare. There's fewer than 200,000 cases each year in the United States.
Treatment is severe. Joe Gude, 46, gets five days of radiation six weeks at a time, combined with taking a chemotherapy pill every morning.
"We're just waiting for September to know what our next step is," Lindsey Pope Gude said. "I'm a huge Christian. I have faith. I know He holds our tomorrow."
Love Without Pain
Theirs was an easy, instant, perfect romance.
It started at the Charlie Grimes Family Agricultural Center. It was March 2012, and a steer sale was going on inside the center's arena.
FFA students were anxious. Joe Gude was more anxious. It was the couple's first date.
Lindsey Pope Gude could tell. She teased him about it.
"He was so nervous," Lindsey Pope Gude said. "I went to get a strawberry lemonade, and he thought I left."
She hadn't. She liked him right away.
"It all just fit perfectly together," Lindsey Pope Gude said. "We both knew instantly that we wanted to be together forever."
The couple was engaged five months after dating. When Joe Gude proposed, his daughters, Faith, 19, and Ashlyn, 16, also got down on one knee to pop the question:
Will you marry us?
Joe and Lindsey Pope Gude were married March 29, 2013, at Lange Farm in Dade City.
"He has such a big heart," Lindsey Pope Gude said. "He's the most giving person. He's always happy. We share the same morals and values and Christian faith."
Daily, Joe Gude would wake up at 5:30 a.m., ready to tackle the fields on the family's 200-acre strawberry farm. He would return home at dusk for supper with his wife and daughters.
He kept working, even when he started to complain of neck pain during the 2016 Florida Strawberry Festival in March.
Love With Pain
The doctors gave him pain pills, but he didn't feel better. A chiropractor told him he had a pinched nerve.
"Around Mother's Day, he started walking weird and dragging his left leg," Lindsey Pope Gude said. "One day he woke up, and the left side of his face was drooping."
Lindsey Pope Gude took Joe Gude to Brandon Regional Hospital Thursday, May 19. It wasn't a pinched nerve that had been bothering him. Doctors discovered a mass in his brain. An MRI yielded the final result: five masses.
Now, the left side of Joe Gude's body is paralyzed. He can't move without help.
"He can't get up unless somebody puts him in a wheelchair," Lindsey Pope Gude said.
After Joe Gude's biopsy Wednesday, May 25, the family went home to take a shower. Hours later, they returned to the hospital for the birth of Piper.
"The only way I handled it was my faith in the Lord and my family," Lindsey Pope Gude said. "My mom and dad were there every day. And (Joe's) brother also, Steve."
In the face of the unknown, Piper has been Lindsey Pope Gude's biggest motivation.
"I'm just clinging to His promises," Lindsey Pope Gude said. "Piper is a huge blessing. There's a reason He gave us to her right after (Joe) got this diagnosis. We know His plan far exceeds anything I can imagine. We're praying for a miracle."
Raising Them Up
The family has shut down the farm, known for growing strawberries, peppers and cucumbers, for the year. With Lindsey Pope Gude as a stay-at-home-mom to Piper and full-time caretaker to Joe Gude, the family's only source of income has halted.
"That was his life," Lindsey Pope Gude said. "It kills him not being able to farm this year."
The community has stepped in to help.
The family's church, First Free Will Baptist Church of Tampa, has been bringing meals to the Gude household
daily.
"We haven't cooked a meal since May 18," Lindsey Pope Gude said. "Our church family's been bringing dinner every night for us."
Friends, acquaintances and strangers have dropped checks, cash, encouraging notes and gift cards into the family's mailbox. Both Lindsey Pope Gude's parents and Joe Gude's brothers have stepped in to help care for Joe Gude and Piper.
Lindsey Pope Gude's brother, Kevin Pope, joined forces with family friends Mike Perry, Dennis Carlton Jr. and Jimmy Aldridge to plan a fundraiser lunch for the family. It will be held at 4 p.m. Saturday, July 30, in the Charlie Grimes Family Agricultural Center at the Florida Strawberry Fairgrounds. The festival donated the grounds for the event.
With help from a huge team of volunteers, nearly 1,000 tickets have been sold for the event so far. For $12, attendees can enjoy a catered barbecue lunch. Raffle and silent auction items also will be available, including a signed Luke Bryan guitar, a Remington shotgun and Yeti tumblers. All proceeds go to the family.
A separate GoFundMe account set up for the family has raised nearly $13,000.
"(My reaction was) that I don't deserve it," Lindsey Pope Gude said. "We receive stuff every day in the mail. All of that is a huge help right now. You don't realize how many friends and people love you until something like this happens."
Lindsey Pope Gude is going to the event. Joe Gude plans to stop by, provided that he feels well enough that day.
"You wouldn't know he was sick, except his left side is paralyzed," Lindsey Pope Gude said. "He always just says, 'God's got this.' … He performs miracles every day. We're praying that He'll give us one of those miracles."
Contact Emily Topper at etopper@plantcityobserver.com.