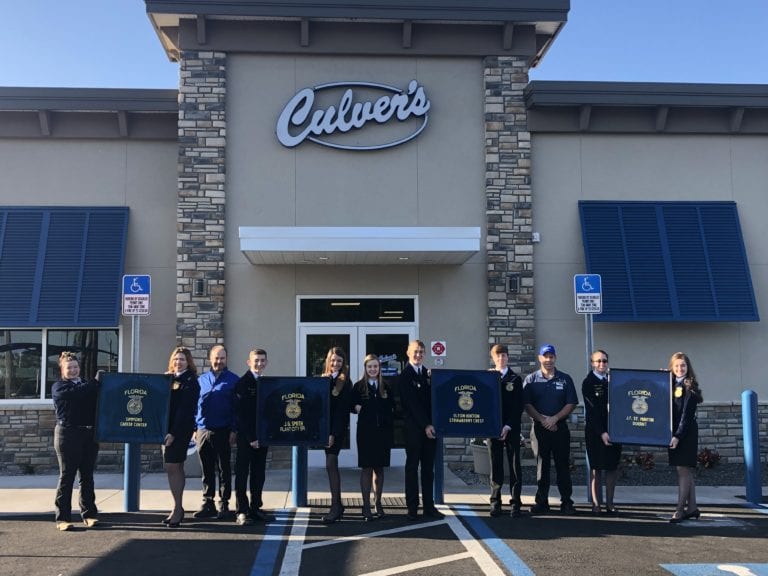 The restaurant now has FFA jackets from four area high schools on display in the lobby.
The FFA chapters from Simmons Career Center, Durant High School, Plant City High School and Strawberry Crest High School got together March 14 to give Culver's of Plant City a gift.
Two months after students involved with those chapters assisted the restaurant in its Jan. 11 soft opening, they came to the store before it opened for the day to present owners Scott and T.J. Schwebke with jackets from each of their FFA programs, all framed in shadow boxes. The owners, Strawberry Crest IMPACT teacher Racquel Sturgis and the schools started working on the project back in January.
Each of the four jackets is embroidered with the schools' chapters' names on the back. Durant, Plant City and Strawberry Crest each have junior chapters as well as senior chapters, and these junior chapters are all named for local farmers who have made a large impact on the Plant City area. Durant's chapter is named for J.F. St. Martin, Plant City's chapter for J.G. Smith and Strawberry Crest's chapter for Elton Hinton.
"The jackets that were presented have both chapter names embroidered on the back," Sturgis said. "I thought it was important to recognize not just the high school agriculture program, but these three farmers."
Culver's and the FFA have a close partnership that allows the restaurant chain to help chapters nationwide. Locally, that first materialized in the Jan. 11 soft opening when guests were able to make donations to the local FFA chapters at the door. The Schwebkes have also hosted a "spirit night" event for the Simmons program. Nationally, the restaurant runs a "Thank You Farmers" project that has raised more than $2 million to date for agricultural education programs, an FFA Essay Contest that awards scholarship money to finalists every year and a Blue Jacket Program that gives blue FFA jackets to students who have trouble affording them. You can donate to FFA programs online at ffa.givingfuel.com/culvers.