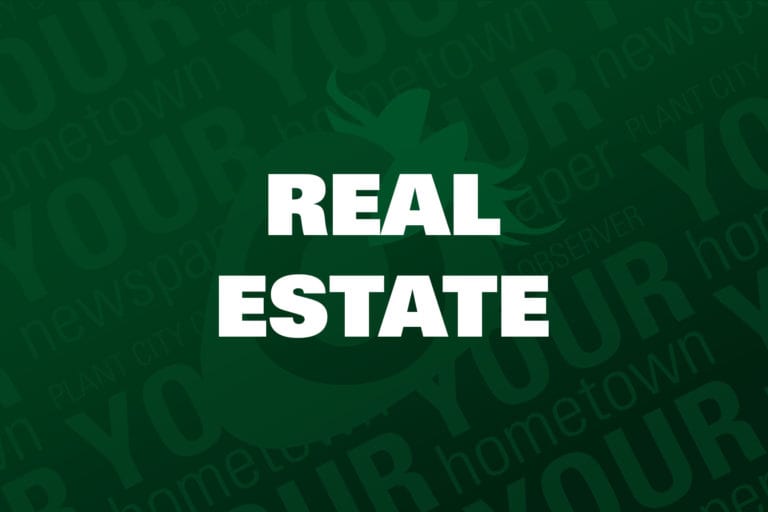 Local February 2020 sales and trend information courtesy of The Crawford Group. Permit information was obtained from the City of Plant City.
The Plant City-area real estate market saw slight growth from February 2019.
Last month, 71 single-family homes sold with an average sale price of $215,333 and a median of $194,900. Compared to last February, that represents a 1.4 percent increase in sales (vs. 70 homes sold in 2019) and a 4.4 percent increase in average sale price (vs. $206,227 in 2019), but also a 1.3 percent decline in median (vs. $197,495 in 2019).
Homes in February 2020 did, however, sell for an average price of $124 per square foot (versus $115 per square foot in February 2019). The highest home sale price for February 2020 was $489,000 for the home at 801 S. Wiggins Road.
Seven parcels of vacant land were sold both last month and in February 2019.
TOP BUILDING PERMITS
These are the largest building permits issued in Plant City for the month of February 2020, in order of dollar amounts.
1301 S. Frontage Road — Occupancy— $13,605,000
1908 Industrial Park Drive — Commercial alteration — $2,600,000
4003 Amberjack Blvd. — Roof — $1,160,486
2851 Thonotosassa Road — Recreation — $524,000
3304 Sydney Road — Demo — $350,000
1908 Industrial Park Drive — Electric/alteration — $338,199
3602 Fancy Farms Road — Commercial alteration — $312,000
3602 Fancy Farms Road — Electric — $267,900
809 S. Woodrow Wilson St. — Electric/alteration — $249,500
1621 S. County Line Road — Occupancy — $245,000
2706 Turkey Creek Road — Roof — $242,113
4181 Rice Road — Electric/alteration — $209,410
2501 Paul Buchman Highway — Electric — $200,905
3003 Daniels Road — Alteration — $186,564
301 N. Alexander St. — Commercial alteration — $174,000
1406 E. Renfro St. — Occupancy — $160,000
3775 Fancy Farms Road — Plumbing — $156,610
602 Arbequina Court — Single family detached — $156,300
2262 Pixie Way — Plumbing — $142,200
1213 Wild Daisy Drive — Occupancy — $140,000
1313 E. Young St. — Occupancy — $140,000
1702 Teakwood Drive — Occupancy — $135,980
1704 Teakwood Drive — Occupancy — $135,980
1616 Teakwood Drive — Occupancy — $133,915
2299 E. U.S. Highway 92 — Roof — $114,761
1710 N. Park Road — Mechanical/HVAC — $112,000
3002 Sydney Road — Industrial building — $100,000
1004 E. Ohio St. — Single family detached — $95,000