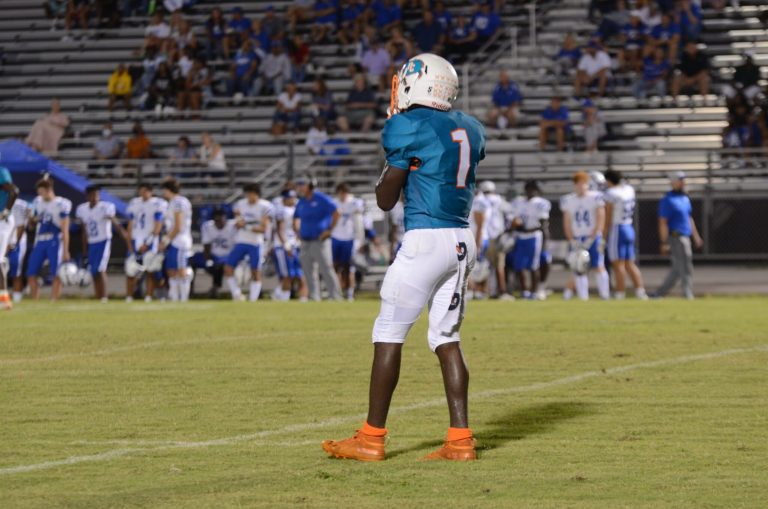 Featured Future is a summer series where the Observer will highlight local student athletes who are preparing to continue their athletic and educational careers at the college level, or those who have already began that journey.
Romello Jones was a three-sport athlete for Plant City, playing football, basketball and track.
"My last four years at Plant City were amazing," Jones said. "It was an amazing process and I'm thankful and honored to be a part of it because of the community, the community played a big role. Plant City's a small city but there's a lot of people that care and love Plant City. Anything that you need help with, anything that you're trying to do, they're 100 percent behind you and ready to help you. So that's something to me that stood out."
Coming off of his senior season, Jones received several offers to play football at the collegiate level. Academically, he was also a member of the National Honors Society. His list of offers included those from prestigious universities like Lehigh, service academies such as Army and Navy and even an Ivy League offer from Dartmouth. But ultimately, Jones committed to the United States Naval Academy.
"The thing about Navy is that it sets me up for the rest of my life," Jones said. "I'm not just thinking about myself, I'm thinking about my future, my kids, my family. I'm thankful for the opportunity because you not only get to play Division I football, you get to play on TV, but my wife and kids will get benefits from it and my parents will benefit, they won't have to pay for me to go to college… I think it's very important in the recruitment process for you to know about the values of the school. Not just about football but the education, is it the right fit for you? Not just thinking all about football. That was a big thing for me in my recruitment process because when I went on my official visit they made me feel like it was home and it wasn't all about football. They were talking about my future, my career path, where I want to go after, any businesses that I wanted to start up, all of the other things that weren't just on the field. That made me feel a lot more comfortable, it made me feel safer and I think that was the right decision for me."
Jones did it all for the Raiders last fall, playing on offense, defense and special teams. In his senior season he totaled 383 rushing yards and two rushing touchdowns, 130 receiving yards and two receiving touchdowns, finished second on the team with 779 all purpose yards, returned seven kickoffs for 266 yards, racked up 36 total tackles with one interception, one tackle for loss, one forced fumble and two blocked punts.
At Navy, he says the coaches see him as a defensive back that can also work on both punt and kick returns, but argues that he'll play wherever he's needed to help the team.
"Currently they said that they want me on kick return, punt return and defensive back but all of the position coaches are flexible and can move me around at any given time," Jones said. "Honestly, they told me that it was up to me but I said that it was up to them because I want to help the team as much as possible so wherever I could fit in. If they have a missing puzzle piece, I'd love to do whatever they want me to do."
Throughout his time at Plant City, Jones was able to learn throughout the recruitment process of other high-profile teammates that have gone on to play at the Division I level, from D.J. Gordon and his commitment to Minnesota – most recently announcing his transfer to USF this spring – to one of the top-ranked recruits in the nation in wide receiver Mario Williams who attended Oklahoma last year before announcing his transfer to USC.
"One, you have to love yourself," Jones said about what he's learned from Gordon and Williams. "You have to be your own version, be the best version of yourself and not try to be like somebody else. Two, be highly confident. D.J. Gordon and Mario Williams were both confident. Everyone they went against, they felt like they were going to win that rep every time. Another thing I'd say is the work ethic, they were always working hard. When they were in the weight room they were serious, when they were at practice they were serious. Their leadership as well. They were leaders and when someone wasn't on task they'd get on to them about it but then later on, in a game, that person would come back and thank them for it. I look back and I'd just be sitting around them and hearing little things that they'd say, picking up on it and I would think, ok this is what it takes to get to that level. Now I understand what the coaches say about the little things like leadership and being vocal with your teammates, all of those things."
But as Jones noted, a commitment to the Naval Academy is more than your run-of-the-mill experience for a student athlete. It's a commitment to four years as a cadet before serving a mandatory service period upon graduation. This is a challenge that Jones is not only ready for, but excited to begin.
"I'm happy, I'm eager, I'm ready to get out there," Jones said. "I'm a person that likes to be challenged and wants to do new things every day. I kind of find myself getting bored a little bit, so I just like being challenged and I feel like that's a great thing for me. Not only that, but the education process. The education level is very high, that's challenging as well and I feel like taking those core classes will set me up for the future."
In lieu of Memorial Day this past weekend, Jones reflected on those who have risked their lives in the United States Armed Forces and how he's always stood on the sideline for the national anthem before games and envisioned himself serving his country. He said that he's always been the person that wants to show respect for those sacrifices and stand up for his country, leaning on his faith to become the person that he is today and help him through all of life's challenges.
"I wouldn't be who I am or where I am if it wasn't for God," Jones said. "There's a message that helped me get through a lot of things and get to where I am today. It's simple. God can and God will."