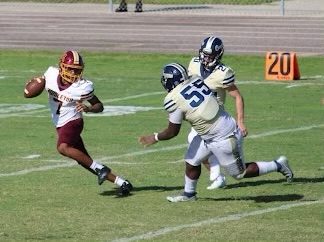 Featured Future is a summer series where the Observer will highlight local student athletes who are preparing to continue their athletic and educational careers at the college level, or those who have already begun that journey.
After four years with Durant High School football, Greg Smith has committed to continue his academic and athletic journey at West Virginia Wesleyan College.
Despite now having the opportunity to play ball at the college level, Smith says that when he was younger he almost never played football at all. Despite his parents encouraging him to play at the youth level, he wasn't sure if playing was worth the risk of injury. But after some convincing, he eventually started youth football at seven years old — with youth Pro Bowls and even a National Championship in seventh grade coming along the way before making his way to Durant.
"At first I never wanted to play football," Smith said. "My parents wanted me to play but I never did because when I was little I just thought that I would immediately start playing against the big players and I was worried that I'd get hurt, but once I saw little league I said sure, I'll try it, and that was that."
As a freshman, Smith had an opportunity to play in four varsity games but spend most of the season on junior varsity. And by his sophomore year, he began to find time in the rotation along the defensive line as he totaled five tackles and two tackles for loss across four games. As a junior he became a captain and his production began to creep up with 22 total tackles, three tackles for loss and the first two sacks of his career in eight games at defensive tackle. As a senior this past fall, his second year as a team captain, he had become a staple along the Cougars' front seven — starting in 11 games and notching 31 total tackles and 2.5 sacks as his tackle for loss numbers jumped to a team-high 13. And as he developed as a player on the field, Smith noted how he grew as a person and a leader within the Cougars' program.
"When I first got to Durant I was pretty quiet, I really only talked to people I knew," Smith said. "I didn't really talk to everyone on the team even though they were my teammates but as I got into the program more, became a captain, I gained those leadership skills. If someone was slacking off I had to fix it, I had to help them get what they need done so the team doesn't have to sacrifice. Like I said, I was quiet, but as I went to more camps and things like that I would have to talk to coaches. When I was at school I had to communicate with teammates, help them get into shape and get ready for football and that also helped me in the classroom. If I needed help, I'd be more vocal with my teachers and ask for that help which improved my grades. If there was a younger player that had something to deal with at school but were nervous to talk to the coaches about it, they'd come talk to me and I could help them."
A Hillsborough County All-Conference selection an All-American nominee from both O-D and Dream USA, Smith had put himself on the radar with his tendency to battle into the backfield through double- and triple-team attention from opposing offensive line and standing out at camps across three different states. And as his play improved, the attention he received from college programs began to ramp up.
"I wouldn't say the recruitment process was difficult but I didn't totally understand it at the time," Smith said. "I wasn't really thinking about it at first but I knew that I wanted to go to college. I had a couple of schools looking at me but I went to a lot of camps, I know I did that. Every summer I would train and go to camps non-stop so that more and more schools could look at me. Eventually I made an NCAA ID so that I was in the college database where schools could see me, my build, my grades."
After conversations with a number of schools that included Valdosta State, Ball State and Virginia University of Lynchburg, Smith received an offer from West Virginia Wesleyan — a football program with familiar ties to Durant as former Cougars in Nate Brennan and Logan Mayo are already a part of the team, along with a commitment from Smith's more recent teammate Elian Gonzalez, a wide receiver that graduated alongside Smith this spring.
With a pair of visits to West Virginia Wesleyan and former teammates to join, Smith found a home in Buckhannon.
"It was great to talk with all of the schools but with West Virginia Wesleyan I already knew people up there," Smith said. "So even though it's far from home, I know people. Those guys have already been up there. Nate Brennan's been up there for two years, Logan Mayo's been up there for a year, plus Elian will be with me so that's four people that I already know so I said, I think I'll be comfortable with this. Then I took a visit, I got to spend a night on campus in one of the dorms and I really liked it. Plus I like the cold, so when I heard West Virginia and the snow, I liked that."
On the football side, Smith noted the coaching staff at Wesleyan liked his drive, his motor, his ability to get into the backfield and go after the ball quickly — that they were ready for him to get up to West Virginia and do that for the Bobcats.
"It really feels good," Smith said. "When I first started playing I felt like a lot of people got to play in college but not a lot of people made it to the NFL, but really, not a lot of people even get the chance to play in college. So when I was able to have an opportunity to go to school for a lower price and also have a team that really wanted me to be there, it felt good. I was just like, I'm one step closer to where I want to be."