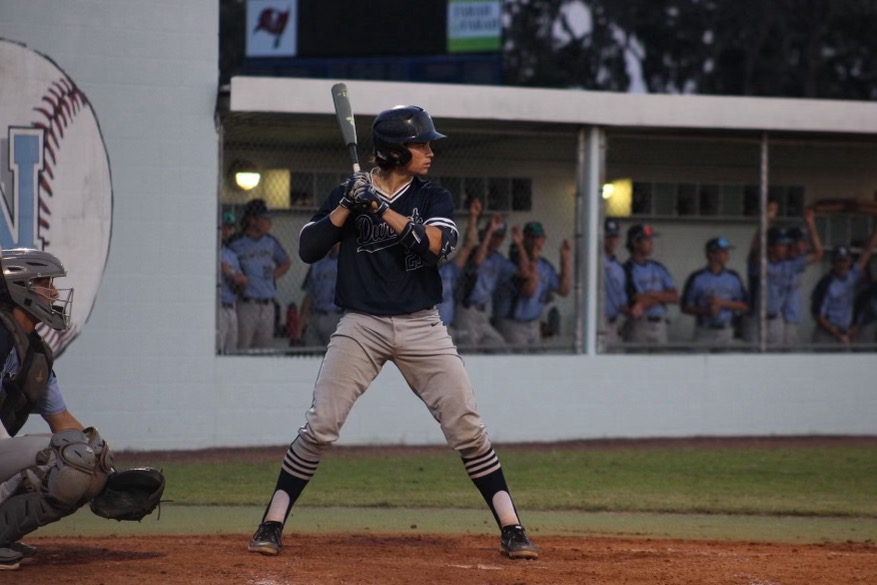 Featured Future is a summer series where the Observer will highlight local student athletes who are preparing to continue their athletic and educational careers at the college level, or those who have already begun that journey.
After four years of varsity baseball at Durant, Dylan LaPointe will be continuing his athletic and academic career at Florida Atlantic University.
"My time at Durant was awesome other than my freshman year being cut short by COVID," LaPointe said. "But after that it just felt like it went by so fast, I wish that I could go back and keep playing, high school was a lot of fun. You meet a lot of friends on the baseball team and you get close, you're there as a team to play but then hang out after school too because everyone's so close, you build that team chemistry and everyone's just tight together."
As a freshman, LaPointe saw action in five varsity contests before COVID-19 cut the Cougars season short after just seven games. But in his sophomore year, LaPointe wasted no time becoming a consistent presence behind the plate for an experienced Cougars' pitching staff – highlighted by future MLB Draft Pick Sean Hermann – that posted an unbelievable 1.06 ERA, along with quickly becoming one of the more dangerous bats in a Durant lineup that earned a Final Four appearance in 2021. As a sophomore LaPointe finished the season with a batting average of .380 to go along with a team-high 30 hits, 23 runs batted in, 13 doubles and one home run. In a season that was capped off by a solo go-ahead home run in the fourth inning of a 2-1 regional final victory over Osceola that sent the Cougars to the State Final Four, LaPointe was named to the All-813Preps First Team – one of just two sophomores in Hillsborough County to earn that distinction.
In the fall of his junior year, LaPointe committed to Florida Atlantic.
"I didn't really have many big schools talk to me but I had Jacksonville University, FIU, HCC, I only had like five offers," LaPointe said. "But what made FAU stand out was that they were at my Jupiter tournament in the beginning of my junior year and as soon as the game was finished they called me, they said they loved me, they said that they'd love to get me on campus to look around and talk to the head coach so I went to talk to their coach and took that visit and it just felt like home. Everything they did was so nice, the coaching sounded like it was really good, they did everything like they should as a DI and it just felt like where I belonged, like home."
As a junior, now committed to play collegiate baseball at a major Division I program in Boca Raton, the offense didn't slow down for the power hitting catcher. In 2022, LaPointe's batting average crossed over the .400 mark as he once again led the Cougars in most offensive categories, including a team-high .425 average, 31 hits, 23 runs batted in, five doubles, two triples and five home runs as the Cougars claimed their second consecutive district title and a regional semi-final appearance. And once again, the accolades rolled in for LaPointe as he was not only named to the All-813Preps First Team for the second consecutive season, but did so with the 6A-7A Hitter of the Year distinction.
In the fall of his senior year, the Cougars claimed the area's annual George M. Steinbrenner Fall Classic, hosted at the New York Yankees Spring Training Complex and George M. Steinbrenner field, before LaPointe signed his national letter of intent and officially committed to FAU in November. In Durant's spring season, LaPointe once again paced the Cougars' with a team-high .420 average, 34 hits, 10 doubles and two triples while his 17 runs batted in and five home runs trailed only behind junior Noah Morales. And as LaPointe had now long established himself as one of the most dangerous hitters in the baseball hotbed that is Hillsborough County, on the heels of an unsurprisingly stellar senior season in which the Cougars claimed their third consecutive district title en route to another regional semi-final appearance, he once again found himself as a member of the All-813Preps First Team for the third straight year.
"Some days we would just focus on tee work, fundamentals, drills and then some days we'd do soft toss and progressively we'd get into batting practice from coaches, then go to a machine to see some harder stuff and then we'd go to live pitching once our pitchers get developed," LaPointe said about his offensive development at Durant. "That just translated straight to the game. You'd critique your swing all the way from the tee, to soft toss, to the coaches, to the machine, to the pitching against our teammates."
Outside of his high school baseball with the Cougars in the fall and spring, LaPointe joined the Ostingers Baseball Academy at eight years old and played with them all through high school, a competitive baseball program based in Lithia that regularly features MLB Draft selections and collegiate players in their growing and largely local alumni base, along with former Featured Futures in Blaine Rowland and Tanner Rollyson – committed to the University of Florida and Florida Southern, respectively. LaPointe talked about his time with the Ostingers and the opportunity the organization provided him to face top levels of competition in a familiar setting, not just in his high school season in Hillsborough County, but around the country on a year-round basis.
"I was with the Ostingers since I was eight so I knew the guys really well and like I've said, you need that team chemistry," LaPointe said. "Since we were all from the same area and know each other really well and don't fly people in, that gives us an advantage. When you fly people in they could just be playing for themselves and not as a team but for us, we're all local and play against each other in high school and sometimes even wanted to play together on our high school teams but that's basically just an extension of high school. We all form together and make a nice team along with guys from all of the high schools around us."
Between his success with Durant and the Ostingers, winning is nothing new for LaPointe as he prepares to join an Owls program that has finished above .500 every season since 1996 and has made an NCAA Tournament appearance in six seasons since 2010.
"I'm pumped for it," LaPointe said. "I can't wait to get down there. You get to move away and live on your own, that'll be interesting, but I think that it'll be a lot of fun. Getting to meet new people on the team, getting to build that team chemistry again, I think it'll be a great experience and a great time."