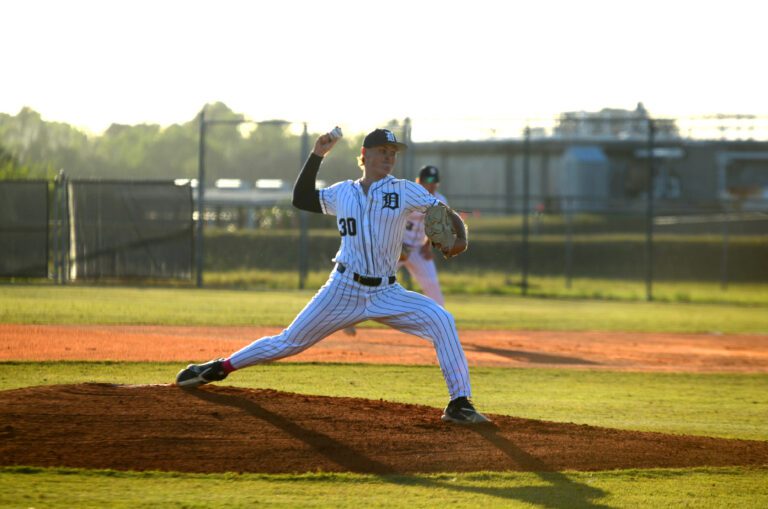 Featured Future is a summer series where the Observer will highlight local student athletes who are preparing to continue their athletic and educational careers at the college level, or those who have already begun that journey.
Despite just entering his senior year at Durant, pitcher Blaine Rowland has already been verbally committed to continue his academic and athletic career at the University of Florida for multiple years.
Stepping onto campus at Durant, it wouldn't be long before he was already finding himself with an opportunity to commit to his dream school. After receiving an invite, he attended a baseball camp at the University of Florida and received an offer shortly after – a decision that Rowland says he knew was the right one for him fairly quickly.
"I've grown up a Gator fan and always dreamed of playing there so when I got the text from Jimmy [Osting] that I needed to call an assistant coach from Florida, it was just a moment of awe," Rowland said. "My dream school wants to talk to me and then on that call he asked for me to come to a camp a few months later. I go up to the camp and they're taking us through tours of the facility, we go down to the pitching lab, see the locker room and the player lounge and the next day I'm calling Jimmy and I'm calling my advisor. They wanted to make me an offer and on that call I decided that Florida was where I wanted to go, so right then and there I took it."
As a freshman, it predictably did not take long for him to begin making an impact at the high school level in his first season with the Cougars. Rowland made six appearances where he posted a 3.06 earned run average with 19 strikeouts across 16 innings pitched – the only freshman on Durant's pitching staff to see varsity action in 2021. And by his sophomore year, Rowland was poised to be a frontline starter alongside incoming senior transfer Torin Byrnes, but a broken elbow suffered just days before the start of the 2022 season would force him to miss roughly half of the Cougars' season, sidelining him until early April. But once back in the rotation, Rowland was an unstoppable force on the mound. As a sophomore, Rowland's ERA fell to an astonishing 0.94 as he posted 34 strikeouts while allowing just four earned runs in 29.2 innings pitched across seven appearances.
And as a junior this past spring, his first full season as a starter, Rowland fully established himself as one of the most dominant pitchers in the state of Florida – posting a 0.64 ERA and a 5-1 record with 66 strikeouts and just five earned runs allowed across a team-high 54.1 innings pitched in 13 appearances. Once in his junior year, it also meant that the University of Florida's coaching staff could officially make contact with him for recruiting purposes, opening a better line of communication between Rowland and the Gators' program.
Outside of his high school season, Rowland travels across the state and country competing with Ostingers Baseball Academy, led by Jimmy Osting out of Lithia – ranked one of the top travel ball organizations in the country as they recently boasted two alumni being selected as first round draft picks in the 2023 MLB Draft, including Arjun Nimmala out of Strawberry Crest High School (#20, Blue Jays) and Brock Wilken out of Wake Forest by way of Bloomingdale High School (#18, Brewers). This allows Rowland to not just compete in one of the richest areas in the country for baseball talent in the spring, referring to Hillsborough County and the Tampa Bay Area as a whole, but both with and against some of the top talent that the U.S. has to offer throughout the summer and fall — developing on the field while also seeing the process that teammates and fellow Ostingers alumni experience throughout their transition to collegiate and professional baseball.
"It's definitely hard competition in Florida and you're definitely going to fail, which helps you improve," Rowland said. "You get to see your mistakes and then improve on those mistakes to not make them again. I think that's what you get from playing the best competition, you have to play the best to be the best. That's what Jimmy does, that's what Hillsborough County does and that's why we have the best players come from here."
"Ostingers is one of the best programs in the country. Coach Jimmy does everything the right way, I mean, he's been doing this for years now so he's done a great job building this program. Great players come out, we had two first rounders this year in Brock Wilken and Arjun Nimmala so Jimmy's really just got a great program with great players… I've seen those guys go through the process and I really hope that's me one day, being drafted in the first round and being another Ostingers alumni taken in the draft."
Heading into his senior year, Rowland is ready to "go all out" for his final prep season before he looks toward the University of Florida — or possible the 2024 MLB Draft — next summer.
"Now I just go all out," Rowland said. "Have some fun, it's the last year so I just want to enjoy it and play my best."