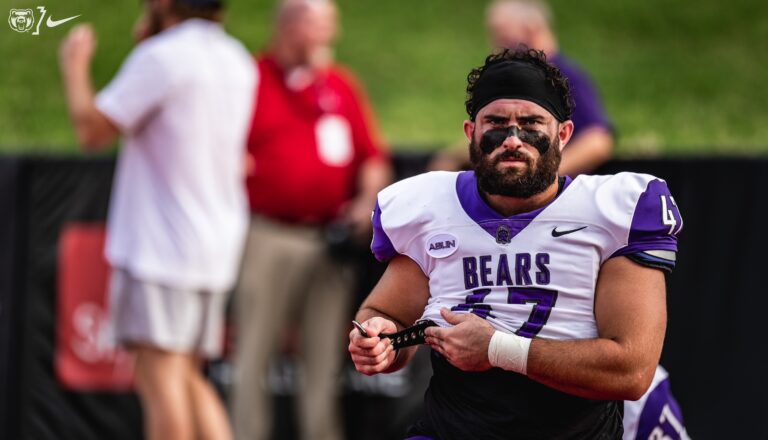 Featured Future is a summer series where the Observer will highlight local student athletes who are preparing to continue their athletic and educational careers at the college level, or those who have already begun that journey.
A Plant City native, Austin Eldridge began his football career at six-years-old with the Plant City Dolphins, now preparing to enter his fifth year and fourth full season as a tight end at the University of Central Arkansas, a Division I football program in Conway, Arkansas.
"I'm very glad that I grew up in Plant City," Eldridge said. "It was a close-knit town, especially growing up because I know it's growing bigger and bigger now. But playing for the Dolphins, I think that's where it all started for me. Having some good coaches that not only instilled good discipline but taught good technique and how to win in football. Getting that at an early age, from six-years-old all the way up to my freshman year of high school, was a big leg up coming into high school."
Eldridge spent his first two years of high school at Strawberry Crest before transferring to Plant City in the spring ahead of his junior season. Once at Plant City he says that it truly felt like home, and credits the coaching staffs that he was able to learn under as a huge part of his development toward becoming a DI athlete. In addition, he was a two-year starter and captain for Plant City's baseball team.
"Playing at Plant City it just felt so much more like home," Eldridge said. "I really enjoyed it there and had some really good coaches. When I first came in I had coach Greg Meyer, then coach Robert Paxia and then my senior year I had coach James Booth and they were all really good guys that I thought really helped me get ready to play college football. So once I got here I had a leg up on the other freshman that came in and it really helped set me up for success… It was really cool to go out there every Friday night and know that everybody that's on the team and all their families have really grown up and been in Plant City. There's just a tradition there where you know that every night you're supposed to go out there and win and you want to, not only for your team and for your brothers, but you want to for the city and the community surrounding because everybody really pours into that program and wants everyone to win. And when everyone is winning, I think the city just becomes even better than it already is."
Central Arkansas provided Eldridge with his first collegiate offer during the spring of his junior year, quickly followed by offers from other schools including North Dakota State, Youngstown State and Kent State, among others. But once he began taking visits, he came to love the atmosphere that UCA provided. He said that it not only offered a Plant City-like feel, but was also a bit closer to Florida, making it easier for his family to travel up for games. Throughout the recruitment process, Eldridge added that UCA really loved his physicality and his versatility, his ability to not only put his hand in the dirt and block at the tight end position, but also play out of the fullback position, line up in the slot, line up in the backfield, anywhere they wanted to put him.
"That was really cool of them to kind of look at me like that and let me know what they thought about that and how they were going to use me," Eldridge said. "They told me that the way I was used in high school, I was going to be used that way even more in college, whether that was in the backfield, in the slot, with my hand down. I really liked that. They also told me that when I came in I would have an opportunity to really make an impact right away and that they saw me as a UCA Bear that could really be great for them. I really enjoyed that part of the process and it's what made me come here."
With Conway sitting in the middle of the Arkansas, just outside the state capital of Little Rock, the location not only provided Eldridge an opportunity to play football at the next level, but enjoy all the things that go along with it like the love for hunting that he shares with some of his closest teammates and the way the community has taken him in as one of their own, making him feel even more at home.
While at UCA, Eldridge won a Southland Conference Championship with the Sugar Bears on the heels of a 9-4 record in 2019 before making the move to the Atlantic Sun Conference ahead of 2022. Fresh off of the move to a new conference, coming off of a 5-6 record in 2021, Eldridge is confident that this year's UCA team will be one of the best in school history.
"I'm really excited this year because we've got a lot of new faces on the team but that's not changing anything," Eldridge said. "I think that we're going to be a really good football team and I'm excited to get out there and play with a lot of these new guys on the team. It's going to be a lot of fun and I think, for sure, that we're going to be one of the best UCA teams that anyone's seen. It's going to be exciting, especially going out in Week 2 and play Ole Miss in Mississippi. I think that's going to be a fun game but I'm just excited to go out there and win a championship."
As a fifth-year student, Eldridge completed his undergraduate work with a business degree with a focus in innovation and entrepreneurship and will complete a general master's degree in business administration next fall. Upon graduation, Eldridge plans to either return to the Plant City area or stay in Arkansas to work in real estate, with the ultimate goal of starting his own general contracting company.