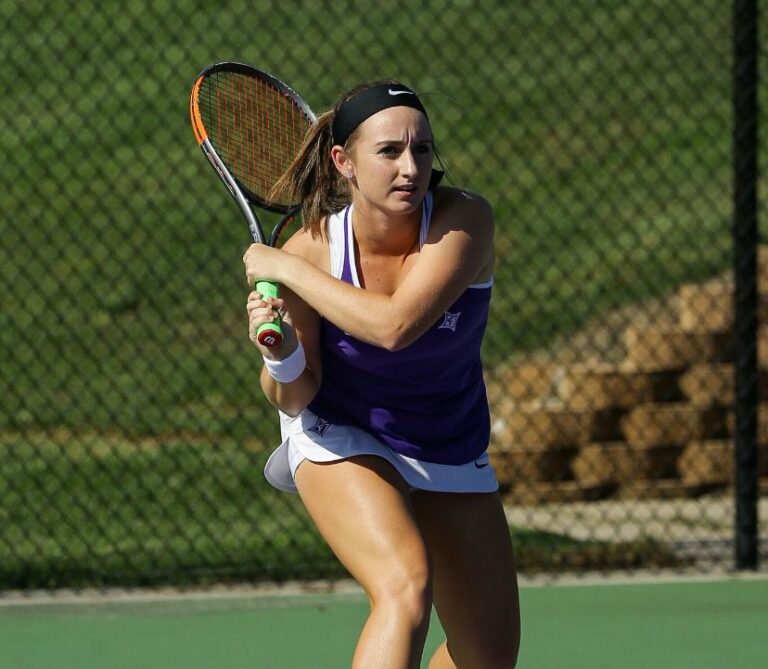 Featured Future is a summer series where the Observer will highlight local student athletes who are preparing to continue their athletic and educational careers at the college level, or those who have already begun that journey.
A Plant City native, Maggie Pate began playing tennis at six years old at the Plant City Tennis Center. By the time she reached middle school, she moved her training to the Brandon Tennis and Aquatic Center where she realized that she really wanted to take her training more seriously and potentially build a future for herself in the sport.
Pate recalls how when she first started at BSAC she really began to progress as a player and needed to take the next step when she asked herself, "what is the next step?" She looked at all of the competitions, the practice, the hours and hours of work put in and wondered what she was ultimately working for. That's when she set a goal to not only play tennis in college, but earn a Division I tennis scholarship.
While she played four years at Durant, she continued to train with Golub Tennis at BSAC, competing at both the high school and national level in competitions across the country, ranging from National Clay Court Championships in South Carolina to National Hard Court Tournaments in San Diego.
"High school tennis isn't particularly a big thing, it's not like baseball where you get a ton of coaching and exposure to colleges," Pate said. "But I definitely wanted to be a part of a team and I loved my tennis coach there, her and I really developed a special relationship. So that was a time to really enjoy my tennis, aside from the more serious tournaments that I was having to play. My time at Durant was great. I feel like I really came out of my shell there and the high school tennis team was an opportunity for me to connect with people younger and older than me that I wouldn't necessarily normally talk to."
It was in that time where she recalls one of her best tennis memories, winning her first national tournament when she was in high school, overcoming full-body cramps in the South Carolina heat during her semi-final match before going on to win in the finals.
"Those tournaments were kind of like our Cooperstown," Pate said. "That was really how you got exposure to coaches and the entire recruiting process was playing in these tournaments all across the nation. I did miss a lot of school but the administration at Durant was always so supportive of me and my athletic ambitions."
She began speaking with college coaches during her junior year of high school and began taking visits during the fall of her senior year. She visited UConn, James Madison, Mercer, Gonzaga, College of Charleston, among others, and ultimately found her home at Furman University in South Carolina.
"When I stepped on Furman's campus and met the team and the people and felt the academic vibe, I knew it was the fit for me. I said this is where I'm meant to be," Pate said. "I feel like a lot of people say that when you know you know, and I very much believe that's true. Obviously I've transferred now but I still stick to my gut, I'm glad I went to Furman. I truly felt like that was the perfect fit for me and I did thrive there."
Pate now heads to Appalachian State as a transfer ahead of her senior year with two years of eligibility left, allowing her to finish her undergraduate degree there and get her graduate degree covered by scholarship as well. Despite speaking with several schools, she not only felt like App State offered her a chance to succeed on the tennis court, but also academically as they could easily transfer her upper level college credits and allow her to continue earning her degree smoothly.
"I knew that I was going to be leaving Furman for graduate school regardless and I really wanted to enjoy these last few years of my tennis career so I decided to go ahead and make the switch," Pate said. "I talked to a lot of schools, it was very crazy, but App State was really the best fit for me academically and hearing the girls talk about the coaching staff and how it was the best coaching they've ever had, which I feel like you don't hear too often in college tennis, it just seemed like the perfect fit and everything fell into place here."
And while she doesn't necessarily see a future in tennis beyond the collegiate level, she attributes so much of her success in life thus far to the sport that she's competed in for so long.
"I think for me, as soon as I'm done with my NCAA eligibility, that will be the time when I'm ready to hang it up," Pate said. "I don't have any ambitions past this but I definitely feel like tennis was the vehicle that made all of these opportunities in my life possible. I feel like not many people can say that they got out of college debt free so that's a really big thing for me. I value tennis, I love it, but I definitely feel like it's what's led me into the rest of my life and set up my life from here."