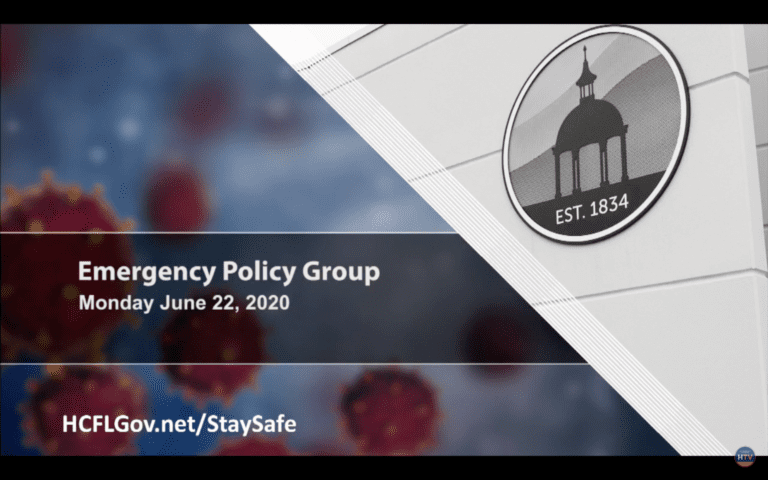 Hillsborough County residents must now wear face coverings when inside a business, though there are some exceptions to the new mandate.
If you plan to pop into a business this week, you'd better bring a face covering with you or else be prepared to be turned away.
The Hillsborough County Emergency Policy Group agreed via a 5-3 vote to mandate that all indoor business operators must now enforce a mandatory mask order. Instead of placing the burden on the individual, which Temple Terrace acting Mayor Andy Ross said would then be a burden to law enforcement, the group decided to place the responsibility entirely on the businesses. If law enforcement is informed a business is not requiring customers to wear a face mask, they could be charged with a second-degree misdemeanor with a penalty of a $500 fine, up to 60 days in jail and/or six months of probation.
Chronister echoed Ross's statement that law enforcement would be overburdened if it had to enforce compliance with every resident. Tampa Mayor Jane Castor, however, disputed that claim. She had a mandatory mask order go into place last week and said the city had only received a handful of complaints over the weekend.
The countywide order went into effect last night. Ross, Castor and county commissioners Les Miller, Kimberly Overman and Sandy Murman voted in favor of the measure. Plant City Mayor Rick Lott, Sheriff Chad Chronister and School Board chairwoman Melissa Snively voted against it.
Plant City Commissioner Mike Sparkman was also appalled the burden is being placed on business owners despite the fact it would theoretically reduce the calls to law enforcement.
"What we're doing, your honor, is we are putting the burden of all of this on small businesses," Sparkman said. "So it's any business, whether it's restaurants, hardware stores or anything of that magnitude. We're putting the burden on small businesses and putting more liability on them and costing them more to operate their business when they're already struggling. Is that my understanding?"
Lott agreed and said it was one of the reasons he voted against it.
There are exceptions to the rule, however, so it is not going to impede the lives of those with disabilities or conditions that would be worsened by wearing the mask. If you meet the exception, you don't have to wear it. It also only applies to those who are not following social distancing guidelines of keeping six feet apart. Children under two years of age are also exempt.
The policy is only in place for a week. During each Thursday's EPG meeting, the group will have to decide whether they want to renew it.
Obviously, restaurants and bars do not have to have their customers wear masks while they are eating and drinking. However, the business owner does have the right to ask the customers to wear a mask when going to and from the table.
The decision was not one the group took lightly. The EPG's conversation on masks alone took approximately two hours. Prior to the discussion, a slew of health experts presented in-depth analysis of the virus as well as the importance of using masks for reducing the pandemic's spread. 
One of the most compelling presentations came from Dr. Seetha Lakshmi, associate epidemiologist at Tampa General Hospital. Lakshmi attempted to tell the narrative of the patients coming into the hospital in order to make them more than just a statistic. She showed photos of many patients, including many who died here in Tampa Bay. 
"This is a battlefield," she told the group. "This is what the soldiers on the front line are seeing, and we wanted you to see this."
The transmission evolved as well, Florida Department of Health county director Dr. Douglas Holt said. Instead of people getting it from those who have traveled, there has been a rise in "community-based transmission."
Hospitals at this time are fully capable of handling the occupancies and aren't too overwhelmed despite the infection rate rising. The hope now is the data will begin to prove masks are working in the county. If not, the group can easily disband the order in a week.
It's a topic that has gained lots of opinion from local residents. When the Plant City Observer asked readers for their thoughts on the new ordinance on Facebook, the post received more than 500 comments in less than 24 hours with replies both for and against the decision.
The City of Plant City has supplied 8,000 face masks for distribution to business owners. Businesses can pick up masks from the Greater Plant City Chamber of Commerce, 106 N. Evers St., between 10 a.m. and 3 p.m. Monday through Friday. Masks were also available at Plant City Main Street's office on Wednesday.
Pinellas County added a similar order Tuesday that went into effect last night, as well.