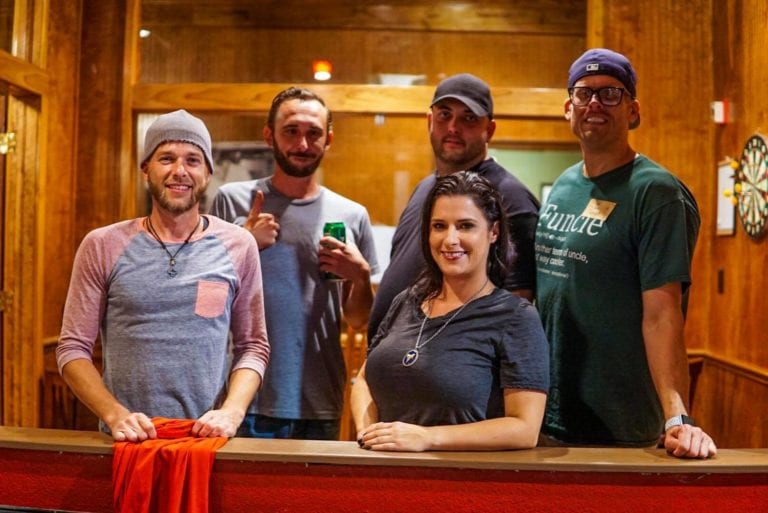 Stand up comedy is running rampant in Plant City thanks to the creation of a monthly open mic night.
Plant City's comedy scene has slowly grown over the past five months thanks to the installation of a monthly stand-up comedy open mic night in downtown.
Spearheaded by Jon Fon, a collective of hopeful comedians hits the stage to try out original acts and attempt to earn a laugh from the growing crowd each month.
"People want to feel alive," Fon said. "I think there's too much softness, too much patty-cake in life. There's a lot of, 'I want to say something, but before I do I need to go to a safe spot.' Comedy, it's an outlet. I think some people want to be challenged. I call the stage the playpen. It's a release."
Fon has a diverse and extensive background in entertainment ranging from building a stand-up career in Houston to having multiple records and even starring in several films. He was the president of the Toastmasters in Kingwood, Texas and won 26 Toastmasters awards. He said his time with the organization taught him how important communicating with others truly is.
There are few things as exhilarating as standing on a stage with a microphone and knowing that for ten minutes no one is going to talk back to you or attempt to argue your point or beliefs. Fon said his humor always comes from a personal place.
"We sit on spikes in a padded room," Fon said "It's easier to become a comic today, it's never been easier to become a comic. Especially for the younger people coming in that maybe have never heard comedy before… We don't mean to offend anybody. Most of the time we pick on ourselves, like I have a transvestite brother and some great jokes have come out of that. But my brother loves the jokes. He thinks they're hilarious. If you patty cake with people too much one day life is going to hit them in the face and they're not going to be able to take it."
As the years have passed Fon's style has begun to change. His sets are no longer simply 10 minutes of non-stop jokes. Instead, he is beginning to tie in motivational messages to his material, weaving a story of resilience into every act. Encouraging people, being a light, is his ultimate goal.
With all of the movements and new organizations popping up all across the city, Fon said he knew someone would soon bring stand up to Plant City. While he would have undoubtedly attended, he said he knew he would be sitting there critiquing how it was run and the way it was put together. Comedy is his passion, after all, so he decided to just go ahead and start the group himself.
After its creation, Fon said he was ecstatic to see so many people fall in love with the craft. Some who originally would go up for two or three minutes are now doing 10-minute sets each month and drawing in waves of laughter from the audience.
It's not something that will come without work, he warns, and interested comics should remember it's more than OK to bring notes to the stage. The night was originally held at Big Dog's Patio each month and has now transitioned to The Strawberry Tap. The pub offers a happy hour throughout the night, which Fon said helps "keep the wheels greased." Every performer is offered a free beer for getting the guts to go on stage.
Though it may sound repetitive, Fon said all good comedians are constantly prepared to work on material. He recommends carrying a pad and pen or having a notes section on your phone to write down inspiration when it comes to you.
The night is a treat, not only for those brave enough to go on stage but for attendees as well. There's nothing like the reality of sitting in a live show. Fon equates the experience as the antithesis of Youtube. If two people sat side by side and pulled up their Youtube app the home screen would show two entirely different pages. Each is customized to the individual viewer's enjoyments and preferences. When you attend a show, you never know what will be said or which taboo will be broken.
"So much of our experiences are catered to what we like," Fon said. "It's nice, but it's not letting us see the world. For one night a month you can come out and not make any decisions. You don't pick the material, you don't pick the humor, you just sit back and enjoy it."
As the momentum continues to roll Fon said he will adjust the set time so that everyone interested can come up and try out their material. He heavily recommends newcomers stick to a condensed act and not try to fill the full 10 minutes until they have had ample practice.
The talent that has already come out, however, has blown him away. As he watches newcomers continue to fall in love with the craft he said he is excited to see how it will evolve over the next several years. Stand-up open mic night will soon be a staple in Plant City, according to Fon. He said it won't be long before comedians are "running all around town" and bringing some light into our often monotonous existences.
The Strawberry Tap is a family restaurant, but Fon recommends attendees to the show all be 18 years old or older. It's held at 9 p.m. on the second Tuesday of each month Eventually, that day may shift as Fon attempts to grow the group into a weekly event. Any changes or more information can be found on the event's Facebook page.
"It's been an interesting life," Fon said. "For me personally, I have to make things funny or I would just cry. They say the people with the toughest lives are the funniest. Given that, we should have some pretty damn funny people in Plant City."