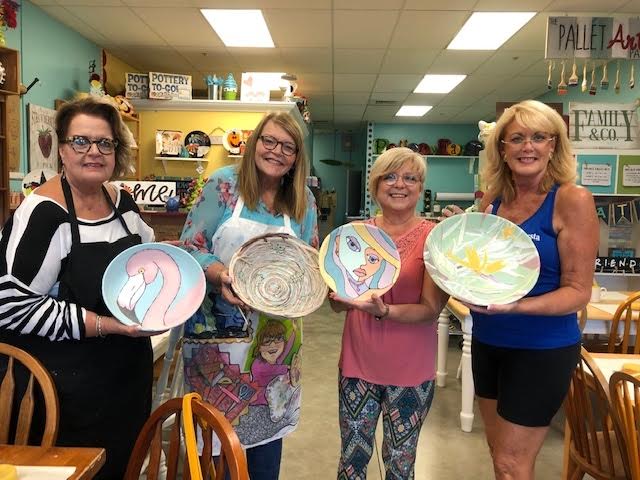 This year's United Food Bank of Plant City's Empty Bowls event is sure to be one the community won't soon forget. On top of its normal proceedings, UFB is adding a special 5k to its day of activities.
Every fall, the community heads downtown to participate in what is arguably one of the greatest fundraising events of the year.
The United Food Bank of Plant City's Empty Bowls event reminds residents of the food insecurity that unfortunately many of their neighbors face on a daily basis. Up to 1,000 people pour into the train depot downtown to participate in the event and many linger for hours as they enjoy homemade soups, bid on handcrafted bowls and enjoy the festivities.
"This event brings so much awareness of hunger and includes the entire family together through art," UFB Director Mary Heysek said. "We are the only food bank serving East Hillsborough County and we continue to grow every single month. Hunger is not always easy to recognize. Our mission remains the same: to provide assistance for the needy in moving them from a 'state of hunger' and 'impoverishment' to 'self-sufficiency, empowerment and self-reliance.'"
This year's event will be held from 10 a.m. to 1:30 p.m. Nov. 9 at the Robert W. Willaford Railroad Museum. Admission is $10 and includes a choice of soup, an apple and water, plus pottery bowl made by local students in Hillsborough County Schools Area 5. Labeled as an "art-for-hunger" event, Empty Bowls has evolved into a cultural phenomena here in Plant City and it's still growing.
Last year, UFB decided to spice things up by offering a one-of-a-kind Empty Bowls cookbook for sale, which featured a variety of local soup recipes. Those books will be available once again this year for interested attendees. To continue to evolve the festivities this year, UFB is tacking on an activity that same morning to tie into the awareness raising event. "The Fork Ran Away with the Spoon" 5K will begin at 7 a.m. and act as a "run for hunger."
The race will last until 9 a.m. and the streets will be closed throughout the event. Starting at the Railroad Museum, the runners will head down East Dr. MLK Jr. Boulevard, down South Lake Street, over to Hitchock Street, turn onto East Alsobrook Street and jog past the UFB, turn up onto South Morgan Street, run back onto MLK and around the lake at Samuel W. Cooper Park before heading back to the train depot. This is the first time UFB has offered this event and it's already making waves.
UFB Board Member and Event Chairman Silvia Dodson has worked hard for years to make sure Empty Bowls remains an iconic Plant City event. It acts as a massive fundraiser for the food bank, which impacts thousands of local families. Last year alone, the UFB served approximately 50,000 people, half of which Heysek said were children. They distributed 1.5 million pounds of food. While much of what they do is funded via grants and donations, fundraisers like Empty Bowls go a long way toward ensuring no one is turned away that needs a helping hand.
It's an issue that is close to Dodson's heart. When her parents chose to flee Cuba after Fidel Castro came into power, they left everything behind and came to the U.S. hoping for a better life for their children. Dodson said they were hard choices to make, but that "life, liberty and family are precious gifts from God we sometimes take for granted."
"My family struggled at first not knowing the language, without a job and a place to live but with a strong faith, excellent work ethics and business knowledge, my father was able to find work and persevered with success once again," Dodson said. "For us, it was with the support of friends, family, faith in God and the help of Catholic Charities and organizations like the Food Bank that our family was able to survive an unexpected situation in our life journey. Just like our family, many families are faced with unexpected situations daily. As a faithful community, we should all feel a responsibility to help our fellow man who is struggling and needs our help. The United Food Bank & Service of Plant City provides 'A Hand Up, Not A Hand Out.'"
For a small fee, you can enjoy mouthwatering soups, take home a handmade bowl and enjoy live music and entertainment.
During the event there is a live auction where attendees can bid on bowls painted by professional local artists.
Tony Azorin, a ceramic engineer and president of Florida Brick & Clay Company in Plant City, handcrafts each bowl on a potter's wheel.
David Dye, a retired professor of art from HCC Ybor Campus and potter, also made two of the bowls used by artists Loretta Burns and Lesli Platt to do their art designs. Platt, a retired art teacher and Empty Bowls team member, also created and painted a one-of-a-kind bowl in the shape of a large bird nest for the live auction.
The Pottery Patch in Valrico allowed the artists to use their pottery studio to paint and fire their bowls this year.
Florida Strawberry Festival Queen and court members painted a bowl, which will be donated to the Florida Strawberry Festival for its continued support of UFB.
Little Miss Plant City and court members painted a bowl in their pageant's theme, "Alice in Wonderland."
The sidewalks in the area were also adorned with professional chalk art prior to the event to raise awareness. Leigh Alfredson, a graphic artist and the lead official street painting artist doing sidewalk street painting at Disney World, conducted the sidewalk chalk art workshop.
If you go
Empty Bowls
Where: Robert W. Willaford Railroad Museum, 102 N. Palmer St.
When: 10 a.m. to 1:30 p.m. Nov. 9
Tickets: $10
The Fork Ran Away with the Spoon 5k
Where: Robert W. Willaford
Railroad Museum, 102 N.
Palmer St.
When: 7 a.m. Nov. 9