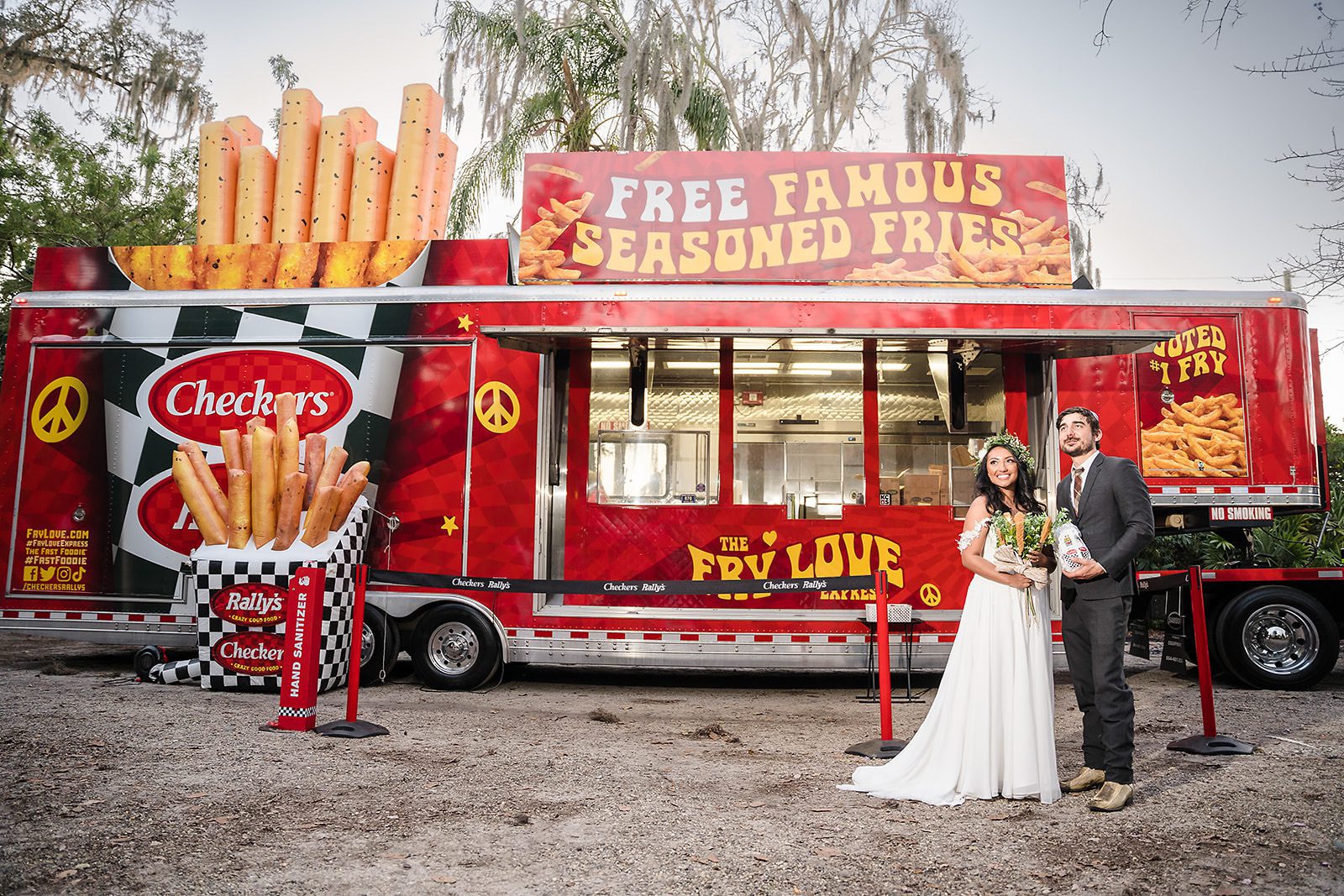 It's been a wild ride for Arley and Vicky Smude in the eighteen months since the couple tied the knot. With a proposal that went viral after Vicky got down on one knee and used a Checkers' Fry Burger as part of the proposal and a wedding that made the news because it included a chicken tender bouquet and a 43-foot Fry Love Express serving guests Checkers chicken tenders and their trademark seasoned fries during the ceremony (the couple really loves Checkers), how do you keep that kind of excitement alive?
The couple will soon be plenty busy. They're expecting their first child, a son, whose due date is Jan. 4, 2024. If an addition to the family isn't enough to keep them occupied, they're also taking over the family business: Metals and Nature.
Located at 1501 W. State Road 60, its unassuming front entrance leads shoppers to a two-acre natural wonderland featuring a garden of wrought iron, statuary, yard art and garden and home decor.
Arley's parents, Diego and Mary, started the business in 1985. Diego, who grew up in Buenos Aires, Argentina, a city made more beautiful by its intricate and elaborate ironwork, sold art in Israel before moving to the United States to study botany. The horticulturalist, who lived in Brandon with his wife, began selling plants on the side of the road. The couple purchased the property on Hwy. 60, that included a home but as big-box retailers started popping up and eating into their plant business, the company expanded into ironwork and statuaries.
"Knowing that history is what makes this place make sense to me, it's a combination of wrought iron and a garden of beautiful flowers and art that's evolved over the last 40 years since he bought it," said Arley.
Some of his earliest memories include road trips to Mexico, riding in the back of his parents' van with carpeted walls, watching the miles go by while lounging in papasan and beanbag chairs. "We'd drive there, buy wrought iron, drive it back here and my dad would sell it," he said.
Later, his dad learned how to make the intricate ironwork pieces himself.
His parents, now in their 70's, started thinking about retiring and selling the business. "They talked about retiring and Vicky and my brother found the perfect house for them in downtown Plant City just two blocks from where we live and a block from the library," said Arley.
As Arley and Vicky talked about the future, plans to sell the business faded into memory. "Vicky and I talked and she tolerated my dream," Arley joked. "My parents created this, there's nowhere else like it in the world."
Vicky is just as passionate about the business as her husband. "This place is a destination and holds so many good memories for so many people, it felt like a disservice to the community for it not to be here anymore," she said.
Arley has plans to use his management and his own ironworking skills (that he learned from his dad) coupled with Vicky's creativity, love of Plant City and marketing prowess to improve on his dad's success.
"We're the perfect team to do it, we have a lot of balls in the air right now but it's all good stuff," said Arley. "This has definitely brought more fulfillment to our lives."
Metals & Nature is open Thursday through Sunday 10 a.m. – 4 p.m. For more information, visit their Facebook or Instagram pages, Metals and Nature, or their website at metalsandnature.com.