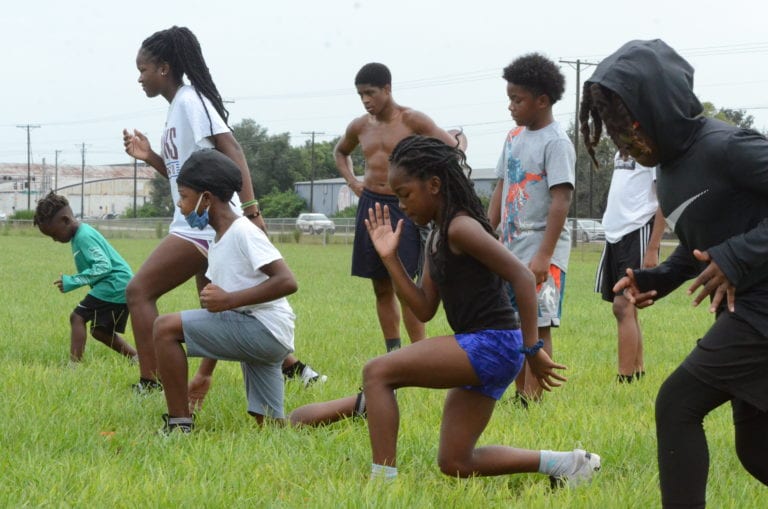 The nonprofit, volunteer-run group provides free athletic training for kids in the Plant City area and is currently working on offering academic and mentoring services.
The men behind Dynamic Sports and Learning Academy are committed to one thing and one thing only: making sure Plant City's youth can be their best on and off the playing field.
DSLA has a three-part approach to this. First is training athletes to be better at any sport they choose. Second is helping them keep their grades up and achieve their goals in the classroom. Third is giving them positive role models and mentors to learn from. The group's seven coaches — Jaquan Dasher, Joslin Shaw, Wayne Ward, Tydre Ward, Pablo Rodriguez, Anthony Holmes and Anthony Thomas — are determined to make it work, especially now that COVID-19 has changed life for everyone.
"We just wanted to give the kids a sense of normalcy with everything that's going on, so we figured we'd just come up with a strategic plan to keep kids active as well as implement the rules and regulations of social distancing," Dasher said.
The nonprofit group is entirely volunteer-run and its services are entirely free.
"It's different, it's a good thing and it doesn't cost the kids anything," Wayne Ward said. "All we ask is for them to come out and give us their effort."
Many of DSLA's coaches have football backgrounds and they either currently coach or have previously coached at the high school level. But this isn't a football camp: kids who play any sport can benefit from the group's training methods, which focus on areas like speed, explosiveness, footwork, agility and cardio. The coaches know what it takes to get to the next level and know how to motivate the kids to push for that one last rep with everything they have.
"We all came up through sports, one way or another," Shaw said. "We're not limiting this program to football. We want to give kids the opportunity to be the best they can be at any sport they choose to get involved in."
The DSLA has offered the training services since June 15 and have more offerings on the way.
"Our goal is to reach the kids through athletics and then eventually, we want to involve educational programs to solidify what we're doing," Shaw said. "We're working on plans for that and hopefully we'll have something to present shortly. Mentorship, tutoring, just trying to get them ready and keep their GPAs up to at least 3.0. That's our goal."
The group has already helped more than 100 kids between its training services and back-to-school back pack donations, and Shaw said they hope to expand upon that by giving kids a study hall setup, tutoring and mentorship.
DSLA announced Tuesday it's taking a brief break from athletic training sessions so parents and students can adjust more easily to their new schedules with school back in session. In the meantime, the coaches are putting together a plan for a big comeback.
"Right now with everything starting with school, we want to see how everything's going to start and then reach out to kids online and on Zoom," Dasher said. "Any way we can impact them and keep in contact with the parents. Even if we have to do one-on-one sessions, we're gonna make it happen."
Kids up to age 18 are welcome to sign up with the program. Before Tuesday's announcement, they could get free athletic training at the Marshall Middle Magnet School track and field, 18 S. Maryland Ave., on Tuesday and Thursday nights as well as Saturday mornings. That schedule is subject to change depending on what the DSLA chooses to do with its upcoming plans for fall.
For more information and to get your kids involved in DSLA programming, visit the Facebook page at facebook.com/DSLA2020 or email 1dsla2020@gmail.com.