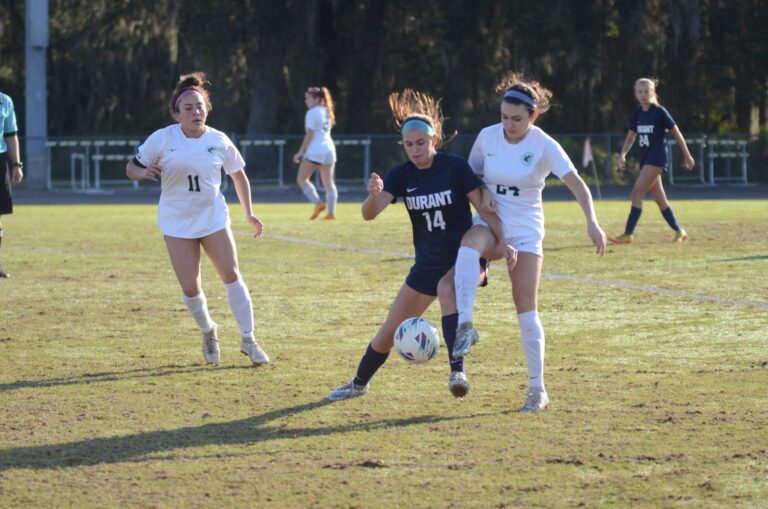 The Cougars fell to undefeated Tampa Catholic in the Tampa Bay Top 10 Champions League semifinal, a 2-1 final that marked an end to their 13-game win streak to open the year.
Durant made their way to Wiregrass Ranch High School early on Saturday morning to face Tampa Catholic in the semifinal match for the Tampa Bay Top 10 Champions League tournament, a competition that draws its inspiration from one of the most prestigious tournaments in professional soccer, the UEFA Champions League (UCL.) The UCL is an annual tournament held each summer in which top-division European clubs battle through group stages before advancing through a knockout format to ultimately determine the year's top club in European competition. In similar fashion, the Tampa Bay Top 10 was introduced in 2018 by Jim Harte and Rob Nugent to provide an invite-only highly-competitive tournament between some of the Tampa Bay Area's top high school soccer teams. The event has evolved to feature four groups, each including a Pasco County, Pinellas County, Hillsborough County private and Hillsborough County public school, and in 2022 the organization added a girl's league for the first time.
En route to the semifinal appearance, Durant opened the year with a 13-game win streak in which they outscored their opponents 63-4, a run that featured four mercy rule victories and 10 shutouts. Their game against Bloomingdale – a regular season matchup in which the Cougars faced another Tampa Bay Top 10 Champions League team – ended in a 6-2 final, their lone game in which they conceded more than one goal. And in their Champions League matchups ahead of Saturday, Durant had come away with a 2-0 victory over New Port Richey's River Ridge, a 1-0 victory over Clearwater's Calvary Christian and a 3-0 win over Sickles.
"We just have to take it game-by-game," head coach Melissa Brown said. "Every team is good and we just have to bring it in every game. It's hard to say that you would expect this start, but that's a good start and I'm very proud of them."
In the early stages of Saturday's match, Durant controlled possession and regularly presented themselves with chances on the offensive end. In the fifth minute, the Cougars earned a corner kick that was sent in the box by freshman Kendal Vician, just missing the outstretched foot of sophomore Mykala Ulrich as the ball rolled through the box and away from harm for Tampa Catholic. A few short moments later, Ulrich chased down a through ball in the box and was just able to put a shot toward the frame but the chance was ultimately thwarted by TC's charging keeper. And following a strong counter attack from TC, Durant earned another chance as a run up the left side resulted in a shot from inside the 18-yard box, but it was placed right at TC's keeper and easily sent away.
At the 13 minute mark the tides began to shift in Tampa Catholic's favor, starting with a run up the right side that resulted in a corner kick, settled at the far post and directed in front of goal before Durant's defense was able to make the crucial clear. Tampa Catholic was turned away on another run in the 19th minute and narrowly missed opening the scoring in the 21st minute as Crusaders striker Lena Bailey cleared her defender, took possession into the 18 yard box and rifled a shot off the crossbar. Tampa Catholic finally broke through in the 30th minute as they forced a turnover in the middle of the field and quickly transitioned to a fast counter attack, ultimately putting the ball back on the foot of Bailey who converted with a perfectly-placed shot, tucked into the lower left corner of the net, giving the Crusaders a 1-0 lead. And in the blink of an eye, Tampa Catholic extended their lead as Bailey controlled a run up the right side and connected with forward Isabella Murphy streaking into the box at the far post to give the Crusaders a 2-0 lead heading into halftime.
Durant was able to find sporadic chances throughout the second half, most notably in the form of two well-driven shots from Katlyn Levasseur that were sent just over the bar, before finally converting in the 70th minute as Emma Harnage sent a corner kick into the box, deflected on goal and past the keeper by Addison Kapustiak to cut the Cougars' deficit to 2-1.
"We always say that 2-0 is the most dangerous lead you can have in soccer," head coach Melissa Brown said. "We knew we were still in it and I still think that the match could have gone either way at any time. I'm very proud of our girls for never giving up and they played 110 percent."
But as the score would sit, it would remain as Tampa Catholic was able to outlast the late push from Durant to give the Cougars' their first loss of the season in an extremely tight contest. But over the course of a long season, lessons can still be learned from losses and moments of adversity had admittedly been few and far between for the experienced and previously undefeated Durant squad.
"It keeps us humble," Brown said. "We have to stay humble and we have to keep fighting for it. This is good experience. These teams in the Champions League are amazing to play and hopefully it sets us up well for districts and regionals… I think we just have to stay in it 110 percent and keep bringing 110 percent to every game, not taking any team too lightly and finishing when we have the opportunity."
Durant will return to action following their winter break with a home game against Spoto on Tuesday, Jan. 10 before wrapping up their regular season on the road against Steinbrenner on Friday, Jan. 13.