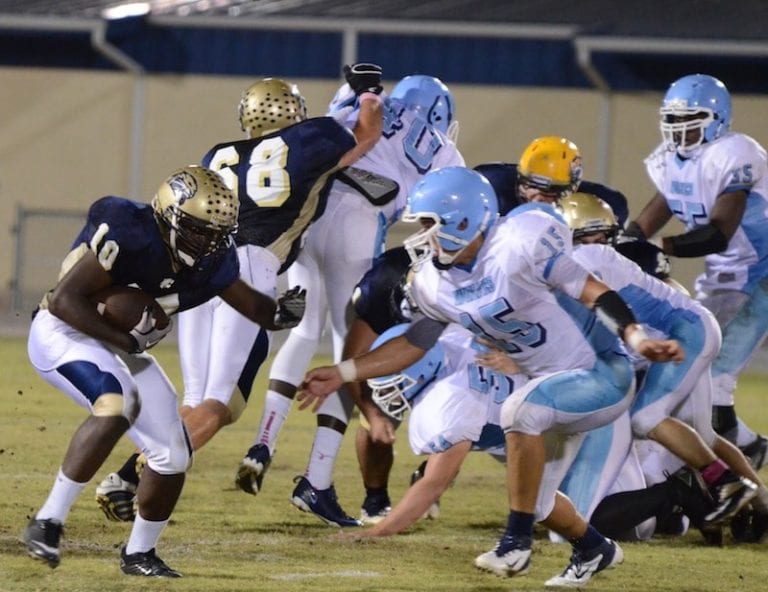 By Matt Mauney | Associate Editor
PLANT CITY — Durant came away with four turnovers Thursday night as the Cougars improved to 7-0, beating Newsome 38-28.
Newsome (3-4, 2-1 Class 7A District 8) quarterback Will Worth had a big night running the football, but threw two costly interceptions. The first came in the second quarter when Worth was blindsided by a hit and threw a lame duck pass that was picked off by Colin Kiehlmeier and returned 41 yards for a score.
The Wolves trailed 31-14 going into halftime, but opened the third quarter with a 10 minute drive and looked to pull with 10 points before Worth threw his second pick on the goal line to Durant's Rodney Lang.
"I thought we were two pretty evenly matched teams and knew that whoever made the most amount of mistakes would lose," said head coach Mike Gottman after the game. "I thought our offense did a good job holding on to the ball and the defense bent a little and gave up some points, but we made them earn them."
The 28 points surrendered to Newsome is by far the most given up by Durant (7-0, 3-0 Class 7A District 8) this year. In fact, the Cougars had only given up 26 combined points in their first six games.
"We tell our defense to just keep playing and that you never know what's going to happen," Gottman said. "We've found a way to hold strong and give up some yards but not give up a whole lot of points."
Durant jumped out to a 14-0 lead early on, scoring on its opening drive due in part to a crucial fourth and long conversion where quarterback Trey VanDeGrift found Reggie Gainer for a big gain, down to the 2-yard-line. VanDeGrift would punch it in a few plays later to put Durant up 7-0.
Newsome fumbled the ball on its first play from scrimmage, giving Durant the ball on the 11, where Jamarlon Hamilton put the Cougars up 14-0 with an 11-yard run. The Wolves would fumble again late in the second giving Durant good field position which eventually led to a 25 yard field goal by Danny Bowers.
Bowers did a nice job of not giving Newsome's return unit anything to work with, kicking the ball into or out of the end zone on every kickoff.
Hamilton was the workhorse for the Durant offense, getting 27 carries on the night and racking up 155 yards and two touchdowns. VanDeGrift finished with 98 yards passing and hit Paxton Sims on a strike in the second quarter to go up 28-0.
Durant  will play at East Bay next week in a district game. East Bay beat Plant City Thursday 24-12.