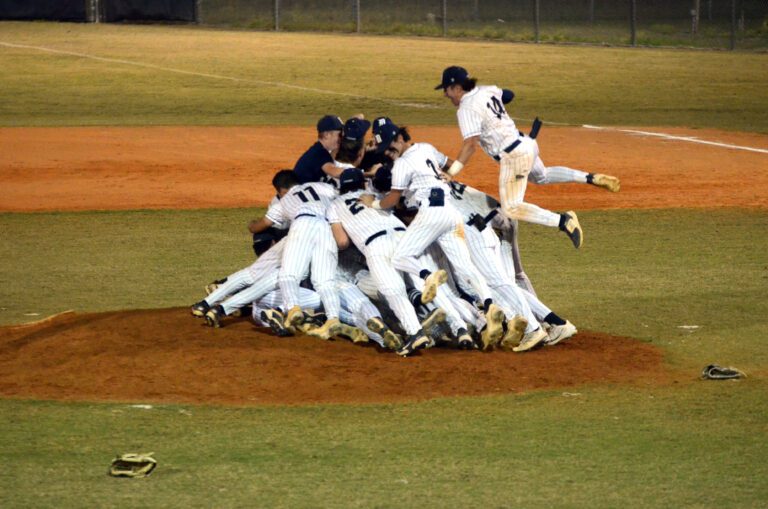 The Cougars claimed their second consecutive district title behind a stellar pitching performance and a huge home run late in the game.
After advancing to the 7A District 6 championship with a thrilling 1-0 victory over crosstown rival Strawberry Crest, Durant claimed their second consecutive district title with another razor thin 2-1 victory over another heated rival in Newsome last Thursday.
For Durant, it was a chance to claim the rubber match in their season series against the Wolves, dropping their first contest against Newsome 9-4 on March 28 before bouncing back with a 3-1 win a couple of weeks later on April 14. But more specifically for the Cougars' starting pitcher Preston Rogers, a Plant City High School transfer that wasn't even on Durant's roster at this point last year, it was a chance for him to step up and carry his team to a championship over Newsome after struggling against them earlier in the year. While working through an injury, Rogers allowed seven hits and four earned runs over three innings against Newsome in March, his last appearance before being shut down for two weeks mid-season to recover. On Thursday, he saw a chance for revenge.
"Coming into the season I was feeling pretty good, I had some new training and stuff like that, but then I wasn't really feeling right after the first couple of weeks and I was pushing through an injury," Rogers said. "The last time I faced Newsome, right before I took my break, I gave up five runs in three innings and I wasn't really doing my best. Coming into tonight I wanted revenge for what happened. Since I wasn't healthy I felt like I was cheated out of a shot to get them, so I was looking forward to tonight. I've been working my butt off to get back to where I was and to get healthy again and make sure that I'm feeling alright."
It's always an extremely familiar battle between the two sides, both teams are filled with players that know each other well — with several playing on travel ball teams together over the years and many still currently playing together in the summer and fall, outside of their respective high school seasons in the spring.
"These games are straight energy because they're nothing but disrespectful," junior Noah Morales said with a laugh. "You're going out there to disrespect the other team and they're going out there to disrespect you because they're going to let you hear it at practice, they're going to let you hear it in the summer on our travel teams. It's really fun but at the same time you can't be friends with them on the field. I love them, but you can't be friends with them on the field."
In the top of the first, Rogers worked quickly through the top of the Newsome lineup. A bunt right back to him was thrown on to first for the first out of the inning before the Wolves' next hitter legged out a slow roller for an infield single in the next at bat. Unwavering, Rogers responded by notching his first strikeout of the contest in the next at bat and coaxed a shallow pop fly to shortstop Nick April-Gath to end the top half of the frame and bring Durant in for the bottom of the first. And after a ground ball to third opened the bottom half, junior Devin Suero reached safely with a walk. While Suero was quickly able to move into scoring position by stealing second, he would go no further as a pair of strikeouts ended the Cougars' threat.
In the top of the second, Rogers was settled in and dealing. Despite a misplayed ground ball putting Newsome's leadoff hitter aboard, Rogers never wavered as he bounced right back with three consecutive strikeouts to put away the Wolves.
Durant once again threatened in the bottom of the second, starting with a one-out double to right field from junior Pete Oderio, followed by a walk from sophomore Brantley Hayward to put a pair of runners on base. A ground ball to shortstop from junior Tyler MacPherson appeared to set up an ideal double play opportunity for Newsome, but the transfer was bobbled by the Wolves' second baseman – ensuring no throw to first as they settled for the lone force out at second base, leaving runners on the corners with two outs for Durant. MacPherson subsequently stole second to put runners on second and third, but a clutch strikeout from Newsome once again kept the Cougars off of the board.
Rogers then worked through the top of the third with a pair of groundouts and a fly out to left, aided by a great defensive play from April-Gath up the middle, and Durant similarly went down in order in the bottom of the third as the contest remained scoreless heading into the fourth.
After another perfect top of the fourth from Rogers, an inning in which he clinically struck out all three hitters he faced, Durant was facing their best scoring chance of the evening as Morales opened the bottom half of the frame with a double to left before junior Blain Rowland reached safely by beating out a perfectly executed bunt to put runners on first and third with no outs. But despite the golden opportunity to pull ahead with the game's first run, a fly ball to center from Oderio marked the first out of the inning before Morales was thrown out at home, trying to score from third. A strikeout in the next at bat then ended the inning as the scoreless battle moved into the fifth.
Newsome put their leadoff hitter aboard for the first time in the top of the fifth but Rogers continued to thwart any opportunity for the Wolves as he worked deeper into the game, notching yet another strikeout in the next at bat before inducing a ground ball back to himself to set up a 1-6-3 double play to end the inning. And in the bottom of the fifth, despite a number of previous scoring chances failing to result in runs, Durant was finally able to break through. After a fly out opened the inning, senior Aidan Welsh beat out an infield hit to reach safely. While Welsh took off attempting to steal second, April-Gath subsequently punched a single through the vacated hole left by the covering second baseman to move Welsh up to third — putting runners on the corners with just one out. Suero pushed Welsh across the plate with a sacrifice bunt up the first base side and Newsome was eventually able to get out of the inning without any more damage, but not before the Cougars took a 1-0 lead.
Rogers opened the sixth by inducing a ground out from Newsome's first batter but put a runner aboard with a walk in the next at bat. A slow ground ball to third allowed Durant to get the second out of the inning at first but the lead runner was able to move up to second safely on the play, later moving to third on a passed ball. The following at bat resulted in a looping fly ball to right center. Suero and Rowland both converged quickly on the perfectly placed hit and Rowland nearly saved the Cougars' lead as he fully extended on a diving attempt to make the play, but the ball ultimately fell safely off of the end of his glove — allowing Newsome to knot the contest at 1-1.
But while Newsome may have drawn even with Durant for the moment, the energy from the Wolves' dugout was short-lived as Morales geared up and blasted a go-ahead — ultimately game-winning —home run deep over the left field fence to open the bottom of the sixth. But for Morales, the monumental moment carried more weight than just the breakthrough run.
"I wasn't really trying to hit a home run, that's never really what I'm trying to do, but I knew that they were throwing me off speed because I got ahold of a fastball in my last at bat," Morales said. "[Newsome pitcher Wade Walton] is a really good player, he's committed with me to High Point actually, but I knew something off-speed was coming, I sat on it, he threw it in a bad spot and I turned on it. I was thinking double honestly, but I got lucky. It had enough backspin to get over in a big spot and you think about times like that… I'm just so emotional about this game. I couldn't sleep, I was up at 1 a.m. last night practicing my speech for these guys, you know? It just feels so surreal to round the bases knowing that my team's on my back and that I'm here for them. It just feels great to be there for them, that's what I like the most."
The Wolves were ultimately able to work through the rest of the inning without issue and Rogers took the mound looking to close out the contest. After a ground out to third base, a base hit to right center put his hope of finishing the game himself in jeopardy as he crept closer to the FHSAA's 105-pitch limit. A strikeout in the next at bat put the Cougars just one out away from lifting their second consecutive district trophy and left Rogers at 103 pitches — meaning the Wolves' next at hitter would be the last one he faced, regardless of the outcome. But digging deep, Rogers was able to overpower one final Newsome batter by notching his 11th strikeout to bring his stellar complete game effort to a close.
"Tonight was incredible," Rogers said. "This was probably the best that I've thrown all season. I'm very proud of what I've done, I'm really happy that all the hard work has paid off and I'm just happy that we got the win because it's my first district championship.
And while it was Morales that came up with the big home run to pull Durant ahead late, he went out of his way to praise Rogers' big-time performance.
"I want to put more praise than anything on my pitcher because he did one hell of a job today and we couldn't be here if not for him," Morales said. "He's a stud, he's always been a stud and I really appreciate that guy."
Advancing to the regional quarterfinals as district champions, the 19-5 Cougars opened up regional play by hosting 18-8 Alonso on Wednesday. And across town, despite Plant City narrowly falling by way of a 6-5 final in their own district semifinal to second-seed Bloomingdale — the eventual 6A District 11 champions over top-seed Lennard — the Raiders qualified for a regional quarterfinal berth of their own, making their way across town to face 25-2 Sickles on Wednesday as well.
While both Durant and Plant City played their regional quarterfinal contest on Wednesday, the games were played after the Plant City Observer had gone to press. Further playoff coverage will be provided.