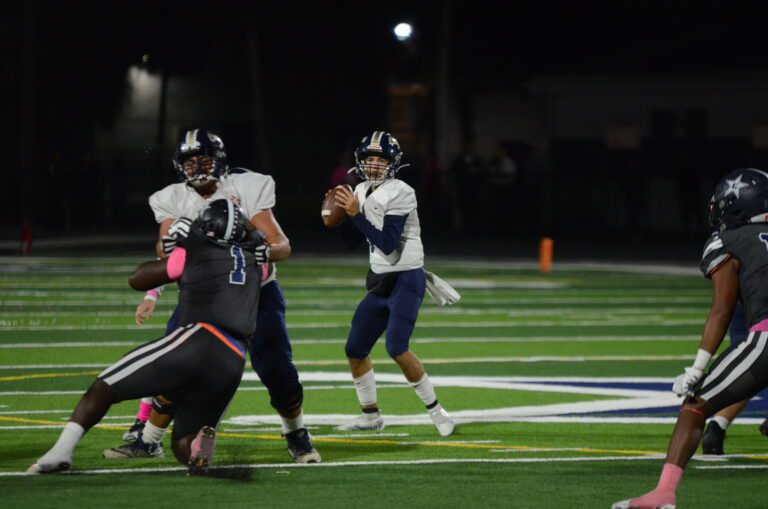 Gaither comes away with 41-35 victory to end the Cougars' five-game win streak.
The Durant Cougars headed west to Gaither High School on Friday in hopes of extending their active win streak to six games, ultimately falling short in a 41-35 loss at the hands of the Cowboys.
Durant won the coin toss and deferred to the second half, with Gaither being pinned deep in their own territory at the 12-yard line to start their first offensive possession, but they wasted no time taking an early lead as quarterback Jayce Nixon found receiver Eugene Wilson III deep over the middle of the field for an 82-yard touchdown pass.
Starting their first drive with a 7-0 deficit, Durant couldn't move the chains and was forced to punt after just three plays but the Cougars were able to steal possession right back as the punt was mishandled and recovered by Durant, giving them great starting field position at the Gaither 27. The Cougars immediately moved into the red zone on a 15-yard completion to freshman Treon Williams before working their way down inside the five on a completion to Jeremiah Gines and ultimately drawing even at 7-7 on a five-yard touchdown run from quarterback Mike Ryan.
Gaither hauled in the short kickoff at their own 35-yard line but Durant once again took possession back in a flash as linebacker Luther Scarlett came flying off the edge on first down, notching a sack while also forcing and recovering the ensuing fumble to give the Cougars another great start at the Gaither 25. After working their way inside the 10-yard line, stalling out to face fourth-and-four at the seven-yard line, Ryan went to a hard count that forced back-to-back offside penalties on the Cowboys' defense, giving the Cougars a first-and-goal at the two. Three plays later, running back Calub Connell entered the game at quarterback and punched in the short touchdown run to give Durant their first lead of the game at 14-7 with 3:40 left in the first quarter.
On their ensuing possessions, Gaither drove into Durant territory before turning the ball over on downs on two consecutive drives while Durant was also unable to get the offense back in rhythm, settling for punts on their next two drives. But with under two minutes left in the first half, Gaither came up with an answer. After starting at their own 44-yard line following the Durant punt, the Cowboys moved just across midfield before breaking off a huge chunk play with a 43-yard completion down to the Durant five-yard line, knotting the contest up at 14-14 a few plays later on a touchdown pass to Wilson just before halftime.
Durant took over at their own 17 to start the third quarter and immediately moved up to the 27 on a first down pass to sophomore Ajani Peavy before Ryan dropped back and hit Gines in stride on a deep pass down the left sideline for a 73-yard touchdown, taking the lead back at 21-14.
Later in the third, Gaither answered back with another huge pass play to Wilson, this time coming by way of a 49-yard touchdown completion to (once again) bring the two teams level at 21-21. And on their next possession, starting at the 20, they instantly moved across midfield on a 35-yard pass to the Durant 45 before junior Latrell Taylor broke loose on a screen pass to the left for a 38-yard touchdown two plays later, giving Gaither their first lead since the first quarter as they moved ahead 28-21.
But as quickly as Gaither could take the lead back, Durant responded as senior Xavier Peavy immediately returned the ensuing kickoff 90 yards for a touchdown.
On their next possession Gaither moved down the field methodically, a change from the explosive plays that carried their offense throughout the night, utilizing a steady balance of runs and short passes to hold possession and drive down the field before pulling back ahead with a four-yard touchdown pass in the corner of the end zone to junior Angelo Amador. Gaither managed to turn the tables once again with a flawless offensive possession to re-take the lead at 35-28.
With 6:52 remaining on the clock, Durant wasted no time moving into Gaither territory on a series of strong runs and a steady dose of completions from Ryan to Gines, culminating in a 30-yard pass to Gines that put Durant down at the Gaither 20. But on the following first down play the Cowboys came up with perhaps the biggest play of the night as their fierce pass rush, a unit that had given Durant trouble throughout the evening, got to Ryan in the backfield to force a fumble and give possession back to Gaither with 4:18 remaining.
Despite getting a crucial stop to force a Gaither punt, returned into Gaither territory by Jayden Forte, the Gaither pass rush once again came up huge with a sack that put Durant behind the chains and forced the Cougars into a fourth-and-20 that they were unable to overcome as the desperation pass over the middle of the field was intercepted and returned 65 yards for a touchdown by none other than Wilson, putting Gaither ahead 41-28 with just 57 seconds remaining.
Durant was able to make their way down the field and score one final touchdown on a five-yard completion from Ryan to Gines, cutting the deficit to 41-35, but with just five seconds remaining Gaither was able to jump on the onside kick that followed and deploy victory formation to take the narrow victory.
"Our motto all year has been to ride the middle and we talked after the game about how last week when you win a big game you can't stay way up here, and then when you lose a game like this you can't stay in the basement," head coach Claybo Varnum said. "You have to be emotionally calm and understand that we have to take something from losses or they really are losses. So we have to draw from this, what we did wrong, what we did right and then we told them to let that sting of losing resonate so that it doesn't happen again."
While rushing yards were nearly impossible to come by against a dominant front seven from Gaither, Durant's 35 points on the night marks their third-highest single-game total of the season on the heels of their third consecutive game posting 300+ yards of offense, led almost entirely by the first 300-yard passing game of Ryan's high school career.
Ryan completed 16 of his 29 attempts for 311 yards and two touchdowns. Of those 311 yards through the air, a hefty majority went to Gines who had a career night as he finished the contest with a career-high 244 receiving yards and two touchdowns on 11 receptions, posting his second consecutive 100-yard game.
"Gines has developed, he's one of our best guys, his attitude has been phenomenal, he's taken on that leadership role and in pressure situations he's the guy that we have to feed," Varnum said. "You've got to get the ball to your best players."
Behind Gines, Jayden Cornelius totaled 35 yards on two receptions, Ajani Peavy totaled 17 yards on two receptions and Treon Williams totaled 15 yards on his lone reception. Jarelle Franklin once again handled the bulk of Durant's carries with 20 yards on 11 carries, followed by two yards on two carries from Zaevion Jordan and a one-yard touchdown run from Connell on his only carry of the night.
Running back Alex Daley is expected to return next week while Connell's injury remains to leave his status day-to-day heading into Durant's final week of the season.
Defensively, linebacker Hale Sollmann led the unit with nine total tackles, followed by Scarlett and sophomore Justin Zinke with eight each. Sollmann and Zinke each posted two tackles for loss followed by one each from Scarlett and junior Jerome Parham while Sollmann, Scarlett and Zinke totaled one sack each.
For injured linebacker Jacob Reed, he continues to recover from a knee injury that gives the Cougars an outside chance of seeing his return for the first week of the playoffs, according to Varnum.
The loss moves Durant to 7-2 on the season as they prepare to host 5-3 Riverview in their final regular season contest next Friday.
"These games are huge, it battle-tests us," Varnum said. "We started the year off kind of light and as the year has gone on the schedule has gotten tougher so it makes you battle-tested and definitely tests you physically as well. We came out and saw a guy tonight that's going to the University of Florida, he hasn't played all year and we didn't even expect him to play but I'm glad he did. I want to see everyone's best, I don't want us to ever be discounted or for people to say that we were given an easy road."
Across town, Plant City and Strawberry Crest both suffered losses as well as the Raiders fell 40-0 against Armwood and the Chargers fell 40-14 against Riverview.
For the Raiders, quarterback Antwaan Mitchell returned to the Raiders' lineup for the first time since September as he completed seven of his 11 passes for 125 yards, followed by DJ Howard with just 13 yards on four completions. Receiver Jaylen Smith posted his first 100-yard game of the season as he led all pass-catchers with 116 yards on five receptions and Jaden Mccants led the backfield with 21 rushing yards on 11 carries.
Defensively, linebacker Cole Highsmith led with unit with seven total tackles as defensive linemen Donta Jenkins and Josh Huff notched two sacks and one sack, respectively.
For Crest, quarterback Jordan Lewis completed 11 of his 19 pass attempts for 125 yards and a touchdown to Marcus Springfield who led all receivers with eighty yards on six receptions, followed by K.J. Canady with 22 yards on three receptions and Coby Burger with 22 yards on two receptions. Devin Blunt led the backfield with 70 yards on 11 carries, followed by Lewis with 24 yards and a touchdown on seven carries, Burger with 23 yards on four carries and Gage Reibsome with 18 yards on two carries.
Defensively, Blunt led the unit with a team-high nine tackles and two tackles for loss, followed in each category by eight tackles from Springfield and one tackle for loss from Daniel Cruz.
The losses moved the Raiders to 2-6 on the year and the Chargers to 5-4 before the two teams meet at Strawberry Crest on Friday for the final game of Crest's season. Following the contest against Crest, Plant City will still have one final contest on the schedule as they host Jefferson on Nov. 4.