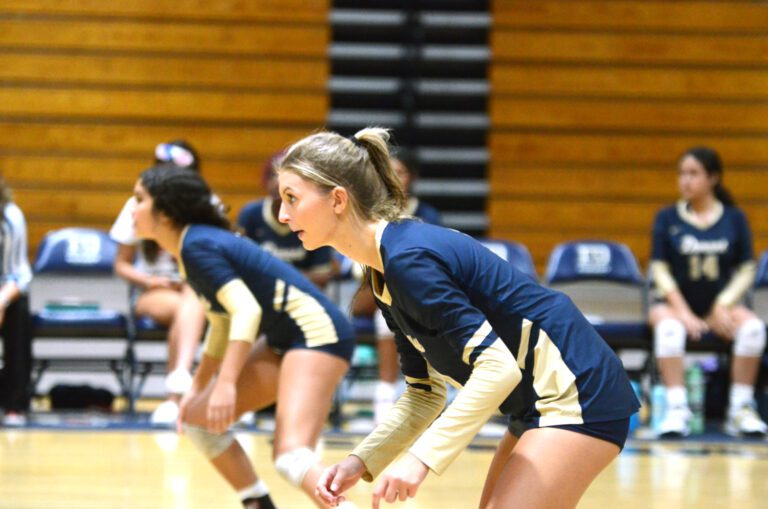 The loss moves the Cougars to 3-2 after starting the season with three wins over their first four contests.
After starting the season 2-0 with wins over Armwood and Leto, Durant volleyball dropped their first contest of the season against Sumner last Tuesday, losing the match 3-2 after forcing a fifth set despite trailing 2-1 after three. They then bounced back with a win over Brandon in three straight sets before hosting their toughest test of the season in Bloomingdale on Tuesday, falling 3-1 and moving to 3-2 on the season.
The first set started close, knotted up at 5-5 before Bloomingdale began to rally for a 10-5 lead. Durant battled back to within two points at 11-9 before the Bulls rallied again to stretch their lead back out to 16-10. The Cougars would once again fight back to bring themselves within four at 18-14 but Bloomingdale would rattle off seven straight points to take the first set 25-14. After trailing 5-0 to start the second set, Durant would close the gap to 7-4 but Bloomingdale would respond by taking an 11-5 lead, then extending the lead to 16-6 with another run and ultimately taking the second set without much trouble at 25-15.
Despite the Bulls claiming the first two sets with relative ease, Durant showed resilience in the third (and potentially final) set of the match. After trailing 3-1 to start the set, Durant would battle back to take their largest set lead of the night to that point at 12-7, but Bloomingdale refused to roll over and concede. The Bulls fought back to make it 13-12 and Durant responded accordingly with six of the next eight points to build some breathing room with a 19-14 lead. Durant went on yet another crucial run to take a 22-16 lead but Bloomingdale quickly closed the gap to 24-23 and nearly clawed back to a set victory but the Cougars outlasted the pressure and took a 25-23 victory in the third set, forcing a fourth.
"This team has heart, they don't give up," head coach Molly Settles said. "They definitely play until the end… That second set was just fine. The momentum changed and we kept it rolling until the end."
Bloomingdale shot out to a 10-2 lead in the following set and ultimately cruised to victory as they took the match 3-1 on the heels of a 25-9 fourth set.
"We just have to be disciplined, that's really our focus," Settles said. "We're trying to be disciplined on defense, get to our lines and get more touches on the block. Like, we changed from last year where we had a single block in the middle and now we're trying to put a double-block in the middle every time."
Despite the tough loss, Durant is in position to improve from recent years under a new head coach in Settles, a Durant volleyball alum herself who played a crucial role in the school's first state championship in 1999, later going on to play at Georgia State.
"It's crazy because I've coached at a lot of different places, even in club, but it's just a whole different feeling to be back here," Settles said. "To have a fan base full of support, there's a lot of pride to come back here and give back to where I started."
Settles has previously coached at Plant City High School, Spoto High School and spent seven years as an assistant coach at Newsome High School – in addition to coaching club volleyball – before returning to her alma mater. After four consecutive seasons in which the Cougars have finished the year below .500, the primary goal for Settles in her first year is leading the team to their first winning record since finishing 10-9 in 2017.
"We're getting there," Settles said. "We're going to keep pushing and our goal overall is to be above .500. We want to have more wins than losses and then if we can get through districts and get to regionals that would be a bonus."
Durant will look to get back into the win column on Thursday as they take on 1-4 Lennard. Around town, Strawberry Crest has started the season 3-1 with 3-0 wins over Chamberlain and Armwood and a 3-1 win over Hillsborough while Plant City currently sits at 1-2 with a 3-0 win over Tampa Bay Tech.