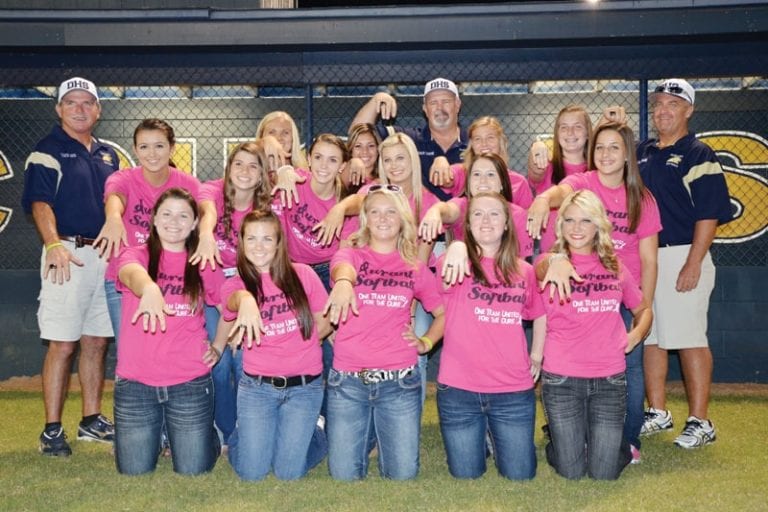 By Matt Mauney | Associate Editor
Durant High's softball team is five months removed from bringing home the school's first state softball championship.
A week ago, the team gathered to relive that moment and that historic and emotional playoff run. As the team members gathered on the track at halftime of the Durant junior varsity football game Oct. 11, waiting to receive their Florida High School Athletic Association state title rings, the girls were all smiles. But last spring was full of both smiles and tears.
May 4, just a week before the Lady Cougars began the state playoffs, Antoinette Cuellar, "Momma C," lost her battle with breast cancer. Cuellar's daughter, Olivia, was a senior shortstop for Durant.
Current senior Paige Davis, who was one of the big-time performers for Durant in the postseason, says that the team banded together to win in the memory of Antoinette Cuellar.
"I think that helped us play together as a team and, when we were behind, we used it as motivation to step up our game," Davis says. "She was our guardian angel throughout the whole playoffs."
Although the events of the season certainly affected Olivia Cuellar more than anyone, she says looking back on the 8-2 win over Miami Palmetto to win Durant's first softball state championship was a "great feeling."
"Coming back to this school, it makes me remember that night and it was special for me, and I bet it was special to the rest of the school," she says.
Durant entered the state playoffs as a dark horse, but the team pulled out several come-from-behind victories to finish a remarkable playoff run.
"We had more post-season home runs than we did the entire regular season," says head coach Matt Carter.
Carter explained that a mid-season tournament in Bartow was the turning point of the year.
"We made some defensive changes and went undefeated from then on," he says. "We changed our whole infield up, and it just made a huge difference."
It was the opening game of the district tournament that set the pace for the remainder of the postseason, when the Lady Cougars battled back from an 11-0 deficit to Alonso to come back and win 15-14.
"That was our big turnaround," Carter says.
Durant lost four seniors, but returns a solid nucleus that has played together for a while and now has the experience of playing for and winning a state championship. Davis, a pitcher and catcher, will be one of the key returning players, as Durant seeks to defend its state title.
"I really want to get another ring and get to have the ceremony again and have the school see what we accomplished," the senior says.
In addition to Davis, Carter says that the team brings back a good amount of speed and some new talent.
"We have a lot of good speed coming back and some good bats, and we're playing fall ball right now, so we've seen a lot of the new talent we've got with the ninth-graders we have coming in," he says.
Team chemistry is always an important part in the equation of a championship team. Carter says that last year everything "just seemed to gel together.
"We should still have some of that," he says. "We've got good leadership coming back, and I think we should be OK."